Are you working on your Thanksgiving menu? If you are wondering what sides to serve this year, try our fried onion green bean casserole, creamy mashed potatoes, and simple roasted carrots. You will love this cranberry stuffing recipe that we are sharing below too.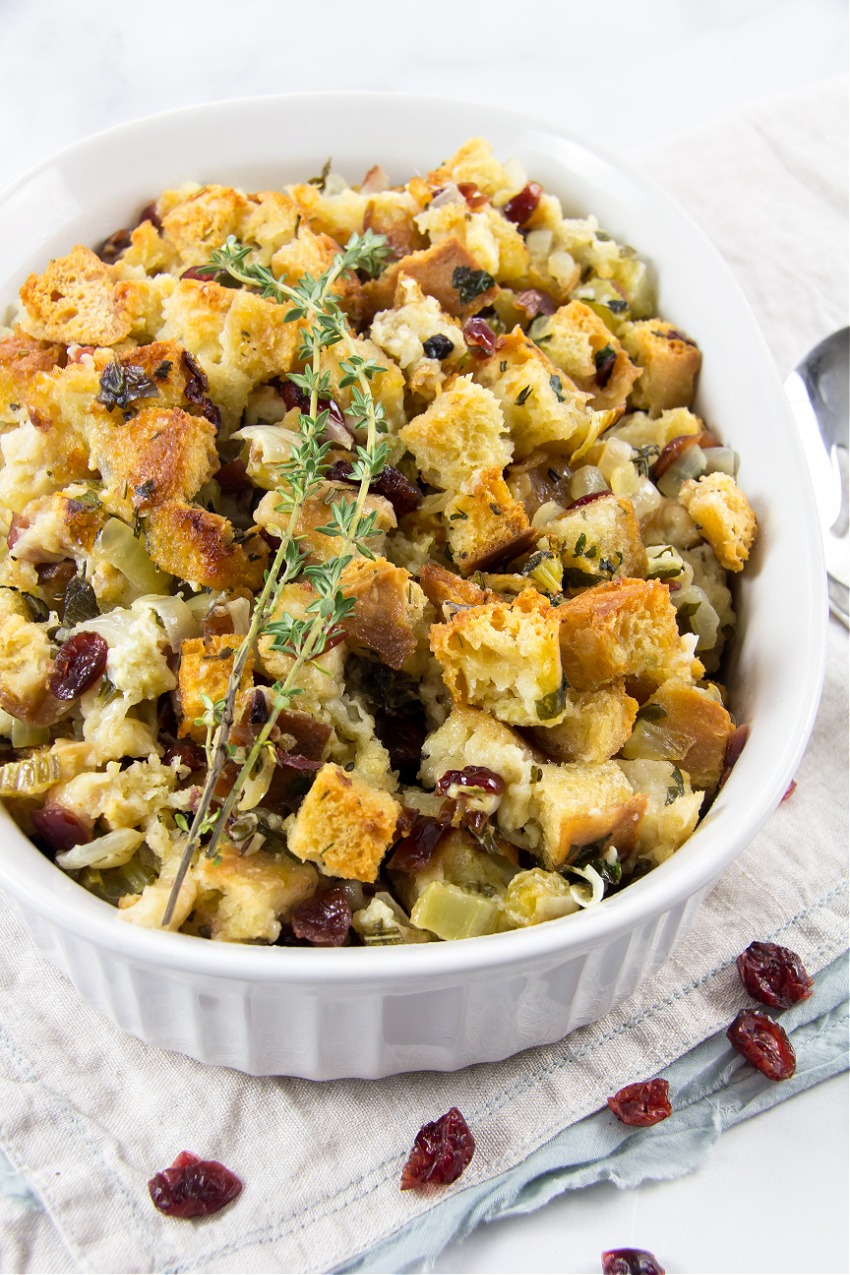 Cranberry stuffing recipe
What I love about this simple stuffing recipe is the ability to switch out the bread according to your dietary needs.
Stuffing ingredients
You can make stuffing with a number of different ingredients including sausage and apples, however, we have used very basic ingredients to make ours. You can find a full list of ingredients including quantities below, but these are the primary items you will need:
Bread
Dried cranberries
Fresh rosemary, thyme, sage, and parsley
Onion
Celery
Chicken stock
Eggs
What bread to use for stuffing
There are so many choices as far as bread that you can use for stuffing. The best bread though is stale or at least day-old bread. You can use some fresh bread, but you will have to dry it out first and we'll show you how to do that below. Here are some ideas for bread you can use for this recipe:
Brioche
French or Italian style loaf
Bagels
Baguette
Hamburger or hot dog buns
Cornbread
Rosemary Olive Oil loaf (which is what we used)
Gluten-free baguette or buns
If you are working on a budget for your holiday meal, take a look inside your pantry because you might find you already have bread that you can use. The rosemary olive oil loaf we used was in a 12oz bag, so as long as you have about that quantity of bread you will be just fine.
How to prepare bread for stuffing
The most important thing when making stuffing is to dry the bread out.
I purchased a 12oz loaf of rosemary olive oil bread and set it aside for 2 days. On day three, I sliced it, and then cubed it into small pieces about 3/4 inch in size (some were smaller).
The pieces were put into a single layer on a baking tray and put into the oven on 250F for about 50 minutes, tossing them halfway through. If your bread doesn't feel firm at this point you can keep it in a little longer.
How to make stuffing
Chop the onions and celery and cook them in butter on the stove until softened.
Finely chop all of the fresh herbs and add those along with the cranberries and bread into a large bowl.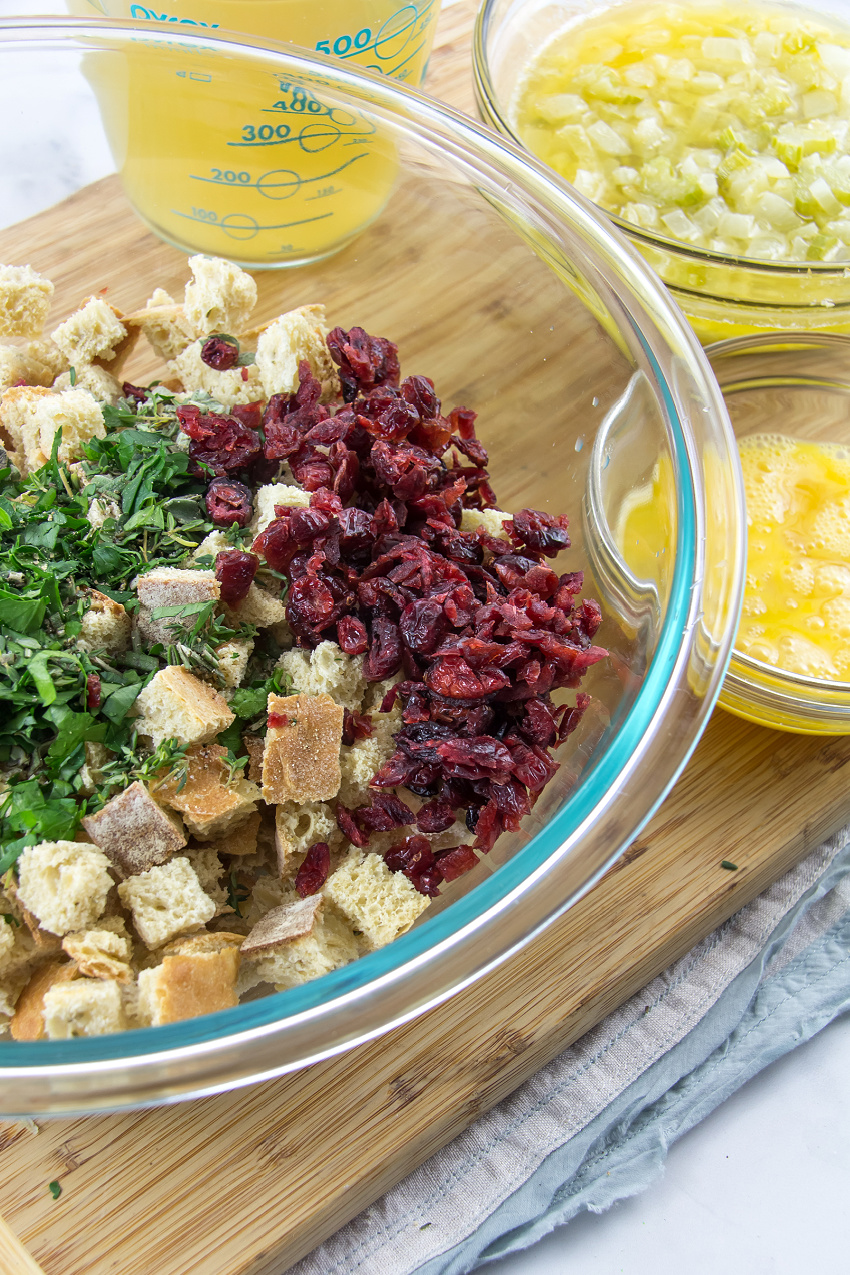 Pour the other ingredients over the top and then pour everything into a 9×13 baking dish and put it into the oven until cooked.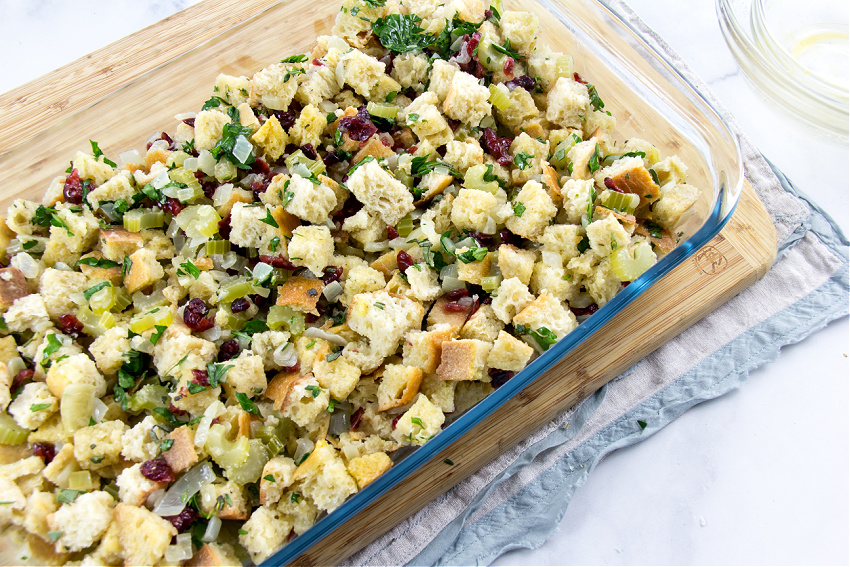 Please pin post for later:

Cranberry Stuffing
Make an easy cranberry stuffing recipe for Thanksgiving.
Keyword:
cranberry stuffing, thanksgiving side dish
Ingredients
1

cup

unsalted butter

1

yellow onion

1 1/2

cups

celery

12

oz

bread

we used a loaf of Rosemary Olive Oil bread

1/2

cup

fresh parsley

2

tbs

fresh sage

1.5

tbs

fresh thyme

1

tbs

fresh rosemary

1

cup

dried cranberries

2

cups

low sodium chicken broth

2

large

eggs

1

pinch

salt and pepper
Instructions
Leave bread out for a day or two before preparing the stuffing. If the bread is not firm or 'stale' follow the steps below, but if it is, move onto chopping the fresh ingredients.

Preheat the oven to 250F.

Cut the bread into cubes about 3/4 inch in size and place in a single layer on a baking sheet.

Bake for approximately 50 minutes, tossing halfway through. If the bread isn't firm then let it cook a little longer, just 5 minutes at a time.

Turn up the oven heat to 350F.

Chop the onion, celery, and fresh herbs, and then roughly chop the dried cranberries.

Melt the butter in a frying pan over medium-high heat. Add the celery and onion and cook until softened.

Put the bread into a large bowl with the fresh herbs and salt and pepper.

Add the celery and onion along with chicken broth and whisked eggs. Stir to combine.

Pour the mixture into a baking dish, cover with aluminum foil and bake for 30 minutes.

Remove the aluminum foil and bake for a further 30 minutes.