Autumn is the perfect time to craft with crunchy fallen leaves. We love collecting colorful leaves for leaf rubbings. Make sure to collect them early in the fall before they are either too soggy or too crunchy. We usually use colored crayons to make our rubbings, but we've been playing with white crayon and watercolor resist leaf rubbings. I think I like these striking leaf rubbings the most! Aren't they pretty?
I'm sure many of you have made leaf rubbings before. This is a simple project that is easy to set-up, and can be enjoyed by a variety of ages (including grown-ups!). This is one of our family's favorite fall crafts to do each year.
Crayon Resist Autumn Leaf Rubbings
You'll need to gather:
Paper – A medium-weight drawing paper works great – use something thin enough to get a good impression when you make your rubbings, but thick enough to handle watercolors.
White crayons, paper removed
Watercolors, liquid or pan (or watered-down tempera paint)
Large paint brush or sponge
Leaves
Gather a variety of leaves from your yard or neighborhood. Choose leaves that are still flexible, with defined veins on the back. No crunchy leaves for this project!
Lay your leaves under the paper, vein-side up, and rub the paper with the side of a white crayon. Use a little pressure to get a good impression. Continue adding leaf rubbings to your paper – we did most of ours in a random fashion, letting the leaves overlap.
Then, it's time for the magic! No matter how many times my girls do crayon and watercolor resists, they love seeing their crayon marks come to life when they add watercolor paints. We opted for fall paint colors for our leaf rubbings – orange, yellow, and gold. Paint your whole page and set aside to dry. Grab more leaves and repeat!
This is one of those projects that has a fun process, which kids will enjoy doing over and over again. As an added bonus, the finished products are quite lovely! A group of framed leaf rubbings would make a beautiful fall mantle decoration, or fold them into cards to send autumn wishes to friends and family.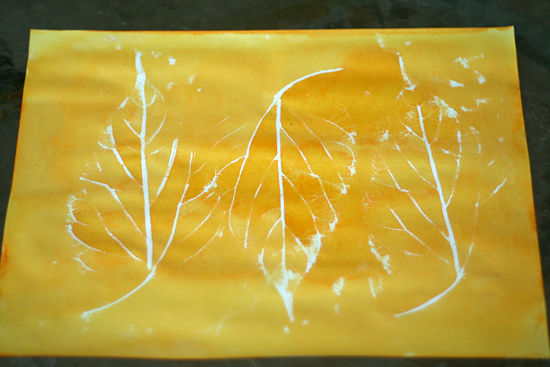 Happy fall crafting!!
Here are more fall time crafts and activities to try:
SaveSave