I've been collecting lots of thrift store glass pieces the last six months: milk glass, sherbet cups, candlestick holders, and plain old glass vases–almost all of it under $1 a piece. It's so great to have on hand when I want to set a table or decorate my mantel. But in order to make it match for different themes, I needed to add some color to that glass. Enter my paper stash. Just one sheet of 12 x 12 scrapbook paper and my plain-Jane vases bring color and texture to an otherwise simple centerpiece. The best part? I can change it over and over again to fit any theme. Since it's bridal shower season, here are two ideas for buffet table centerpieces using the same glass pieces from my thrifty selections!
Create Custom Vases for Any Tabletop
Supplies for Custom Vase Tutorial:
Cylindrical glass vase
Patterned paper
Paper trimmer
1. Start by measuring the height of your vase with a ruler. Mine measured 10.5 inches tall.
2. Cut your paper to that height. If the width of your paper does not extend around the diameter of the vase, cut two pieces and adhere them together (I used tape on the paper for my wide vase).

3. Roll the paper and set inside the vase. Let the paper expand to fill it. That's it! You can also wrap a bit of ribbon or jute around the center of the vase to tie it into your color scheme.


Because of the paper, you'll want to fill your vase with dry contents, like my coffee filter flowers, silk flowers, branches, etc. If you do want to use flowers that require water, try setting a smaller vase or glass inside with water in it.

See how versatile? I changed out the paper and used the coffee filter flowers again for a totally different buffet table setting. Easy peasy! Think of how fun these could be using Christmas or Valentine's paper, or bright colors for birthday parties!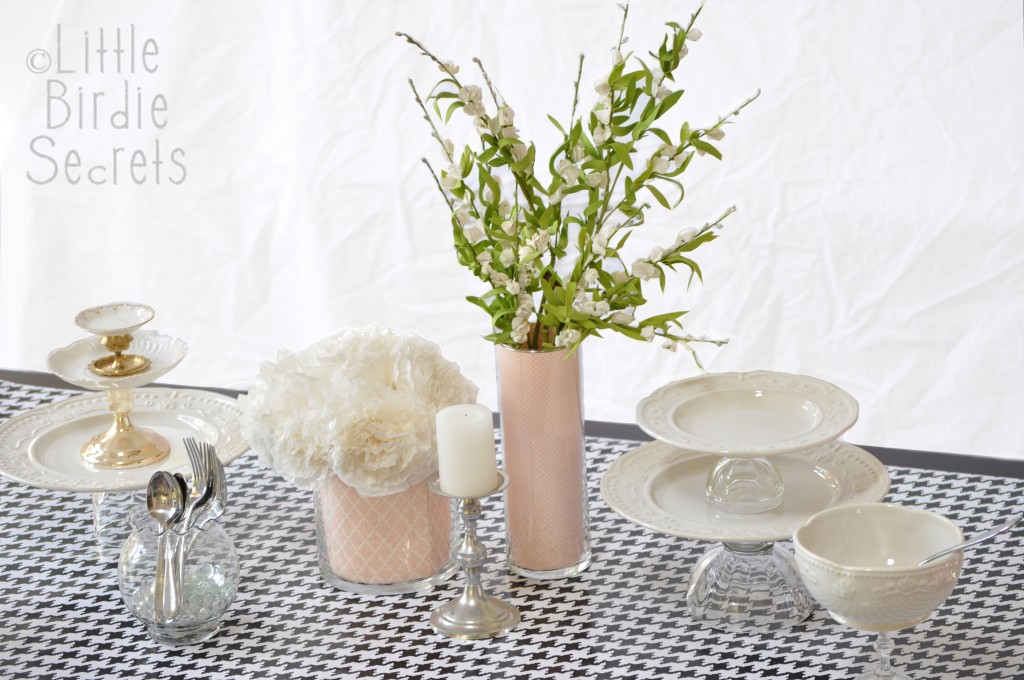 Check out more DIY Home Decor projects here:
SaveSave