I love springtime. When the weather is nice enough to eat outside. That is one of my favorite things about warmer weather. This weekend I got the itch to do a little spring cleaning and along the way, I crossed a few DIY projects off of my list. One project, to make my own Diamond Patterned Tablecloth, was so easy that I was able to finish it in under 30 minutes.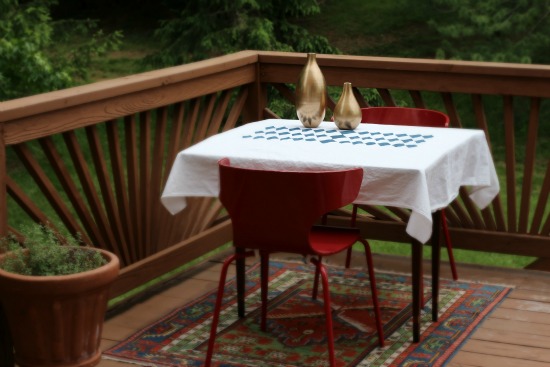 An older white linen tablecloth that had seen better days served as my canvas and I used navy fabric paint to form my bold design. If you can cut a snowflake out of folded paper, then you have the skills to complete this easy DIY.
DIY Diamond Patterned Tablecloth
Here's what you will need:
fabric paint
freezer paper
scissors
a pencil or marker (optional)
an iron (set to dry setting)
a fabric tablecloth
a sponge paintbrush or small roller
Step 1:
Cut a length of freezer paper the desired length you would like your stencil. I was working with a smaller square tablecloth so I cut my paper about 2, 2.5 feet long.
Step 2:
Fold your freezer paper sheet in half like a newspaper and then again in half, vertically.
Step 3:
Fold your freezer paper 2 or 3 more times vertically (depending on how many rows of diamonds your want) and then cut triangle shapes out along the bended fold. These triangles will form into diamonds when you open out your paper.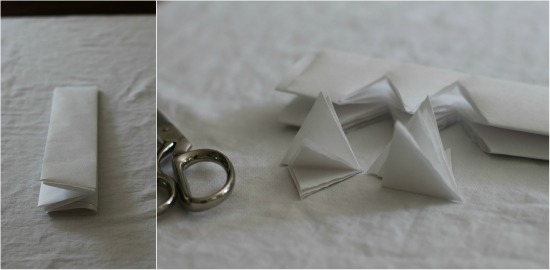 Step 4:
Fold out your paper once you have cut as many triangles as you wish. If you are not happy with your pattern, you can always do this part over then iron it on.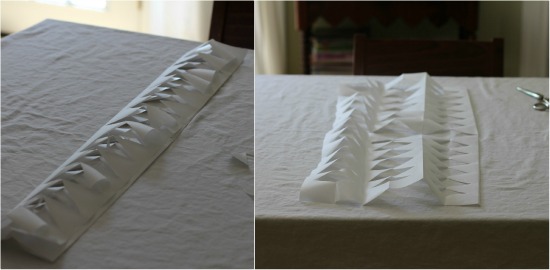 Step 5:
Iron on the freezer paper  using the "dry" setting on your iron and then pour a little fabric paint onto a paper plate and begin painting.
Step 6:
Once you have finished painting your design you can remove your freezer paper. Allow the design to dry at least an hour.
You are finished! Can you believe how easy that was? This project has endless potential and there are no rules for making your pattern so be brave and go for it!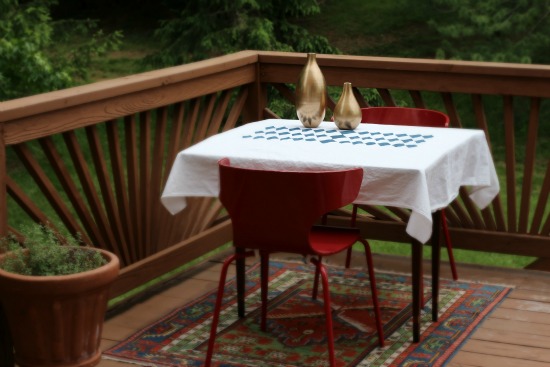 SaveSaveSaveSave