This post is in partnership with Warner Bros. Pictures.
If you have an elementary aged child in your home, chances are you have heard of NINJAGO; and chances are even greater that you are aware there is The LEGO NINJAGO Movie in theaters September 22. And you might even know of a few LEGO fans who are dying to see it!
Well, my 5 year old can't wait to see the movie and the upcoming release also made our Halloween costume choice this year an obvious one; he'll take one Green Ninja costume, please! Luckily, a costume that mimics The LEGO NINJAGO Movie main character Lloyd (aka the Green Ninja) is a pretty easy one to DIY. I happily agreed to create a costume for my little guy, partnering with sponsor Warner Bros. Pictures.
The latest animated adventure in Warner Bros. Pictures' LEGO® franchise, "The LEGO NINJAGO Movie" stars Dave Franco, Justin Theroux, Fred Armisen, Abbi Jacobson, Olivia Munn, Kumail Nanjiani, Michael Peña, Zach Woods, and the legendary Jackie Chan.

In this big-screen NINJAGO adventure, the battle for NINJAGO City calls to action young Master Builder Lloyd, aka the Green Ninja, along with his friends, who are all secret ninja warriors. Led by Master Wu, as wise-cracking as he is wise, they must defeat evil warlord Garmadon, The Worst Guy Ever, who also happens to be Lloyd's dad. Pitting mech against mech and father against son, the epic showdown will test this fierce but undisciplined team of modern-day ninjas who must learn to check their egos and pull together to unleash their inner power of Spinjitzu.
DIY LEGO NINJAGO Movie Costume
Here's how you can make your own Green Ninja costume in one afternoon for about $20-$30, depending on how many supplies you have on hand!
Supplies for NINJAGO Main Costume
1/2 yd green felt
1/8 yd white felt
3/4 yd black jersey
Long-sleeved black shirt (If you can find one with a black hood, you can skip having to make one and save yourself about 1/2 yard of black jersey!)
Long black pants
Double-stick Fusible Webbing (I use Steam-A-Seam from my local craft store)
Scissors
Coordinating Thread
Supplies for LEGO Hands (optional)
4 paper cups (size must be big enough for little hands to fit inside when in a fist – I used snack sized paper cups, which were wider than drinking cups)
Black Duct tape
2 wooden dowels cut 1" longer than the length of your paper cup
(2) 3/4" screws
Saw (hand or mitre saw)
Drill
Instructions
*Note: My costume was made using a size 4-5 XS tee for boys. I have given you all of my measurements below, but also given instructions for getting your own measurements in case you are using a different size
Make the NINJAGO shirt:
1. Cut a square piece of white felt that is as wide as the neck hole of your shirt. Place inside the shirt and trace the front neck hole shape. Cut the rounded portion out of your felt piece and trace/cut out same shape from fusible webbing. Lay both pieces on top of tee right under neckline fabric.
2. Measure from the top left shoulder (starting right outside of the ribbed neckline) to the bottom right corner of shirt. Cut a rectangular piece of green felt that is 2.5" wide and your measured length (mine was about 20"). I added a slight curve to my rectangle to make it more realistic.
3. Measure from the top right shoulder (right outside the ribbed neckline) down to the piece of felt you just cut. Cut another rectangle from green felt that is 2.5" wide and your length (mine was 8.5"). I curved this one slightly as well.
4. Cut out two emblems (download shape here) from both white felt and fusible webbing.
5. Lay all pieces out on top of shirt. Pin green felt pieces to shirt (place right outside of ribbed neckline – you don't want to sew on neckline to preserve stretch).
6. Measure the bottom hem of your shirt and cut a rectangle from green felt that is 2.5" wide and the length that you measured (mine was about 13"). Pin to shirt.
7. Cut another rectangle of green felt that is 2" wide and 13" long. Tie a knot in the middle. Set aside.
8. Use your iron and follow instructions to fuse the emblems and the white neck piece onto your shirt.
9. Stitch all of your green felt pieces (except for knotted rectangle) to your shirt with a sewing machine. Since you are sewing on a knit shirt, either use a knit stitch or a longer stitch length with low tension. Be careful not to pull your shirt through the machine as you are sewing, otherwise you risk warping and stretching the shirt fabric. Also be sure to avoid sewing on the neckline, or you will compromise the stretch, making it harder to pull over your little guy's head (I learned this the hard way).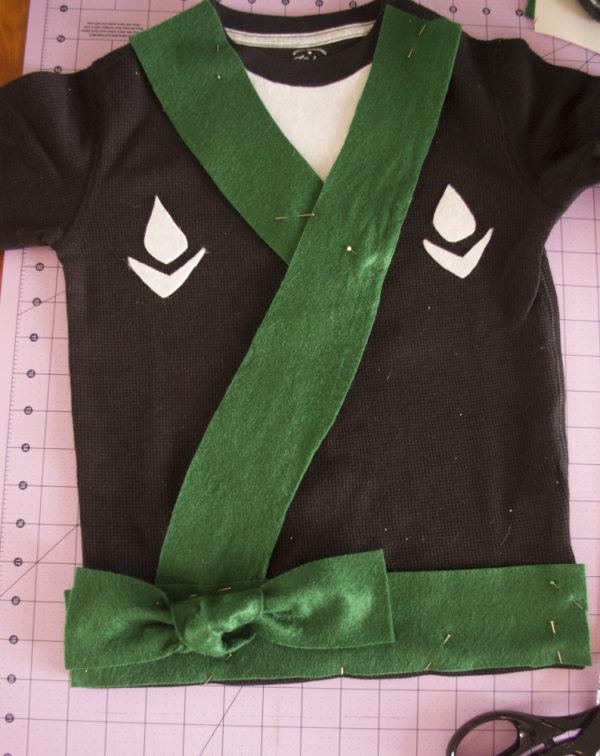 10. Hand stitch your knotted green rectangle on top of the green bands where they meet along the bottom hem.
Make the NINJAGO hood, headband and face mask
1. Download and print out this pattern for the hood (size fits 5-year-old head). Cut two pieces from black jersey. Pin and stitch along just the outer back edge (where pins are in photo). Turn right side out.
2. Hand stitch the bottom edge of the hood to the inside neckline of the shirt.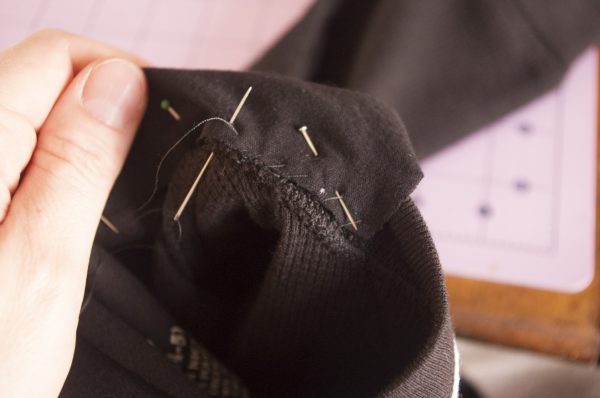 3. Cut a rectangle from black jersey that is 34" by 5" – this will be your face mask. Simply place over nose and chin and tie a knot behind the neck.
4. Cut a rectangle from the green felt that is 34" by 2". Cut 5 skinny long rectangles from white felt (no longer than 1.5" and arrange in the shape shown. Stitch to middle of green band. This is your headband. Simply place over the hood and forehead and knot in back of head.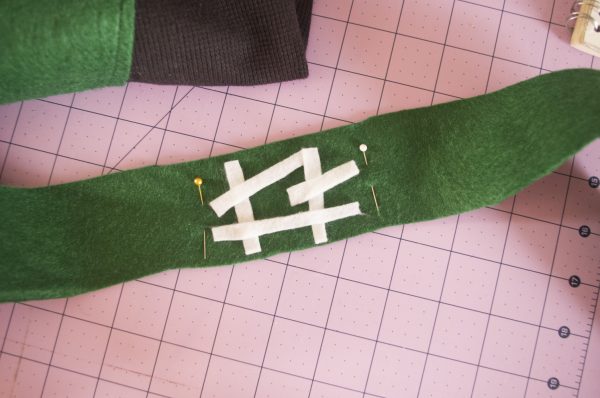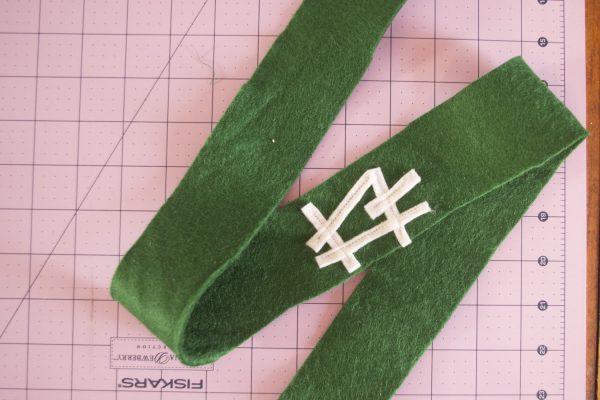 Make the LEGO hands
*This is optional, of course, and your child may instead choose to carry a ninja sword or wear black gloves
1. Cut down the middle of one paper cup, then cut along the upper and lower edge to remove. Trim to about 6-7" in length. Do this to two cups so you have 2 U-shaped pieces. Cover in black Duct tape.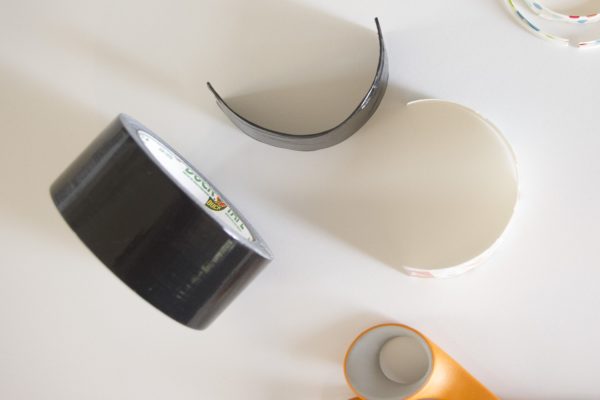 2. Cover two intact cups with black Duct tape.
3. Using a mitre saw or hand saw, cut two wooden dowels that are about 1" longer than the length of your cup (my dowels are 3" long).
4. Drill a small starter hole in the end of each dowel.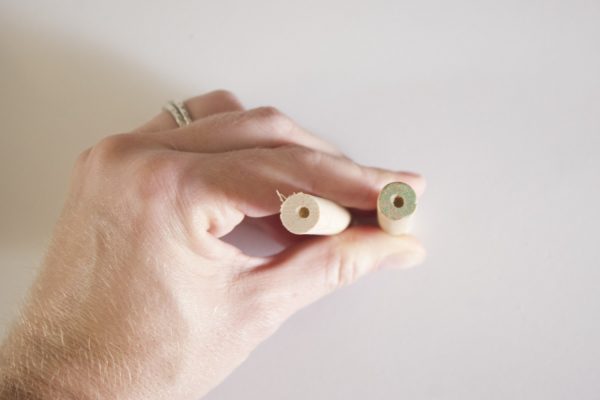 5. Put one of your u-shaped pieces on top of an upside down cup. Push a screw through both pieces and into the starter hole in your dowel (which should be inside your upside down cup). Hold the dowel with one hand and use a drill with the other to tighten the screw into the dowel.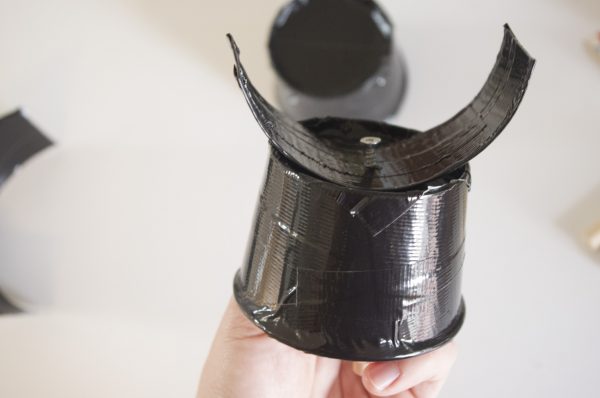 FINAL STEP…
Dress your ninja in black pants, his Green Ninja shirt, hood, headband and face mask. Arm him with lego hands or a ninja sword and he's ready to defeat the evil warlord Garmadon (or, you know, collect some Halloween candy…).
Before you get started on your new costume, watch the trailer below to get excited. The LEGO NINJAGO Movie hits theaters on September 22!
*Thanks to Warner Bros. Pictures for sponsoring this DIY. Be sure to like The LEGO NINJAGO Movie #LEGONINJAGOmovie on Facebook and follow them on Twitter and Instagram for more fun and inspiration!