Do you set a beautiful table for Thanksgiving each year? If you are looking for place card ideas, we've previously shown you how to make turkey place cards, fall watercolor place cards, and autumn leaf place cards. Now we are showing you how to make pinecone DIY place card holders.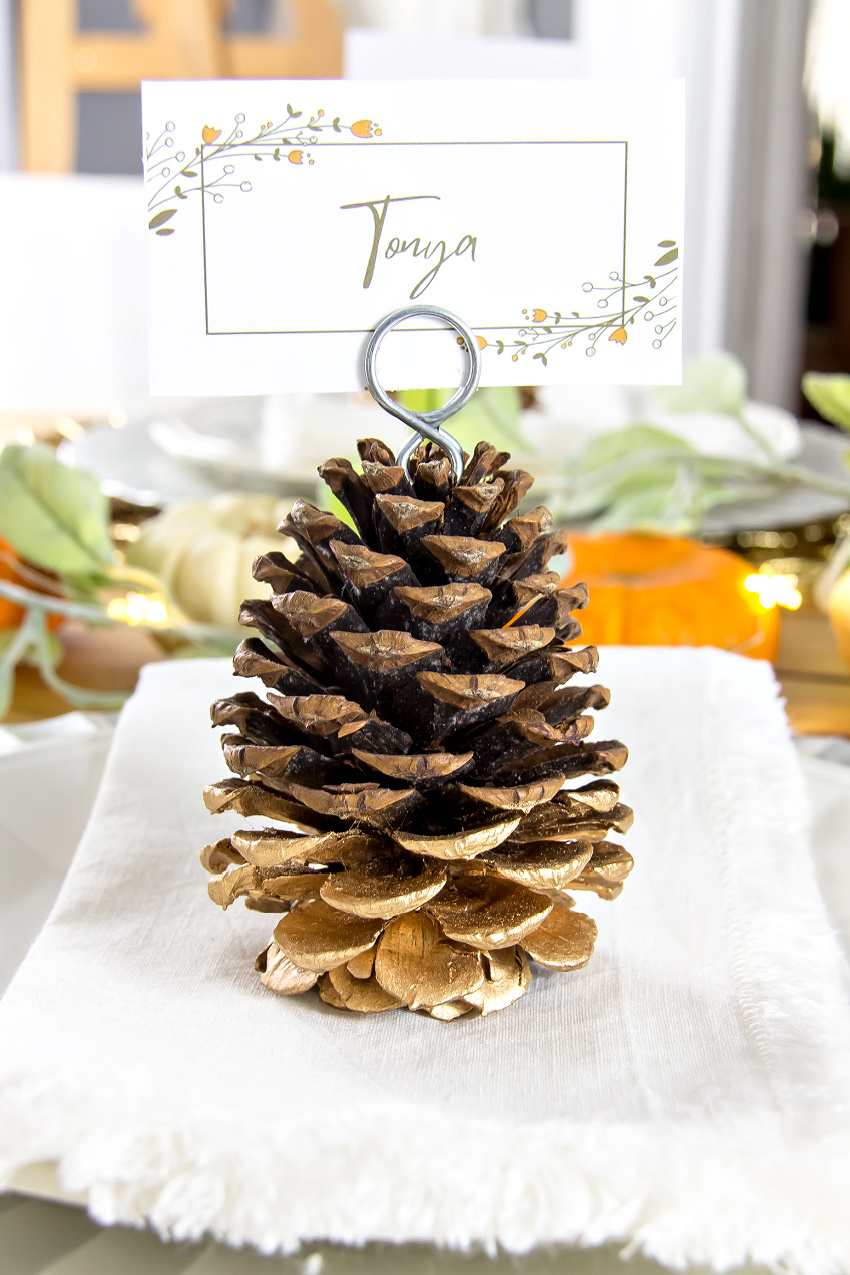 Pinecone DIY place card holders
Did you know that pinecones fall to the ground during the fall months? This makes Thanksgiving the perfect time of year to add natural elements to your Thanksgiving table. Go for a walk with the kids and collect pinecones to make these easy DIY place card holders.
Supplies
Pinecones
Spray paint – we used gold, but you can use whatever color will match your tablescape
Sealant
Painter's tape
Clamps, memo clips, or paper clips
E6000 glue (optional)
Table name cards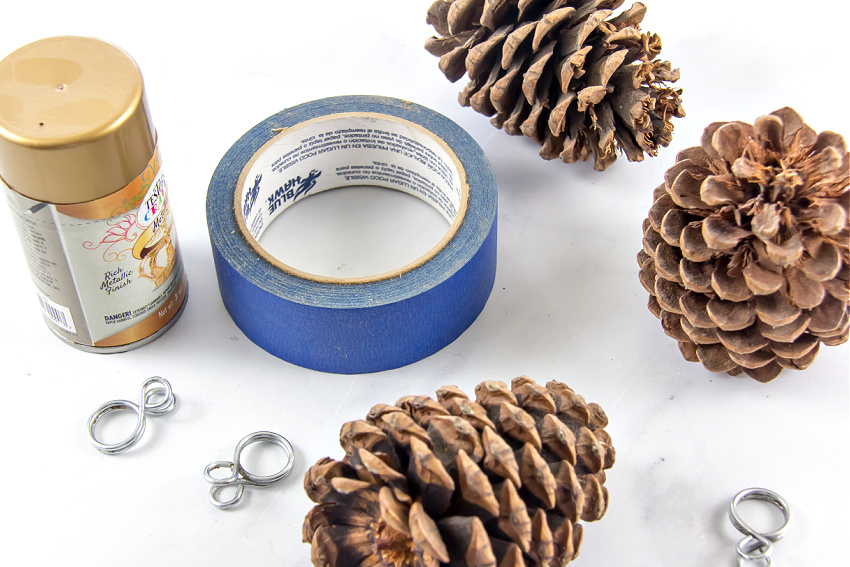 Instructions
The first step is to tape off the pinecone if you want to paint just one section as we did. I really like the look of keeping some of the pinecone natural, but you might want to spray paint the whole thing, and that's fine too.
Using spray paint, cover the exposed section of the pinecone. You will probably need at least two coats of paint. Set it aside to dry, and then spray a clear sealer over the top because you don't want flecks of paint or pinecone on your napkin or tablecloth.
Once the pine cone is completely dry, attach the clips or clamps to the top. If they don't sit on top easily, use the E6000 glue to hold them in place.
Now you are ready to add name cards to each.
Table name cards
You can purchase table name cards online or in stationery stores. If you want to print your own though with names that are typed instead of handwritten I recommend Canva. They have plenty of free name card options that are really easy to customize. You can see the ones I made below and how I was able to change the colors. You can also change the typeface and remove or add details too.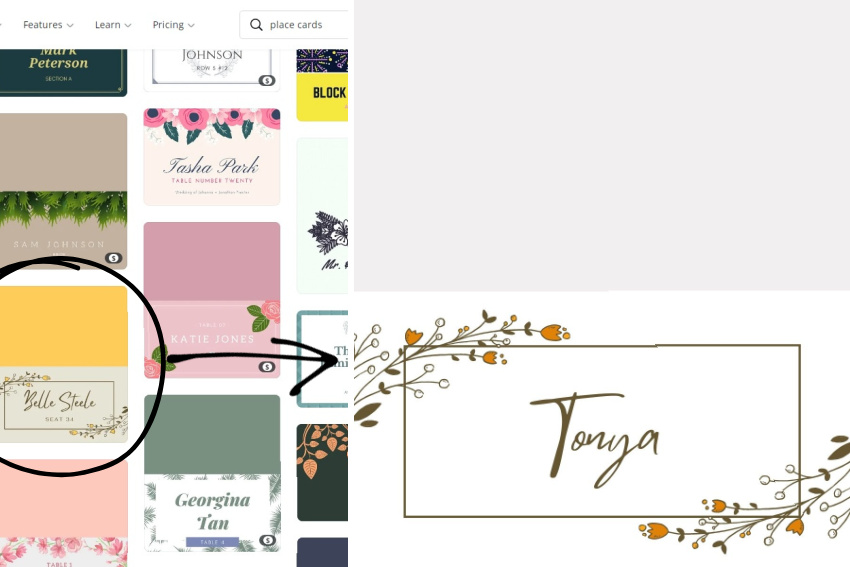 Put your tablescape together and either place your pine cone place card holders on top of the place setting or directly on the table.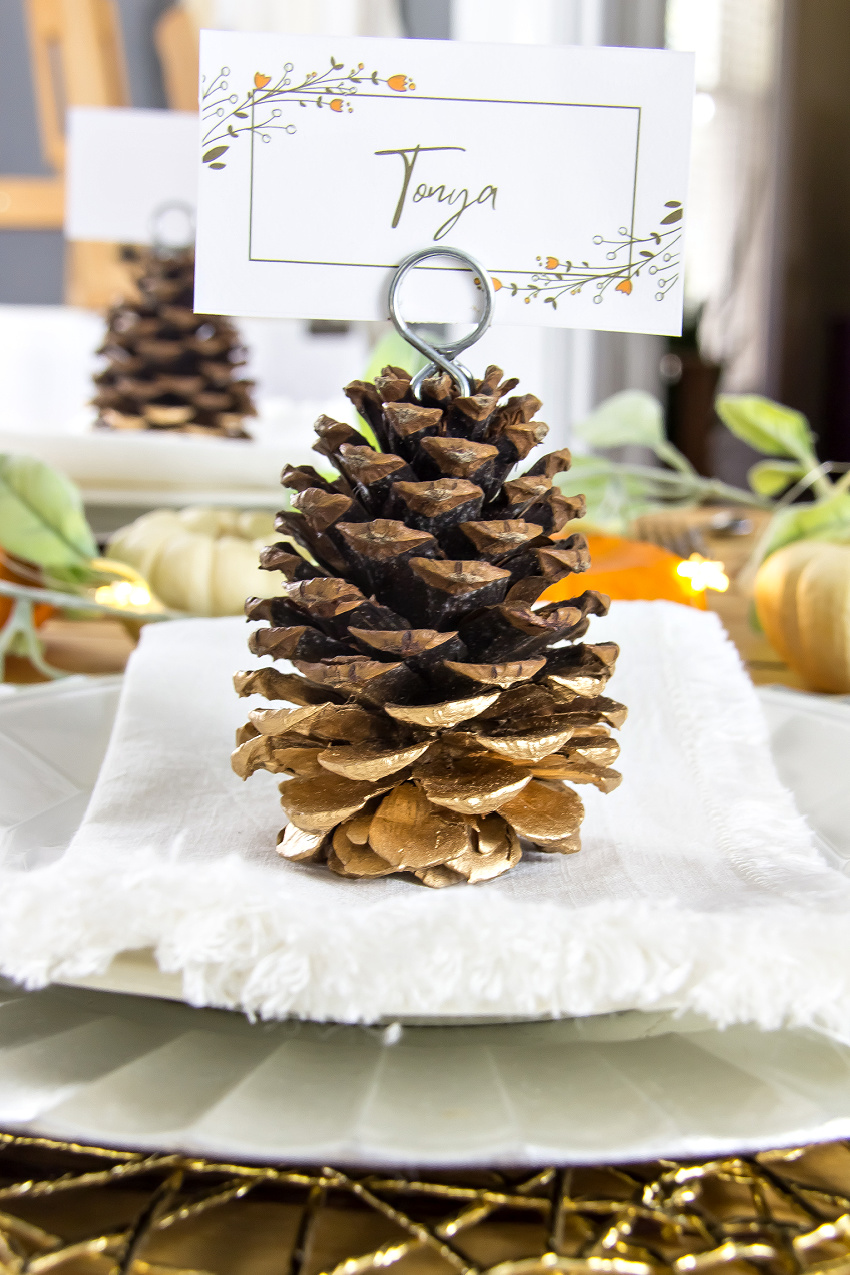 Please Pin Post For Later: