Our family recently moved to a new home which we are renting, completely furnished. Fabulous, considering we're only here a year and didn't want to bring all our stuff with us. What's not so fabulous is not having all my fun decorations for each season! So lately I've been looking for inexpensive ways to decorate that I won't feel badly about leaving behind when we move again next year. Enter this quick and easy centerpiece for fall!
Last week my 5-year-old brought home a handful of acorns for me each day as a little gift. We started collecting them in a glass jar, which is when I realized how gorgeous they would be in an autumn centerpiece!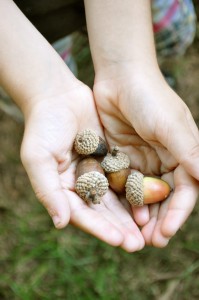 Easy Fall Centerpiece Idea
Supplies for an Acorn Centerpiece:
Acorns collected from the yard (or from a park if you don't have oak trees in your yard)
Glass vase or jar (I chose a tall vase)
Craft jute
Scissors
Candle, decorative sticks, fall leaf picks from the craft store, etc.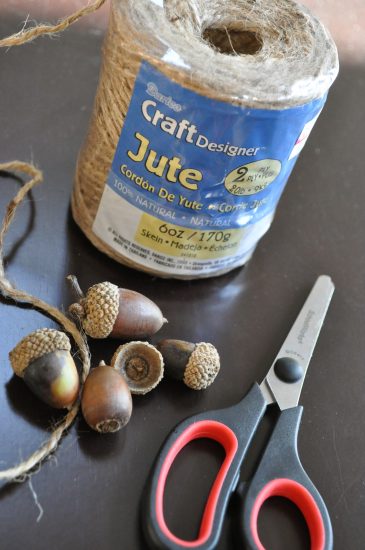 Instructions:
1. Fill your vase or glass jar about 3/4 full with acorns. The tops often pop off, but include them anyway! Start wrapping jute or twine around the center of the jar, overlapping the end to keep it in place.
2. Continue wrapping until the end is covered.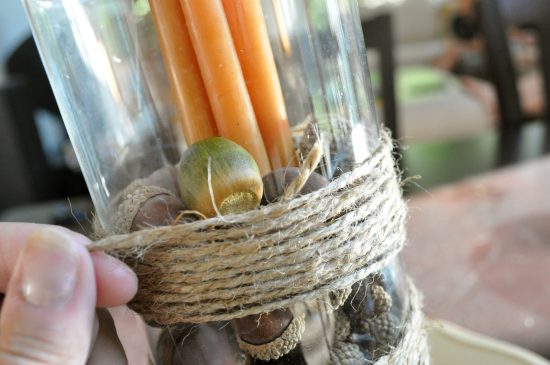 3. Cut off other end and tuck under first few strands to keep it in place. If  you are unable to keep it tight, you could try a piece of tape to hold it to the vase.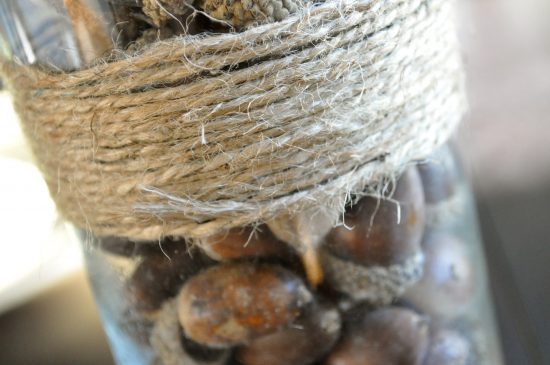 4. Now you can add something to the vase to make it more interesting. For one look I grouped a bunch of taper candles together and stuck them down in the acorns. Then I positioned the vase on a fall-ish plate and added some oak leaves and more acorns.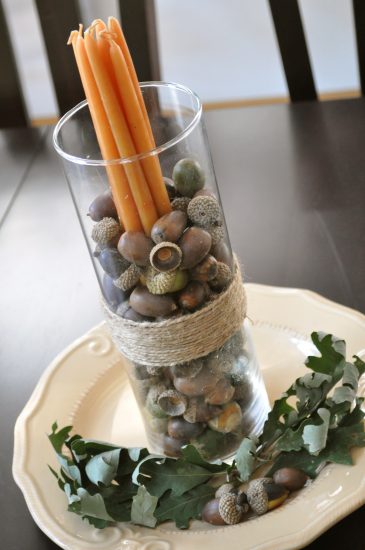 I also tried centering the vase in a basket of fall harvest items (leaves, pumpkins, squash, etc.). This was something my landlord left for me to use, so it was free!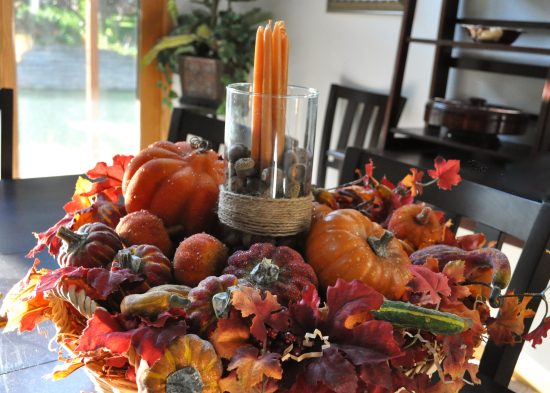 For a look that could last all year, try putting dried reeds, sticks, or dried flowers in the acorns. This is a great look for a mantle.


If you can't find acorns in your area, try mini pine cones or nuts!