When it comes to holiday gift-giving, we all run out of creativity after a while. Dad doesn't need another tie. Mom has enough bottles of perfume. However, a gift from your heart that can be easily mixed up in your kitchen is both an affordable and easy way to show your family, friends or neighbor that you really care.
3 Easy Homemade Edible Gifts
Try these quick and simple recipes for roasted almonds, cheddar-herb bread mix, and homemade vanilla extract, package them pretty, and prepare to be asked for the recipes!
Spicy Cinnamon Roasted Almonds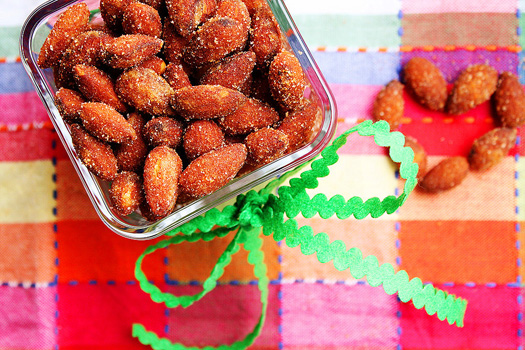 About 16 servings (4 cups)
1 egg white
1 teaspoon cold water
4 cups whole almonds
1/2 cup white sugar
1/4 teaspoon salt
¼ teaspoon cayenne pepper
1/2 teaspoon ground cinnamon
Directions
1. Preheat oven to 250 degrees F. Lightly grease a large baking sheet.
2. Lightly beat the egg white; add water, and beat until frothy but not stiff. Add the nuts, and stir until well coated. Mix the sugar, salt, and cinnamon, and sprinkle over the nuts. Toss to coat, and spread evenly on the prepared pan.
3. Bake for 1 hour in the preheated oven, stirring occasionally, until golden. Allow to cool, then store nuts in airtight containers.
——————————————
Cheddar-Herb Bread Mix
Makes 12 servings
Directions for gifting just the mix:
2 cups all-purpose flour
1 Tbsp. sugar
1 Tbsp. dried cilantro or parsley
1 tbsp. dried rosemary
2 tsp. baking powder
1/2 tsp. salt
1. In a re-sealable plastic bag or container, combine all ingredients. Seal bag and store up to 1 month.
Directions for making the bread:
1/4 cup butter
4 oz. white cheddar cheese
3/4 cup milk
1 egg
2. Preheat oven to 350 degrees F. Lightly grease a loaf pan. Place bread mix in a bowl. With a pastry blender, cut in 1/4 cup butter until mixture resembles coarse crumbs. Stir in 4 ounces white cheddar cheese, shredded. In a bowl, combine 3/4 cup milk and 1 egg, slightly beaten. Add to crumb mixture all at once. Stir quickly with a fork to moisten. Spread in prepared pan. Bake 45 minutes or until a wooden pick inserted in center comes out clean. Cool in pan on wire rack for 10 minutes. Turn loaf out onto wire rack; cool completely.
——————————————
Homemade Vanilla Extract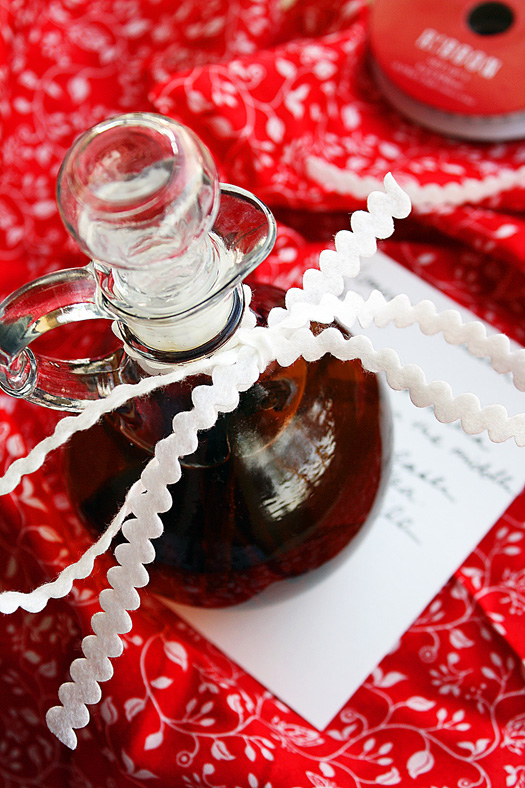 Makes 1 cup of extract
3 vanilla beans
About 1 cup vodka
Glass jar with tight fitting lid
Directions
1. Use kitchen scissors or a sharp paring knife to cut lengthwise down each vanilla bean, splitting them in half, leaving an inch at the end connected.
2. Put vanilla beans in a glass jar or bottle with a tight fitting lid. Cover completely with the vodka.
3. Give the bottle a good shake every once in a while. Store in a dark, cool place.
This lasts for years. You can keep topping it off with vodka once in a while as you use it, just remember to give it a good shake.
Georgia Johnson is the author and home cook behind The Comfort of Cooking. She enjoys creating delicious dishes in her small apartment kitchen and aims to bring people together with inviting, satisfying and simple food. Find out more about Georgia and explore her recipes and photos here.