We love Elephant & Piggie at our house, and were so excited to partner with Disney-Hyperion on a sponsored post to celebrate 10 years of the book series! We're hosting an Elephant & Piggie party, so we're sharing how we make these cute paper party lanterns for a darling decoration!
Can you believe these books have been around for so long?! Such a fun and silly series. The latest book in the bunch is called The Good for Nothing Button by Charise Mericle Harper.
"Yellow Bird has a button. It does . . . nothing! It is a good for nothing button."

Red Bird and Blue Bird are excited to try the button. But when they press it, they discover that the button makes them happy. Happy is something! A flabbergasted Yellow Bird insists the button does nothing. But it sure does seem to be making him mad. Mad is something! The hilarious debate that follows takes readers on an emotional roller coaster that pokes at the power of imaginative play.
Aren't buttons just sooooooo fun to push? See, there's something :)
Here are 10 more of our favorite books, to celebrate 10 years!

DIY Elephant & Piggie Party Lanterns
Supplies:
pink and gray paper lanterns – get them here
pink and gray art paper
tape or glue
Instructions:
Download the printable for the Elephant and Piggie faces. Print them out on your pink and gray art paper. *You can also print these on white printer paper and have your child color them in!
Cut out each animal feature on the dotted lines.
Set up your paper lanterns with the metal frame it comes with. Use tape or glue to attach each paper piece to the paper lanterns.
How cute are these?! Pretty sure we'll hang these in my daughter's room after the party, they match her bedroom decor perfectly!
You can also download and print these Elephant and Piggie Coloring Activity Kits for your party as well for the kids to color. Wrap up your books for gifts to your guests, prep your party cups with juice, and hang your DIY party lanterns.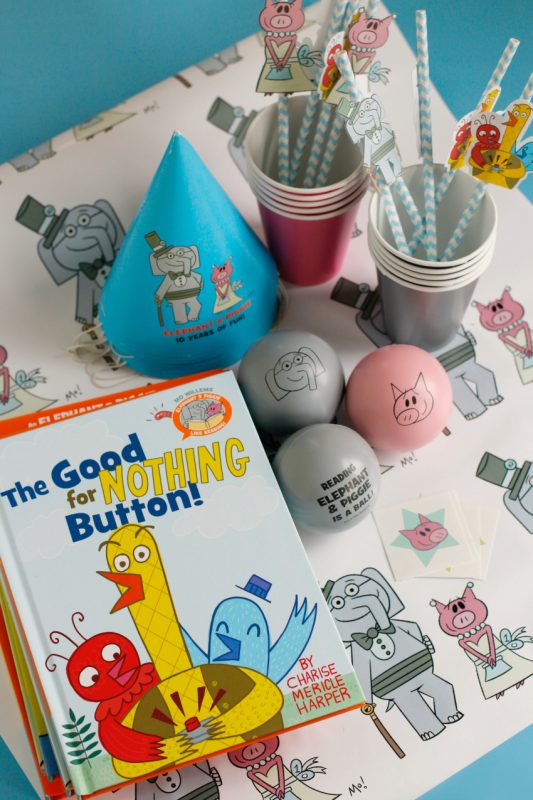 You're set for a Elephant & Piggie party!
*Thanks to Disney-Hyperion for sponsoring this party post. Be sure to visit them on Twitter @The_Pigeon and @DisneyHyperion, follow @DisneyBooks on Instagram and like @MoWillems on Facebook with hashtag #MoFun for more ideas and inspiration!