It's that time of year again! Time to get out your Elf on the Shelf and start the tradition. If you're running out of ideas with where and how to place your Elf on the Shelf each day, I've rounded up 24 super creative ideas – one idea for everyday before Christmas! Your kids are going to love waking up each morning to see where the Elf is and what he is up to.
24 Creative Elf on the Shelf Ideas
1. Elf on the Shelf Returns: Special delivery from the North Pole right to your home! Get this printable and tutorial from Eighteen25.
2. Elf Twister Printable: Set up the Elf and a few of your kid's other toys for a game of Twister! Such a cute idea from Frugal Coupon Living.
3. Elf Eating Chocolate: Hide the Hershey Kisses from your Elf before he eats all of them! Find this cute idea from I Heart Nap Time.
4. Mini Paper Chain Countdown: Make a mini countdown to Christmas for your Elf with this idea from The Little Things.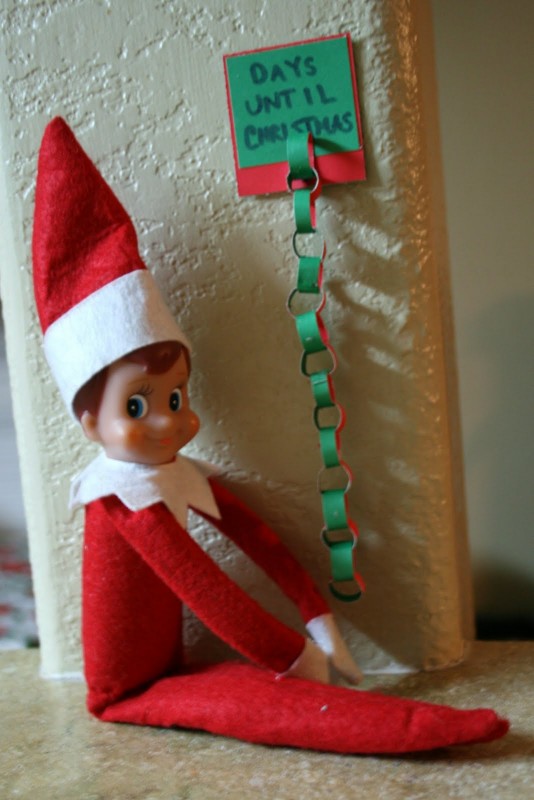 5. Sprinkle Angels: Your kids will laugh when they see the angels that their Elf made in colorful rainbow sprinkles. Super fun idea from Skinny Mom.
6. Marshmallow Bath: Set up a soothing fluffy bath of marshmallows for your Elf on the Shelf. Living Locruto has the details.
7. Coloring Books: Set the Elf up with some of your kid's coloring books and crayons for a morning surprise! Idea from Little Bit Funky.
8. Christmas Tree Prank: Oh no! The Elf T.P.ed the Christmas tree! Your kids will think this idea from Katie in Kansas is hilarious.
9. Cereal Mess Blame: That silly Elf blamed your child on his mess. Funny idea from A Small Snippet.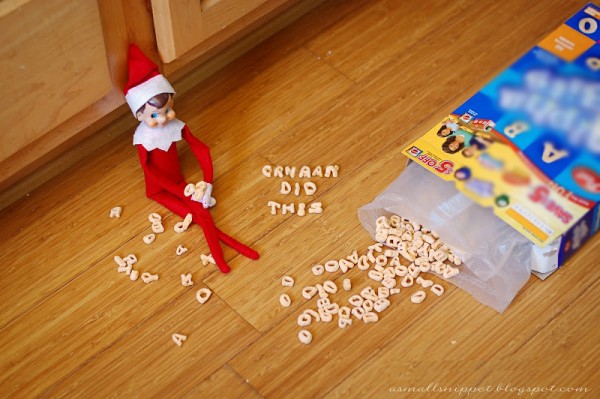 10. Sack Race: Set up a sack race with the Elf and other toy friends with this idea from Picklehead Soup.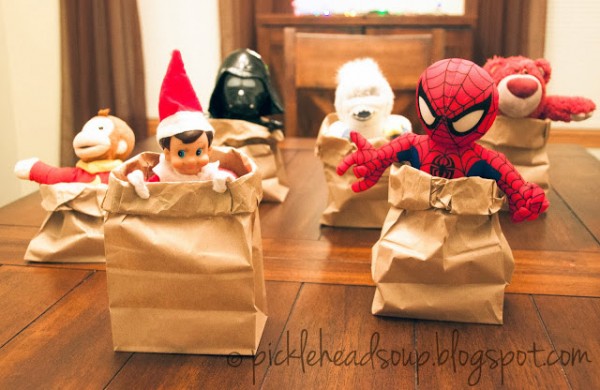 11. Elf Loves Goldfish: This Elf has gone fishin'! With Goldfish crackers in the sink. Your little ones will love this idea from Rocking My 365 Project.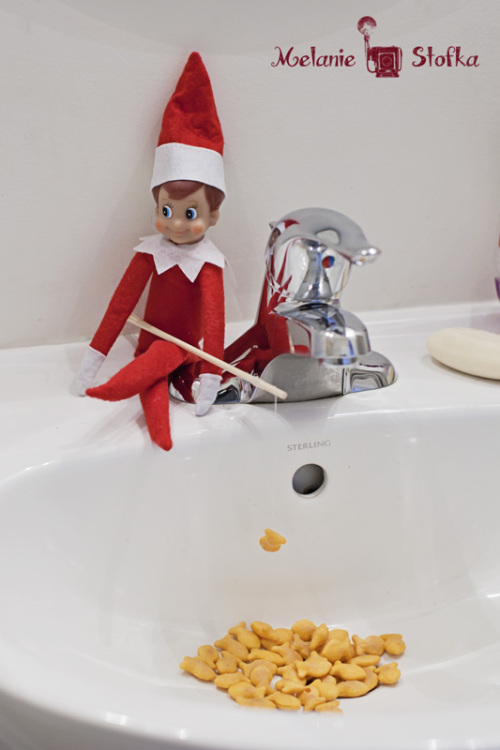 12. Mini Elf Pancakes: Show your kids that the Elf made them breakfast. Yummy mini pancakes idea from Home Stories A to Z.
13. Elf Rock Band: Make a drum set for your Elf with recycled cans. This great idea is from Frugal Coupon Living.
14. Toilet Wrapping Paper: Your kids will be shocked to find the toilet wrapped in wrapping paper when they wake up in the morning. TP Craft has this funny idea!
15. Super Elf: Elf is here to save the day! See how to make your Elf fly from Busy Kids Happy Mom.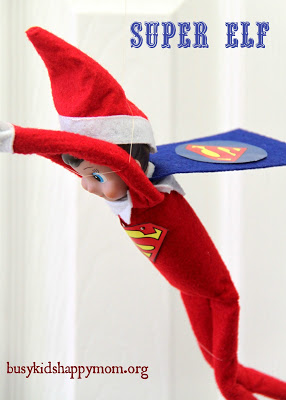 16. Nerf Gun Elf: Looks like your Elf and Mickey Mouse got in a Nerf Gun fight through the night. Love this idea from Busy Kids Happy Mom.
17.  Family Funny Faces: This Elf is stirring up trouble by drawing silly faces on your family pictures. I know my kids would think this idea from Mandy with Multiples is hilarious.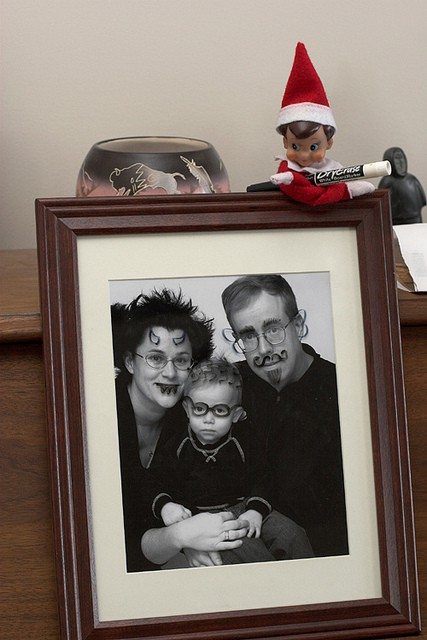 18. Fruit Loops Necklace: This is a super easy idea that will come in handy those busy nights when you need an idea. Details from Come Together Kids.
19. Playing Basketball: Your sport loving kids will think this Elf idea from Life With My Littles is awesome!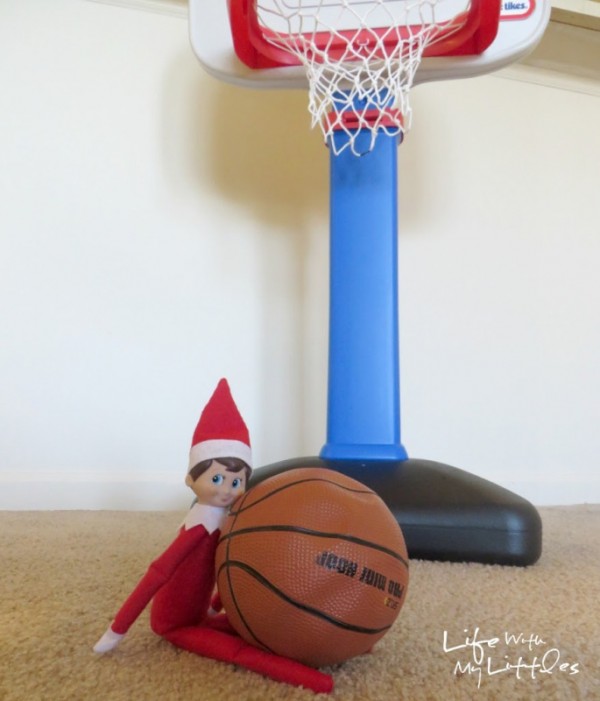 20. Reading Elf: What a nice Elf for reading stories to other toys. This idea is from My Mommy Style.
21. Elf Zipline: How fun is this DIY zipline from Raining Hot Coupons for your Elf? Looks like he's having lots of fun.

22. Next Year Note: This is a great way for your Elf to say goodbye to your family for the year. Get the details from The Simple Life.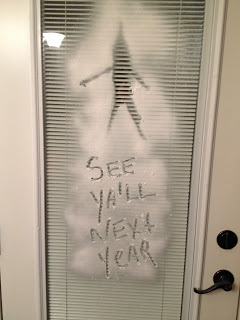 23. Goodbye Letter: Get this free printable goodbye letter to your kids from their Elf from A Mitten Full of Savings.
24. Goodbye Gift: Soften the blow for your kids with this cute goodbye gift idea from Eighteen25.