I have diapers, wipes and a changing cloth in almost every room of my house. If I'm downstairs, I'm just too lazy to walk up to the baby's room and get the diaper changing supplies. So I've got this fun Ribbon Container to hold them in, embellished with ribbon all fun and fancy.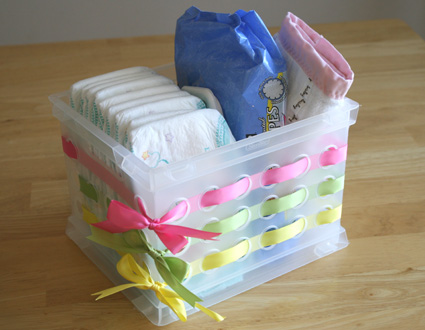 Embellish a Plastic Container with Ribbon
Supplies for Ribbon Container:
Ribbon: 3 – 3ft long pieces or 1 long 9ft piece, any color
plastic basket with holes – mine was from the good ol' Dollar store
Instructions:
Take your cut ribbon and start at the top, weaving through each hole. Make sure to leave at least 4-5 inches at the outer end to tie into a bow when it's done. I chose to do three colors of ribbon, one for each level of holes on the container. But you can easily use one long piece of ribbon for the whole thing.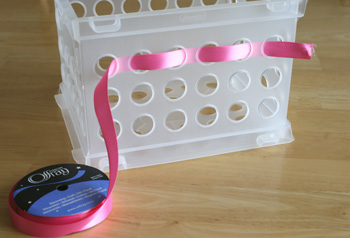 Weave the ribbon all throughout the container. Once the ribbon has gone through each hole, tie the two ends together in a bow. My son made one for his room to hold his CDs. He liked threading his green (always the color green) ribbon through the holes, making sure not to miss one.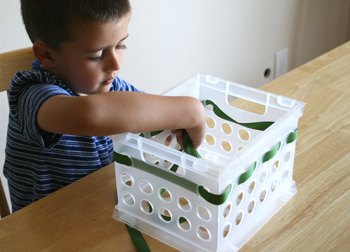 These are easy to create and would make great gifts for anyone needing a container. I'm thinking teacher gifts!