The kids and I love finding new books to read at my house. We have old favorites we read over and over but getting a new book is always exciting. The Story of Diva and Flea by Mo Willems and illustrated by Tony DiTerlizzi was the latest book we added to our home collection. The kids loved the story of friendship in the book. After reading we wanted to extend the book with a craft. We decided on Fabric Friendship Bracelets we could share with our siblings and friends. You only need a few supplies to make them and they are so cute to wear after.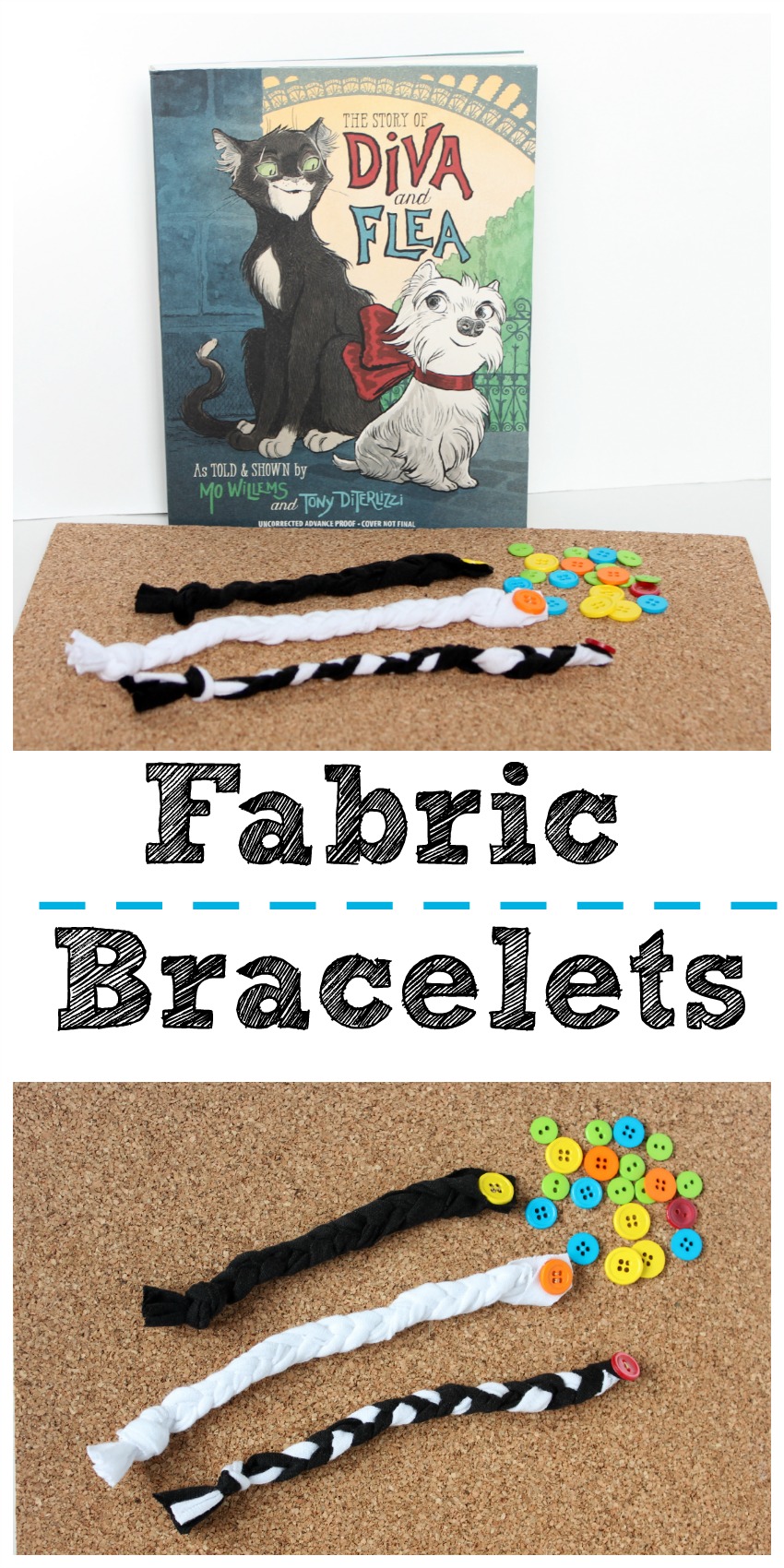 Braided Fabric Friendship Bracelets
Here's a little more about the book The Story of Diva and Flea, which was released on October 13th, 2015:
Diva, a small yet brave dog, and Flea, a curious streetwise cat, develop an unexpected friendship in this unforgettable tale of discovery. For as long as she could remember, Diva lived at 11 avenue Le Play in Paris, France. For as long as he could remember, Flea also lived in Paris, France–but at no fixed address. When Flea flâneurs past Diva's courtyard one day, their lives are forever changed. Together, Diva and Flea explore and share their very different worlds, as only true friends can do.
Now let's get crafting a few fun friendship bracelets!
Supplies for Fabric Friendship Bracelets:
multicolored buttons
t-shirt fabric- we used old t-shirts
needle and thread
scissors
Directions:
Take fabric and cut 3 strips.  Try to get them the same size.
Place the 3 strips of fabric on top of each other.
Sew a button on one end.
4. Take painters tape and tape the button end down to the counter or table.
5. Now braid the 3 strips of fabric together.
6. When you get to the end of the braid tie a knot in that end.
7. Cut off excess fabric.
8. Place on child's wrist and poke the button in the braid on other end to close.
We made 3 Fabric Friendship Bracelets. This way my kids each got one. We plan to make more for our friends too. The kids love their bracelets just as much as our new book.
Here's a fun little video showcasing the book, watch it with the kids to get excited:
*This post is sponsored by Disney Publishing. Be sure to follow Disney on Twitter and Instagram for more inspiration. And find the author Mo on Twitter and the illustrator Tony on Twitter and Instagram #DivaandFlea!