We're having fun outdoors making fairy garden flower pots as part of our summer series Get Out and Play! These mini flower pots are too cute and are bound to brighten any fairies day! Place them in your garden for a special flower surprise.
Make a Fairy Garden Flower Pots
Not only are these pots fun to make, we loved creating our fairy garden scene in our backyard, a perfect outdoor activity. You can make these for fun little pots all over the yard, they don't have to just be in the fairy garden. These little flower pots make for great gifts as well!
Instructions
1. Prepare your mini flower pots – I'm sharing the instructions over at Family Crafts on About.com. Using washi tape and permanent markers, you can decorate your flower pots for your fairy garden!
2. Buy your favorite mini flowers. We LOVE "Blue Star Creepers". They are the perfect size for these mini pots with their small purple flowers. Tear off a small section of your plant and place it into your mini pots. Make sure to give it water once it's planted.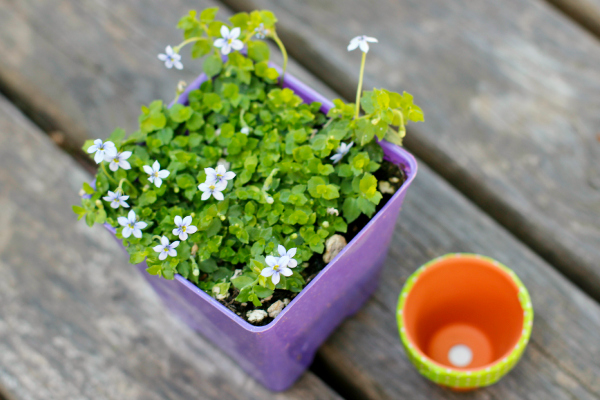 3. Place your mini flower pots in a special spot, perfect for fairies! Find a small area in your yard where you can create a fairy garden. We have had these fun gnomes and mushrooms for a while now – they are from Target and have a metal stick that digs into the ground. They make for really fun yard decorations. We've placed them near a large tree in our backyard that is covered in moss. It's just the place we know little fairies love to fly around!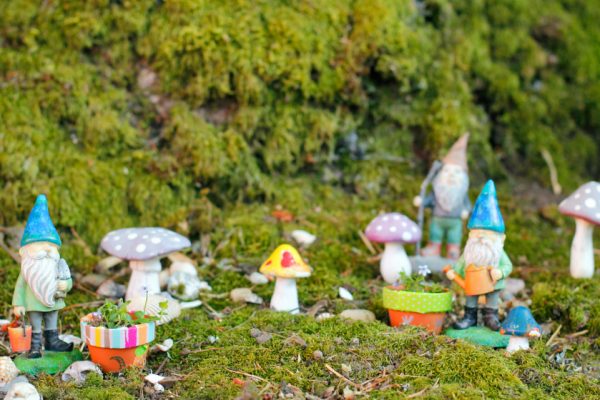 Now it's time to enjoy your flowers! Have fun getting out to play this summer! Check out this fabulous tutorial from Crafts by Amanda for making a fun fairy house and garden.