The weather is still nice at this time of year, and there are so many wonderful things to find in the great outdoors. This is a great time to go on a nature walk and pick up whatever treasures you come across. Then use your treasures to make fun nature faces.
Nature faces can be made virtually anywhere, at any time, so remember this activity next time your kids say "I'm bored, mom!"
Supplies for Nature Faces:
Various natural materials
Sidewalk chalk (optional)
1. Gather natural materials. A paper gift bag is a handy way to carry around your natural treasures. Choose all kinds of different items, such as:
leaves
flowers
moss
grass
rocks
pine cones
acorns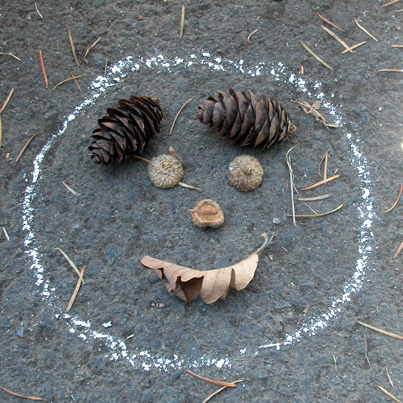 2. Get more than one of each item, if possible. Two matching items can be used for eyes or ears, or a handful of the same item can become hair or other accessories.
3. Spread out your materials so they're easy to see. Younger kids might enjoy sorting the items and putting them together by category.
4. Clear off a spot on the ground, and create faces! It might be helpful for some kids if a chalk circle is drawn on the ground so they will have a starting point for their face creations.
If your kids are too small to make their own faces, let them play with the materials while you make simple faces, and then let them point out eyes, nose, etc. (or ask them what various parts are called).
Don't forget to take pictures of your work!