Every few weeks or so, I walk down the Dollar Store isles looking for crafty magic. With the supplies only costing $1, I'm always able to find something we can make into a craft. You'll be surprised by what you can think up for all kinds of household items. For today's craft, we found these feather dusters and made them into fancy and fluffy puppet people.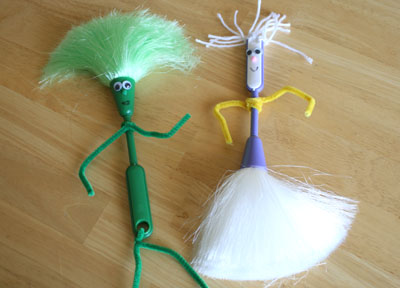 Supplies for Feather Duster Puppets:
New, clean feather dusters
googley eyes
yarn or string
glue – I like to use the hot glue gun as it's quick
decorations – stickers, fabric, markers, pipe cleaner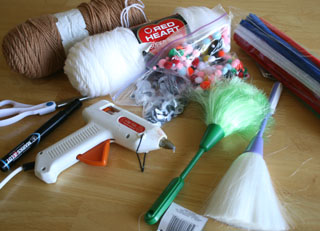 For my son's, he wanted the duster part to be crazy green hair. So we turned it upside down and glued its eyes right below the fuzz. Then he drew on a nose and mouth. We also added some arms and legs out of pipe cleaner, more green, his favorite color.
Of course, my daughter wanted a princess, so we used the duster part as her frilly fuzzy skirt. We tied yarn to the top hole for hair, then glued googley eyes just below. More pipe cleaner for arms here too.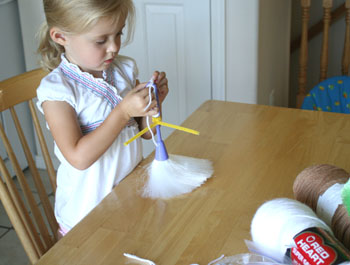 The kids are having fun with their Feather Duster Puppets. And as they play with them on top of the dusty piano and the dusty TV, they don't even realize their helping me clean!