Whenever we had white flowers in the house growing up, I'd give them the food coloring treatment. It's always fascinating to see how this process works with the flowers. I've found the Carnation flower works best for this cool science project.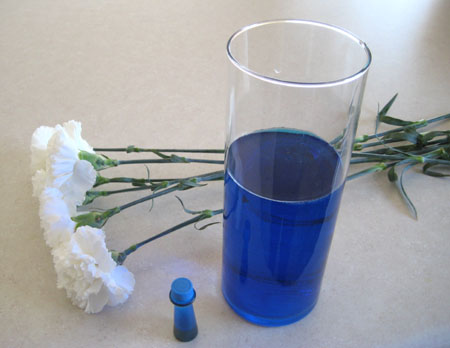 I bought a $4 bunch of white carnations at the local Walmart. Then we got out our flower vases ready with water. Don't use the flower food it may come with, I did once and it didn't work as well. Then pour in about 10 or so drops of your desired food color. We chose blue for the big bunch and tried a little red one too. I only used about 5-6 drops of red color for the small vase. Cut your flower stems off a few inches and place in the water.
It only took a few hours before we were seeing a hint of blue. By the next morning, the colors were all throughout the flower. They made a pretty border in blue and red.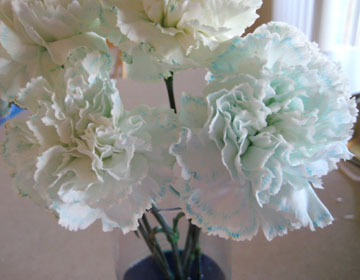 My kids loved it and were amazed when the white flowers started to gain a touch of color. We have also done this project with food, celery works great. It's fun to watch science in action.