Thanksgiving is just around the corner so get a jump-start on planning your Thanksgiving Day menu and cook up this Fried Onion Green Bean Casserole! Do you have favorite sides such as mashed potatoes or mac & cheese that you always serve? Today we've got a delicious green bean casserole recipe for you.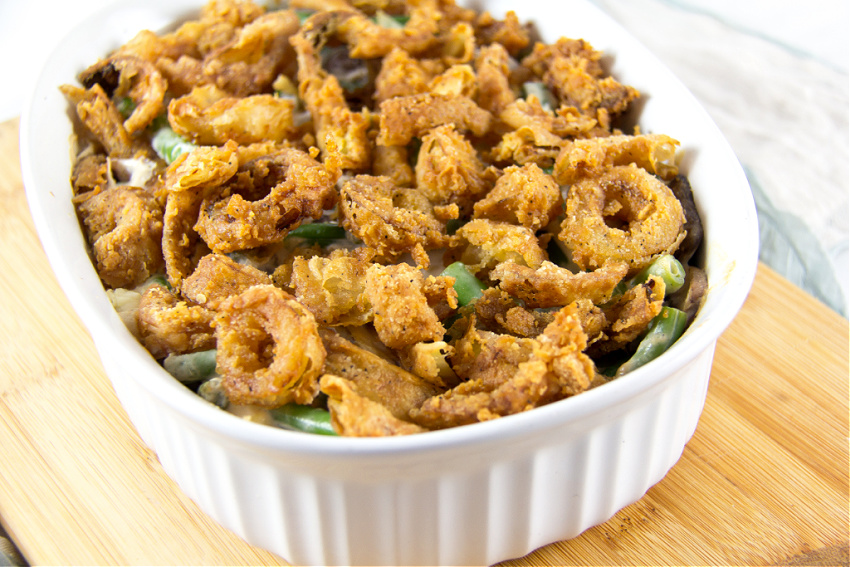 My kids do not like cream of mushroom soup, and to be completely honest they'll totally pick the mushrooms out of this casserole too, but because I use fresh sliced mushrooms it's so much easier to do.
The best part about this green bean casserole, besides using fresh produce and no cream of mushroom soup, is that you can make it gluten-free too. It's as simple as making your own fried onions to go on top.
How to make fried onions for green bean casserole
This recipe calls for one onion. You really don't need that much though, except once you taste these fried onion rings you won't be able to stop snacking on them. We actually cut up two onions, made one batch gluten-free, and the other with gluten.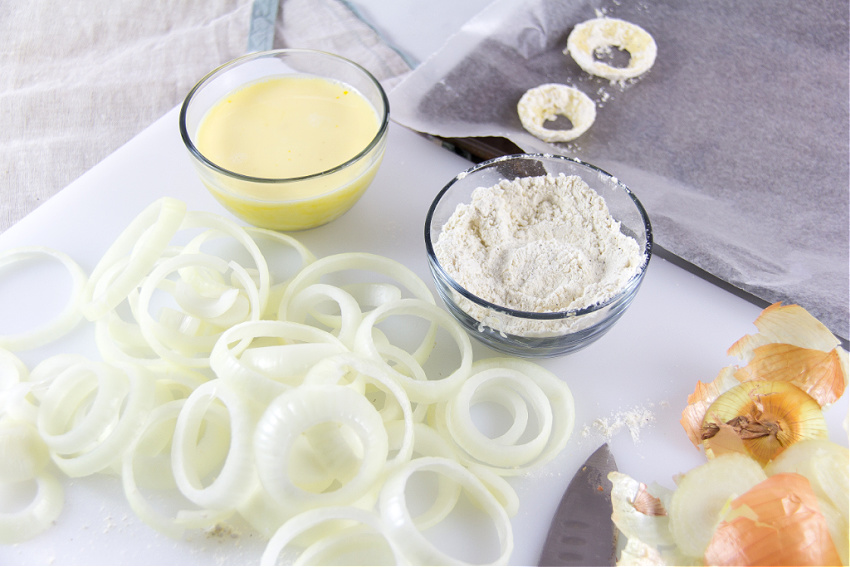 In one bowl add one egg and 1/2 a cup of whole milk. In a second bowl add seasoned flour. This is where you can use regular seasoned flour or gluten-free seasoned flour. We tried both and they were both delicious.
Slice your onions and then dip them first into the seasoned flour, then into the egg, and then back into the seasoned flour. This helps the flour to stick a little better.
Place the onion rings on a wax-lined cookie sheet, and once the deep fryer is heated up, cook them for 2-3 minutes.
Chop them up into smaller pieces for when you are ready to put them onto the green bean casserole.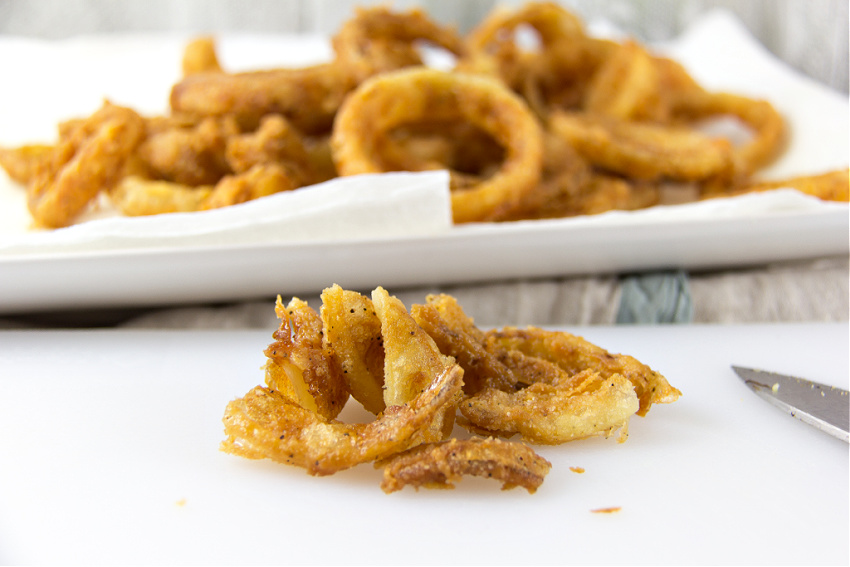 Fresh green beans or canned green beans
Personally, I'm not a fan of canned green beans so I prefer my green bean casserole with fresh beans. Fresh beans take longer to cook through and you don't want your green bean casserole to have crunchy beans in it.
This is an easy fix though. Once you've cut off the ends of your green beans and then cut them in half, put them into a pot with water and chicken broth to boil for about 5 minutes. This will soften them enough before adding them to the rest of the ingredients.
How to make green bean casserole without mushroom soup
It's easier than you think to make this green bean dish without mushroom soup or a flour mixture.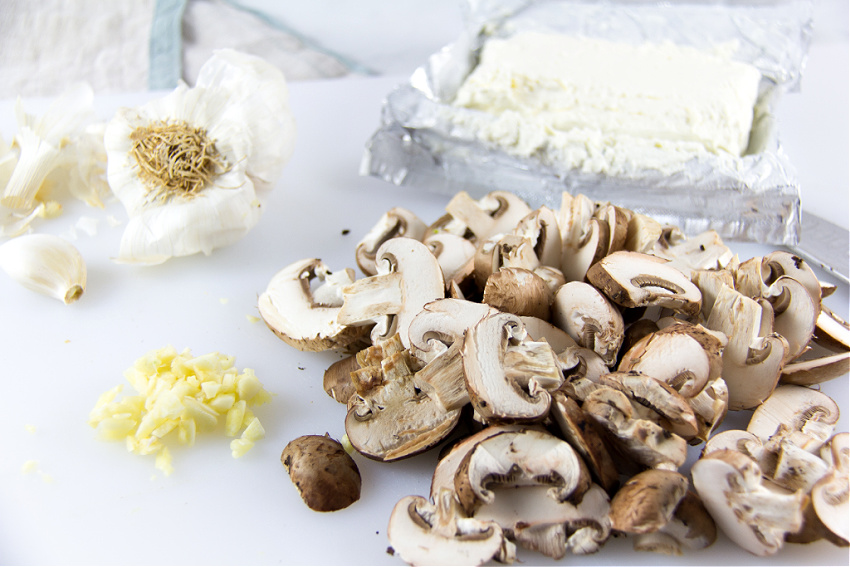 As an alternative to mushroom soup, I whisk together fresh garlic, cream cheese, shredded Parmesan cheese, sour cream, and milk in a pan. This makes a delicious base for your mushrooms and green beans.
Spray a casserole dish with non-stick spray, add your casserole ingredients, and then top with the chopped fried onions.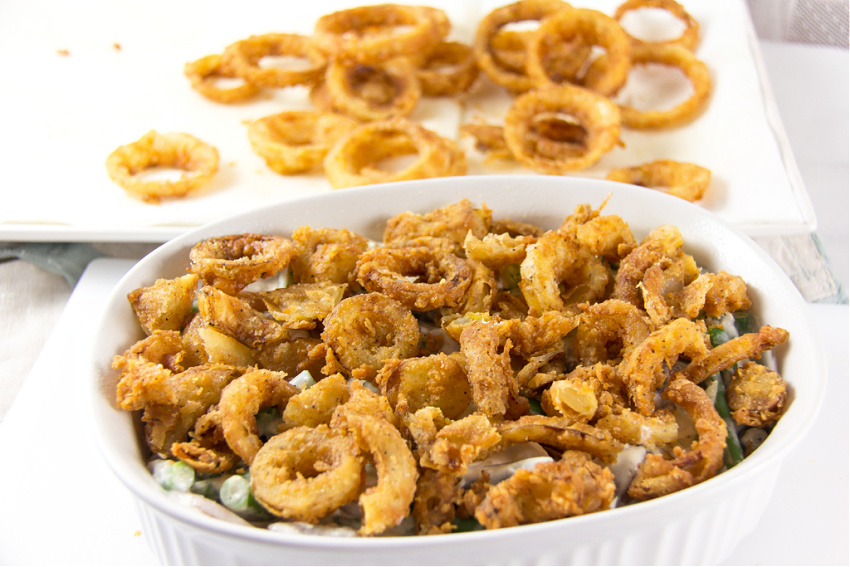 Put your casserole into the oven for about 20 minutes. You don't want it in there too long or your onions will burn.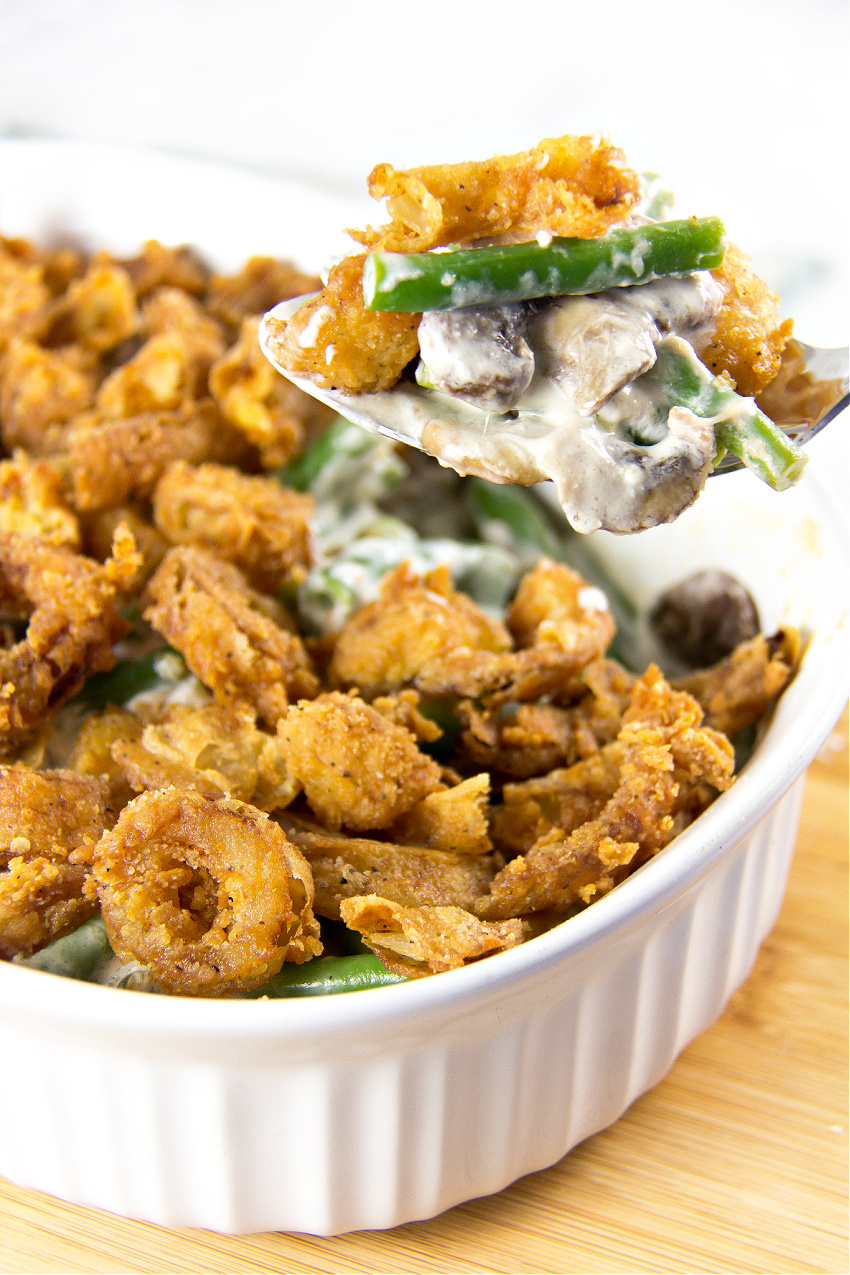 Please Pin Post For Later:
Green Bean Casserole
This green bean casserole uses fresh produce, no mushroom soup, and can be made gluten-free.
Keyword:
side dish, Thanksgiving
Ingredients
1

lb

fresh green beans

1

medium

yellow onion

8

oz

fresh mushrooms

2

cloves

garlic

2

tbs

butter

unsalted

8

oz

cream cheese

softened

1/2

cup

Parmesan cheese

shredded

2

tbs

sour cream

1/4

cup

whole milk

+ 1/2 cup for onions

2

cups

chicken broth

4

cups

water

1

large

egg

1

cup

seasoned flour

or gluten-free seasoned flour
Instructions
Preheat the oven to 350F and preheat the deep fryer too.

Cut the ends of your green beans and then cut your beans in half. Slice the mushrooms and onions, and crush the garlic cloves.

Put your green beans into a pot of water and chicken broth. Bring to the boil and continue boiling for 5 minutes. Drain the beans and put them into cold water until you are ready to use them.

Combine the egg and 1/2 cup of milk in a bowl. Put the seasoned flour in a second bowl. Dip your onion rings into the flour first, then into the egg mixture, and then back into the flour. Place each onto a wax paper lined cookie sheet. Once the deep fryer is heated cook the onion rings for 2-3 minutes. Chop them into smaller pieces for topping the green bean casserole.

In a frying pan melt 2 tablespoons of butter and then add the garlic. Stir fry for a couple of minutes and then add the mushrooms. Continue cooking over medium heat until the mushrooms are softened. Add the cream cheese, sour cream, Parmesan cheese, and milk. Whisk together until everything is melted and creamy.

Drain your green beans and add them to the mushrooms and cream cheese. Stir until combined.

Spray a casserole dish with non-stick cooking spray and then add the casserole mixture. Top with chopped onions and bake in the oven for 20 minutes.