There are so many fun activities to do on a Disney trip, you don't want to miss a thing! Over the years we've shared a Disney paper chain countdown to get excited before you go, 10 tips for family-friendly travel, and the must-haves for your vacation. But what about the simple silly stuff?? Things like wearing "goofy" hats (literally), looking for the best photo ops, and eating all the munchies. Here's what we do to get GOOFY at Disney Parks!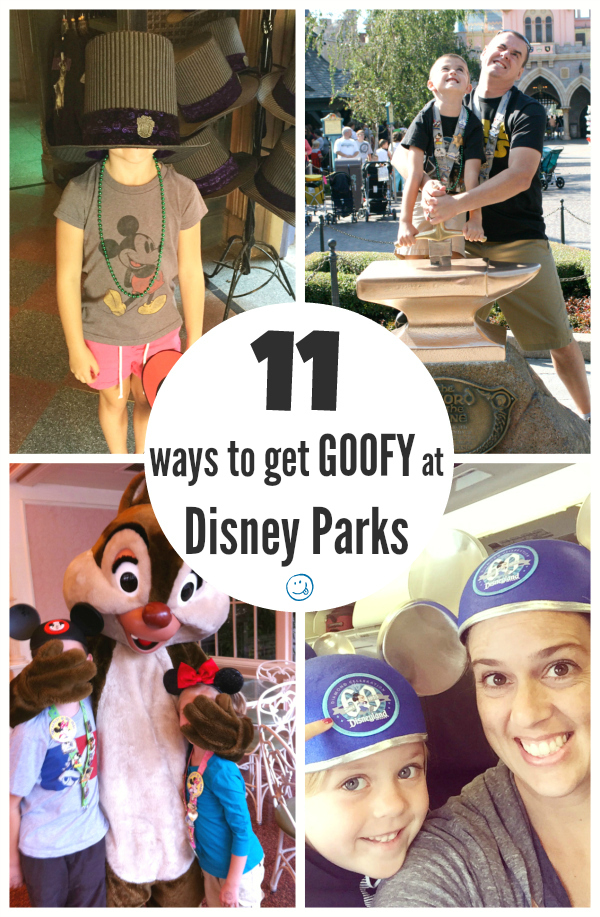 11 Ways to Get Goofy at Disney Parks
1. Get decked out in Disney: Just go for it. Buy the matching family shirts and be "those" people. We do it every time and it only gets us more in the Disney spirit. We also have our lanyards on with pins, complete with Mickey ears and all!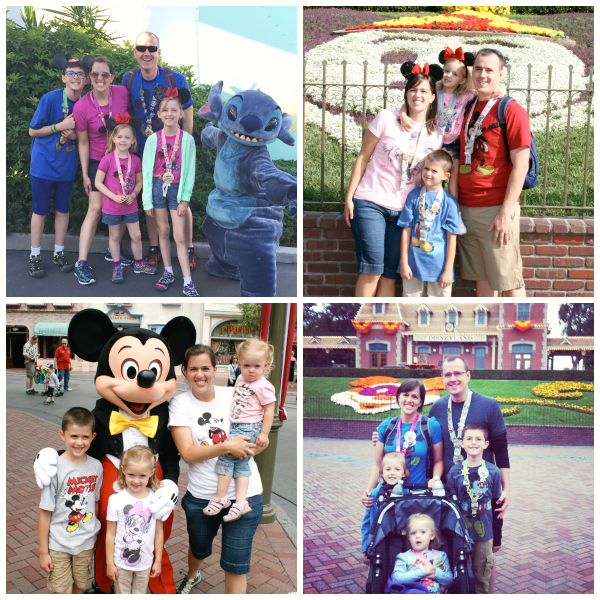 2. Never miss a photo op: Take ALL the family photos you can. You'll be so glad you took tons!! Around every corner is some place fun to snap a quick pic. My favorite is the AT-AT at Star Tours in Disney World. Or find your letter at California Adventure and pose. Then once you get home, you can create a Disney album. Make yourself a Chatbook all about Disney – make and take readers get their first book free with the code: MAKE541!
3. Find the fun food: We were first in line at the Little Red Wagon at Disneyland for one of their monster corn dogs. And we didn't even know that you earn a special pin when you're the first corn dog of the day. That was awesome! Be sure to hit up all the fun and silly food during your stay. We love a good ol' turkey leg, Monte Cristo sandwich from Cafe Orleans, Mickey Mouse beignets, and of course a classic Dole Whip while you wait in line for the Enchanted Tiki Room.
4. Play with all the features: Everything at Disney is meant to be played with, so do it all, play with all the things! Hang on the rope swing on Tarzan, pull up the dumbbells in Toon Town, play on the Haunted Mansion Piano, and of course, try to pull out the Sword in the Stone!
5. Try on ALL the hats: I don't know one person who hasn't tried on at least one hat from the gift shops. It's a must and so much fun, especially for pictures. Model all the looks. The Mad Hatter shop in Disneyland is a great place to go. Be sure to get Mickey Ears with your name embroidered too!
6. Get drenched on the water rides: There might be some of you who cringe at the thought of getting wet. And on a cold day, I might agree. But in the warm sunny weather, you must get drenched, it's super refreshing when the kids are complaining of heat. If you're staying at a Disney resort, you can head back to your hotel room to change. Our family has a bet on the ride who will get the wettest in the end!
7. Become a Jedi in Training: Yes, that's Lucy below when she was 4 years old, fighting Darth Vadar. It was a very proud parent moment to see her on that stage! Our son Matt was able to fight Darth Maul that day too. We still have their Jedi in Training certificates. I wonder… will Kylo Ren be introduce from the new Star Wars movie to the parks soon?
8. Dance for beads with the bands: When you're a kid and you dance with the band, they hand out bead necklaces for free! My kids love this and have learned to dance with every band they see at Disney parks, gettin' their groove on.
9. Take selfies with characters: Oh ya! The selfie craze has hit Disney. You must take pics with the characters, Selfie-Style. You might even get a photobomb or two from a stormtrooper, ha. Gotta love it!
10. Get the high scores: Our family might be a tad-bit competitive when it comes to scoring points on rides. Both Buzz Lightyear Astro Blasters and Toy Story Mania are rides we get a little over zealous about. But that makes it so much fun. We get in line again and again on these rides to beat our high scores!
11. End the day with fireworks: If you're at Disneyland, the best seat in the house to watch the fireworks is on the Mad Tea Party ride. And there's usually no line for the ride, so it's a great time to get it in. There's fun music, bright fireworks, and I love those tea party lanterns! At either Disneyland or Disney World, it's the perfect way to end the day.
Have fun on your next Disney Parks vacation getting GOOFY!
More Disney Ideas: