Handmade cards add a perfectly finished touch to gifts for any occasion. In a world becoming more and more fast-paced and online, handmade cards are even more meaningful and important to give. Today I'd like to share a very simple craft project to easily make your own gift tags, greeting cards, or postcards. We will be making little topiary plant designs on our gift cards using dried flowers.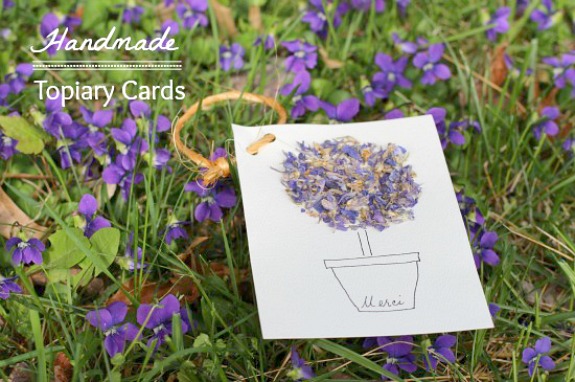 Note: for this project I used dried Larkspur, but you can use any type of dried flower petals. 
Materials Needed for Handmade Topiary Cards:
dried Larkspur (or any other type of flower)
school glue (such as Elmer's)
a fine tip ink pen
card stock paper or blank notecards
jar lid round (as the stencil for the topiary head)
Step 1: If you are using card stock paper, cut your  it to desired size. Place your jar lid round in the top section of the paper (arranged vertically). This round area will obviously be the top of the topiary plant design.
Step 2: Smear glue on the paper in the inside of your jar lid round, holding it firmly in place then remove to form a perfectly round circle of glue.
Step 3: Sprinkle your dried flower petals onto your circle of glue. Shake  the card to remove the excess petals and you have now created the top portion of your topiary plant.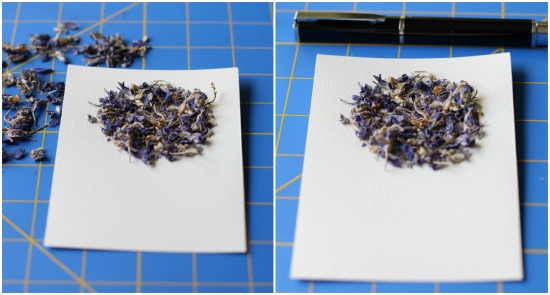 Step 4: Next, you are ready to draw the trunk  and planter of your topiary. To make the trunk, draw two thin vertical lines. Start drawing the pot by making two thin vertical lines (forming a long thin rectangle) underneath the trunk.
Step 5: To draw the base of your planter draw diagonal lines that angle inward at the bottom then lastly a horizontal line on the base to form the bottom of the planter.
Step 6: Optionally you can write "Thank You" or "Happy Birthday" or any other message you wish inside the planter or anywhere on the card.
Step 7: Punch holes in the top of the card if you want to hang it on a gift and tie ribbon or twine in a loop.
Hooray! You are finished making your card! Great job! These would also make lovely cards for Mother's Day!