Recently I gave you a simple yet chic idea for transforming plain glass vases into perfectly coordinating pieces for any entertaining theme. I'm so into cheap and easy these days, I thought you might like to know my other secret for presto change-o partyware: build-a-tiered-serving-plate out of any dish!
Take any favorite plates and turn them into a raised platter, cake plate, or multi-tiered serving piece with just a few inexpensive supplies. Pair them with my easy vases, and you've got the bases covered for parties all year round!

Supplies for Repositionable Tiered Serving Plates:
Plate or plates, any size (I used my everyday stoneware because they're white and go with everything!)
Various sized sherbet bowls, candlestick holders, or other glassware
Re-positionable adhesive strips (I used Scotch's Restickable Strips) or tacky putty
1. Start with a small sherbet cup, glass, or candlestick. Be sure it is steady enough (i.e. has a wide enough base) to support your plate.
2. Place repositionable strips on the rim of the base at the point it will be in contact with the plate. Remove the backing.
3. Turn your plate (or bowl) upside down and place the sticky side of your base in the center and press hard (or follow any instructions given by your sticky stuff's manufacturer).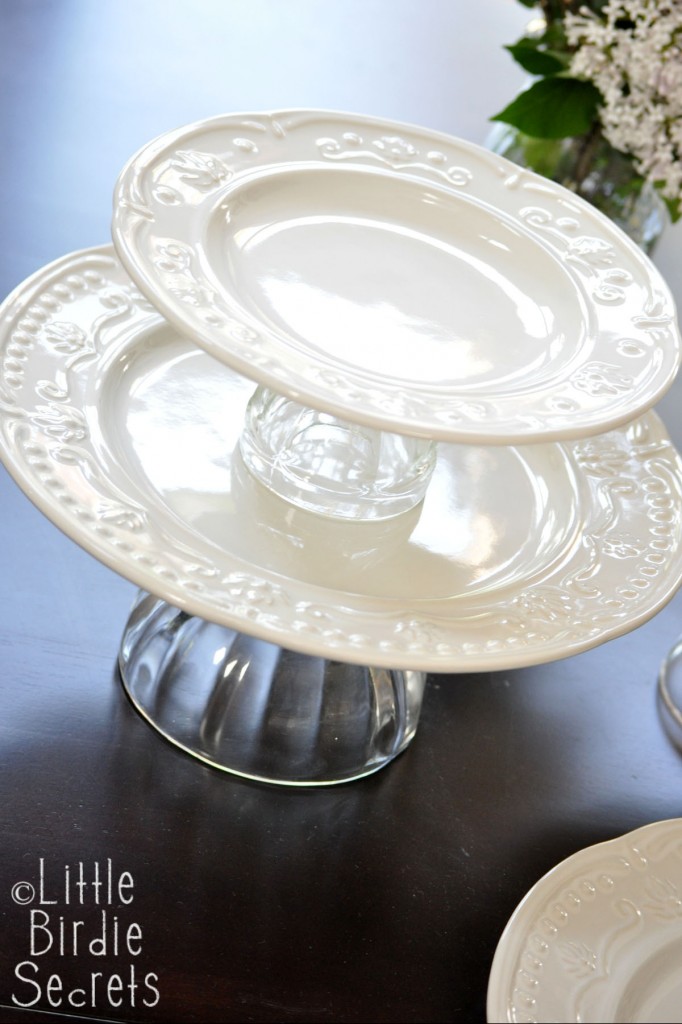 4. Feel free to stack multiple plates to make a multi-level serving dish! One raised plate is a cute cake platter, two is great for cupcakes, cookies, rolls, and more.
Warning: Most repositionable strips will not be strong enough to hold your plates together tightly–use caution when moving or lifting your serving piece.
5. To disassemble, just hold the base and gently pull the plate off. Remove sticky strips and discard. That's it! Now you have the supplies to turn any plate into a great serving piece for your next party!