Most days, breakfast is fend-for-yourself for my older daughters, and a predictable rotation of favorites for my toddler. Every so often, my little guy and I are perky enough in the morning to do some cooking together. Our latest creation is this cute and tasty stegosaurus breakfast!
Kid-Friendly Stegosaurus Breakfast
With leftover pancakes, breakfast sausage, fruit, and chocolate chips, we put together a fun breakfast in just a few minutes. My dinosaur-lover was pretty impressed!
Make a Delicious Stegosaurus Breakfast
Ingredients:
1 pancake
1/2 banana, cut in half lengthwise
2 breakfast sausage links, cooked
5-6 strawberries
handful of chocolate chips
Method:
Gather your ingredients, your little helper chef, and maybe a few dinosaur friends to help out. I used leftover pancakes and frozen, precooked breakfast sausage which made this cute meal come together in minutes.
Slice a large strawberry in half for the head, then slice the rest of the strawberries for spikes. Cut each sausage link in half to make 4 legs. My 2-year-old needed to eat some sausage immediately, so our legs got cut a little short!
Cut a small slice off the bottom of the pancake. Time to start assembling the stegosaurus! Put the pancake in the center of the plate, and add the sliced banana for the tail and strawberry half for the head. Place the four sausage legs on the plate, and decorate the stegosaurus's back and tail with strawberry spikes.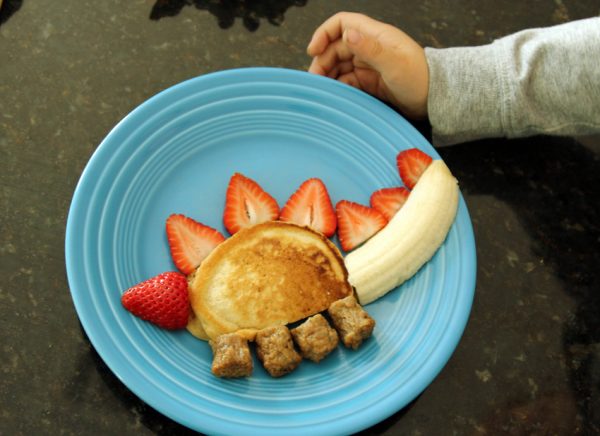 Add a chocolate chip eye, and put a few chocolate chips on the pancake, too. (One chocolate chip is never enough!) Serve with syrup for dipping on the side.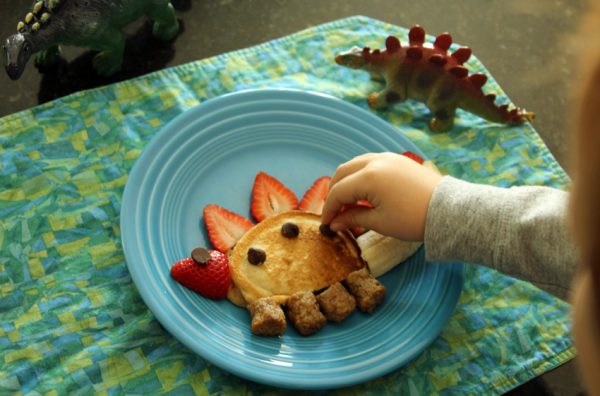 Now, how cute is that stegosaurus!? This breakfast probably took us less than 10 minutes to put together, but it made my little guy's morning for sure! After gobbling down his tasty stegosaurus breakfast, guess what he played the rest of the morning? You guessed it – romping, stomping dinosaurs!
Pin this post for later: