Looking for a creative gift for Mother's Day that kids can make for mom or grandma? This easy jewelry dish is a perfect kid-made Mother's Day gift that kids can easily make and personalize. It only takes some air dry clay, you can even make it from this 3 ingredient playdough, and some basic craft supplies but the results are fabulous. A beautiful jewelry dish that mom can use to store all those precious pieces of jewelry when she takes them off at night or to wash up. Don't forget to wrap it up in a colorful gift bag!
Easy Jewelry Dish Gift for Mother's Day
Unless you are making your own air dry clay (try this 3 ingredient playdough recipe, it will dry like clay) there is no prep needed for this simple kids craft. Just remember that you want to make sure you do this craft with your children at least 4 or 5 days before Mother's Day as it will take a couple of days for the clay to dry fully.
Supplies:
Air dry clay
Sequins or beads
Heart shaped cookie cutter (medium/large sized)
Playdough rolling pin
Small bowl or dish
Toothpick
Jewelry Dish Instructions:
Begin by having the kids roll out the air dry clay. Once the clay is rolled out to about 1/4 of an inch thick press a cookie cutter in the shape of a heart into the clay. This will be the jewelry dish your kids will decorate.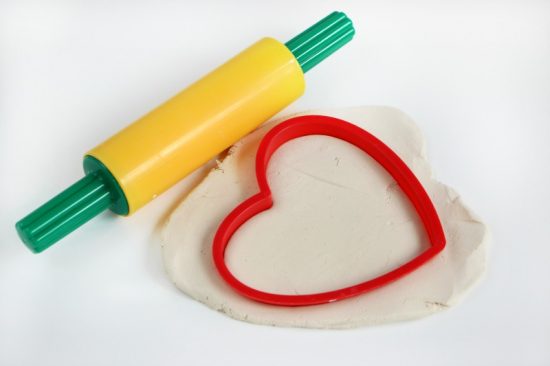 Next let the children use a toothpick to write "Mom" or "Grandma" in the center of the clay heart created by the cookie cutter. Younger children may need help with this part but preschoolers and older kids can easily write the names into the clay. These are a great personalize gift for Mother's Day because no matter what the child calls grandma or mom they can etch it into the jewelry dish.
To decorate their kid made jewelry dish gift for Mother's Day give the children beads or sequins to press into the clay. We found it helpful to roll over the sequins with the rolling pin when the kids were finished decorating. This helps embed the sequins into the clay a bit better and prevents them from falling out when it is dry.
When the children are done place the heart shaped clay into a small dish or bowl. You want a bowl small enough to cause the top and bottom of the heart to curve upward. Make sure the center of the heart is in the middle of the bowl. This will allow the jewelry dish to sit evenly when dried. Set the bowl aside and do not remove until the clay has dried, it may take several days depending on the thickness of your clay.
These kid-made jewelry dishes will be a treasured keepsake that are a perfect way for mom to store her important jewelry. Make one for that special mom or grandma in your life this Mother's Day!