I've been crocheting up a storm here on Make and Takes. But now it's time to broaden my yarn horizons and start knitting. I've only tried it once, so after We Are Knitters contacted me to test out one of their beginner patterns, I had to say yes!
This was a perfect weekend pattern. These kits come with everything you need to start and finish a completed project. So I snuggled up to a movie with the kids and knitted away!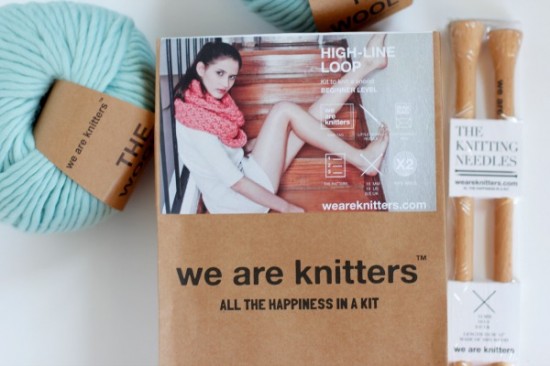 I love chunky yarn, I was thrilled to be knitting up this fabulous high-line loop pattern with chunky yarn and size 15 knitting needles. These needles are huge, but oh-so-fun to knit with! Especially with this gorgeous 100% peruvian wool in aquamarine… I'm dying over the color.
Believe me, I wasn't without a few hiccups for my first scarf as you can see above. I had to keep on my toes and count stitches, remembering which stitch I was on… knit or purl, purl or knit! But even with a few holes and wrong stitches here and there, this chunky yarn is very forgiving, perfect for a beginner!
The pattern came with enough yarn to make a large double loop, but I chose to knit with one, as I like my cowls a little smaller. Now I've got my darling new scarf just in time for fall. Yippee!
Have you ever tried to knit or are you ready to start? We Are Knitters us the perfect place to begin as they share all kinds of kits with everything you need to complete a project. And they have loads of fabulous videos to get you started. See below for how to cast on and how to knit!
Now it's time for an amazing giveaway to win a We Are Knitters kit of your own. You can win a High-Line Loop kit to make your own super snuggly scarf!
Head over to facebook for details on how to enter!!