We've already begun our haunting Halloween fun with these Lemon Juice Mystery Messages.
I've joined up with Q-tips again as a Tipster ambassador and sharing some super spooky science with you. These lemon juice mystery messages are too much fun. Watch our video as we created lots of Halloween shapes and messages with lemon juice!
Supplies for Lemon Juice Mystery Messages:
lemon juice in a bowl
Q-tips – precision tips
white paper – thin copy paper
heat, adult use only – iron, candle, lightbulb
1. With your paper ready, dip your Q-tip in lemon juice and carefully write or draw something on your paper.
It can be a Halloween shape or words. For little ones, make it easy with a pumpkin or ghost or the words, "Boo"!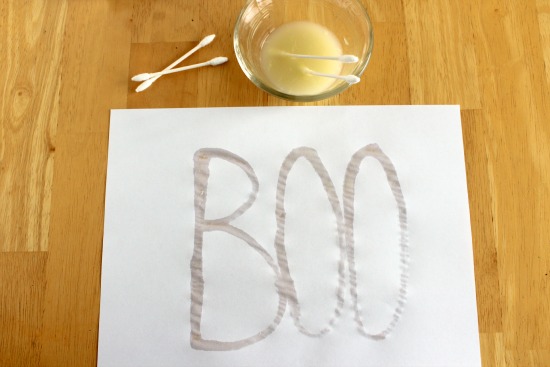 2. Let the lemon juice dry on the paper. It will dry clear.
3. Once the paper is dry, add heat to the paper to help the words "mysteriously" reappear! You can iron your paper on a low heat setting with no steam for a minute or so. Or place a flame underneath (please be careful and watch your flame). Or place your paper over a hot lightbulb. We chose to iron our paper to make it quick and easy.
Super spooooooky science! Talk to your kids about how the acid in the lemons breaks down the paper once it's added, and when heated, the acidic area browns up first, displaying your lemon juice message.
We had fun writing spooky pictures and messages. They looked so good that we added some Halloween paper to the back as a frame and will be displaying them around the house. Have fun with science this Halloween season!
Disclosure: this is a sponsored post by Q-tip, as I'm a Tipster ambassador. All opinions and creative ideas are my own.