My big brother Randall is joining us today in the kitchen. He's one of those great dudes that shares his talent of cooking with the family. He currently lives in Chico, CA, but graced us with his presence a few weeks back, sharing how to make his Fantastic-o Spicy Hot Tacos! He likes them HOT – like burn your mouth, get me some ice cold milk – HOT, but also made a 'slightly' less hot version for me (I'm a wimp!)
Recipe for Randall's Spicy Taco Filling:
1 lb ground round beef (lean,about 90%)
1/3 white onion chopped about 1/2 cup
1/3 green pepper diced about 1/2 cup
1 (or 2 or 3) Jalapeno peppers(seeded, minced)
1 15oz can tomato sauce (sauce, not paste)
1/2 cup store bought salsa, Hot.
Sharp cheddar cheese, 6-8 oz, shredded
1/3 head of lettuce, chopped
2 small or 1 large tomato, seeded, diced, about 1 cup
Any type of salsa, Hot style.
1/8 tsp salt, 1/8 tsp balck pepper
18-pack of hard Taco shells, yellow corn
Brown and drain your ground beef. Using the fat from the meat, cook your onions. Once they're translucent (clear), add the green pepper and jalapeno. When the veggies are soft, add Tomoto sauce, 1/4 cup water (which I use to rinse the sauce cans out and squeeze out every bit of good stuff) and 1/4 cup salsa. Stir and simmer on low heat. After 2-3 minutes, run a taste test for pepper heat.  If too mild, add another 1/4 cup of salsa. Check for heat. If too mild, add another 1/4 cup salsa, and next time, use more jalapenos.  (For example, one Jalapeno and 1/4 cup salsa is considered just right for my parents and 3 jalapenos and 1/2 cup salsa is perfect for me). Part of the reason for the salsa is that there are some agents (flour, gum, etc) in the salsa that help the sauce set up. One option I like is the Safeway Select Southwest version with little kernels of corn. Almost any salsa will add it's own unique zing.
Simmer, stirring every few ,minutes, until taco sauce sets up (to check this, pull all meat and sauce to the sides of the skillet and see if liquid drains to the center, 10-20 minutes).  When sauce has set, shut off heat and let sit for a minute to cool before serving.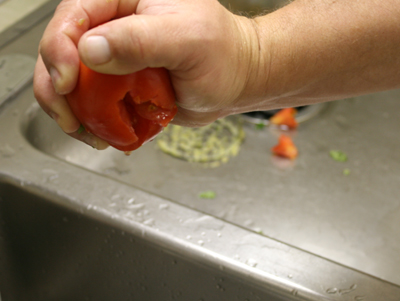 A great trick for dicing up tomatoes is to squeeze out the seeds first. Cut a hole at the top and squeeze over the sink. Now there's less mess as you dice them up.
I usually serve kitchen buffet style, letting everyone build their own tacos (part of the fun). Build your Tacos with 1 spoonful of meat-sauce(about 1/3-1/2 filling the taco shell), sprinkle cheese on top of the meat so it melts, top with lettuce and tomato. This recipe serves 4 adults or 2 teenage boys, so double or triple for more eaters. Exact measurements for everything really aren't needed – the key is to cook it all down so that the sauce is not drippy. I don't think I've ever been unhappy with the result, no matter what (ok, I don't think too highly of the low heat version I serve my parents).
Thanks, Bro! These tacos were delicious. I can't wait to make them again, but with a little less heat, like I said, I'm super wimpy!! He even suggests using the leftovers for a taco salad the next day, using the taco shells that broke, as there's always a few that do. Yum!