We're spelling LOVE with our left over Holiday candy canes. I posted last year how to make Candy Cane Hearts, so this year for Valentines I thought we'd shape them into Love Letters.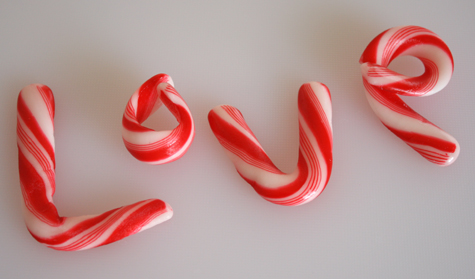 Take off the plastic on your candy canes. It doesn't matter if these break from opening, as they need to be all different sizes anyway.
Place the candy cane pieces onto a tray lined with parchment paper or a silicone baking mat.
Put the tray into a 250 degree oven for 10 minutes.
Shape them (be careful, hot) right out of the oven. They are movable for a minute or two. You can put them back into the oven if you need to reshape them again.
Some letters kept breaking, so you can just use them as lines and form the letters that way as well.
Here's a tutorial for making these candy canes into heart shaped lollipops!