We are officially ready for summer and so excited to show off our Summer Bucket List! We've shared how we got started and where we found inspiration for our list. Now we're putting together our display, ready to get started.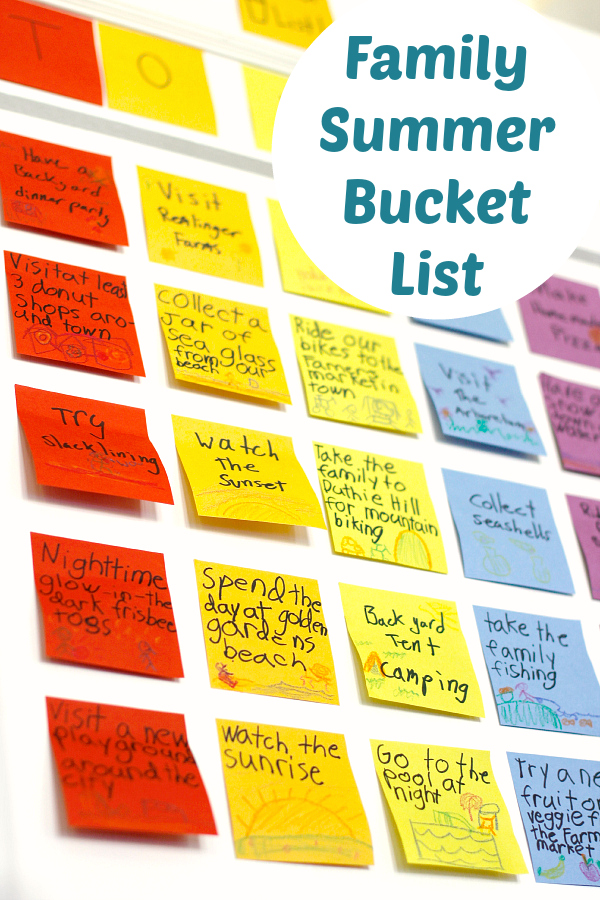 Once again, we're happy to be partnering with Post-it Brand on this summer of fun. We used their new Post-it Brand World of Color collections to help make our board a success. I love the Marrakesh Collection with the colors of the rainbow!
Make a Family Summer Bucket List
Summer Bucket List Display
Supplies:
black marker or crayons
something to display your list – section of a wall, back of a door, poster board, etc.
25 ideas for our list (link back to post #1)
Instructions:
We used a black marker to write down all the items on our list for summer. Since we chose 25 activities, it worked out to have 5 ideas for each color.
My girls used crayons to decorate each Post-it Note as well, giving them a little action!
Since our house is limited on space, I chose to display our board onto the back of our front room closet. I added a "To Do" and a "Done" area to our display. It will really help us see what we have done this summer and what we will still need to do! Happily this Post-it Note collection is "super sticky" to help these stay up on our door all summer long, even as we rearrange them to our done area!
We arranged each Post-it Note in a fun rainbow display, making our summer bucket list exciting! My kids are determined to get them all done. Which is great with me, as that means they are excited to get up and get going, adding to the routine and schedule that summer still needs!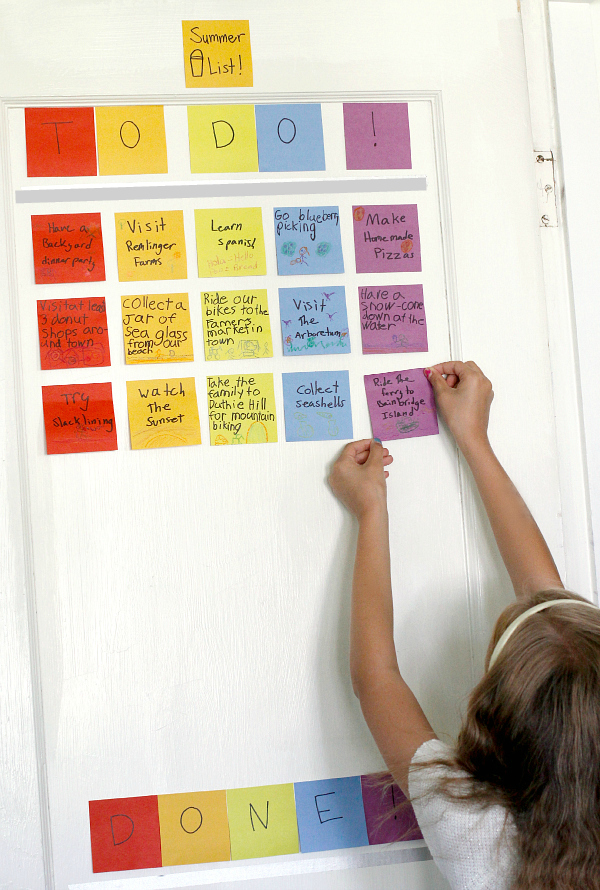 Here are 25 ideas for our Summer Bucket List: 
1. Backyard tent camping
2. Try slack lining
3. Ride our bikes to the Farmer's Market in town
4. Visit a new playground around the city
5. Nighttime glow-in-the-dark frisbee toss
6. Collect a jar of sea glass from our local beach
7. Have a sleepover with cousins
8. Have a snow-cone down at the water
9. Go blueberry picking
10. Have a backyard dinner party
11. Take the family fishing
12. Visit Remlinger Farms
13. Learn Spanish – we love to use the app DuoLingo!
14. Take the family to Duthie Hill for mountain biking
15. Visit the Arboretum
16. Spend the day at Golden Gardens beach
17. Go to the pool at night
18. Roast s'mores over our backyard fire pit
19. Ride the ferry to Bainbridge Island
20. Make homemade pizzas
21. Visit at least 3 donut shops around town – taste test :)
22. Try a new fruit or veggie from the Farmer's Market
23. Watch the sunset
24. Watch the sunrise
25. Collect sea shells
Happy summer to you all!
Pin this post for later:
*Thanks to Post-it Brand for sponsoring this post. Visit them on Facebook, Twitter, Pinterest, and Instagram for more "colorful" inspiration.