Terrariums are a great craft for kids because they are fun in all stages of development. Picking out plants, containers and little figurines to go inside can be just as fun as making the kid-friendly terrarium and watching it grow!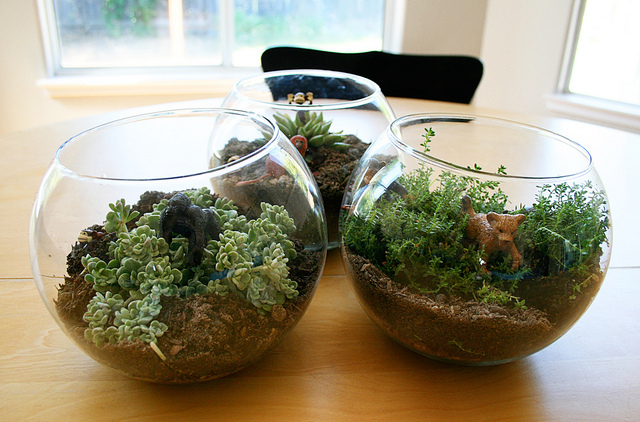 Make a Kid-Friendly Terrarium
But let me back up a bit. What's a terrarium, you say? A terrarium is a way of growing plants in an enclosed or partially enclosed container usually made of glass or plastic. It's a bit like container gardening, but with glass containers. They have gone in an out of popularity since the 1800s, enjoying a particular hey day in the 1970s, and are again returning to popularity. They are easy to establish and make a wonderful craft for bored kids at home during the summer.
Today I'm making a kid-friendly terrarium with my friend's daughter Ivy, who recently turned 8. My two year old daughter was very interested in the process but a bit too young to be trusted with glass.
You can build a terrarium in just about any container. I posted about the many containers for terrariums I've used and you can find an enormous array of items people have used for containers. I found a cache of cheap goldfish globes for ten cents each at a thrift store, but Michael's has them cheaply as well in a range of sizes.
Supplies:
glass containers – any size or shape
soil
gravel,
small plastic animals – for kid-friendly decorating!
Although succulents are my favorite plants for terrariums, many plants will work. Ferns, ground covers, and spider plants are good choices, too. Closed terrariums require plants that thrive in high humidity, but you have a little more leeway in an open terrarium.
Instructions:
The first step is to fill your terrarium with an inch or two of gravel. I like aquarium gravel which you can find at a pet store but I have used plain old gravel from the backyard before with no ill affects. Aquarium gravel just looks nicer and the bonus is that it comes in many colors so your child will have a variety to choose from.
It also comes in different sizes, but since we used small containers we bought the smallest size of gravel. Larger containers can use any size of gravel.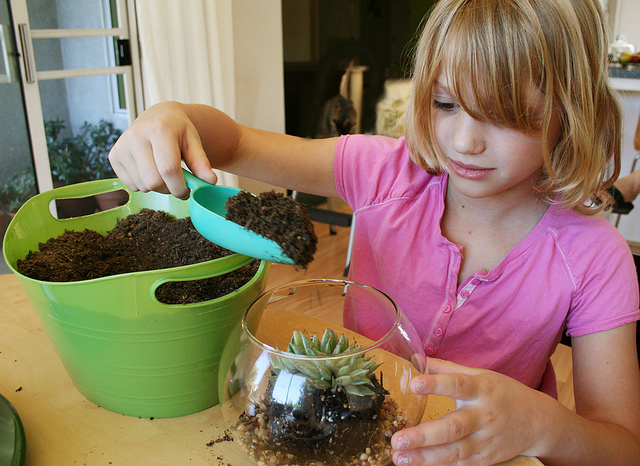 Next, gently remove your plant from its container and break up the root ball slightly. Set it in the center of your terrarium and fill the area around it with soil. Soil designed for cacti work well in terrariums even if you are using other kinds of plants. Drainage is key to prevent your plants from rotting or developing fungus. Though watching mold develop could be considered an educational bonus. (Look honey! You created fungus! A miracle of nature!)
Depending on your child's dexterity they may need help with this part.
(Also, and this probably goes without saying, it's best to do this outside.)
After the plant is nestled in place comes the fun part: choosing and arranging your plastic figures in their verdant new habitat. Monkeys are always fun, but so are ninjas, little mushrooms, and sea creatures. Any figure small enough to find a home in a terrarium will work.
Kids always like this part the best, but secretly I think adults do, too.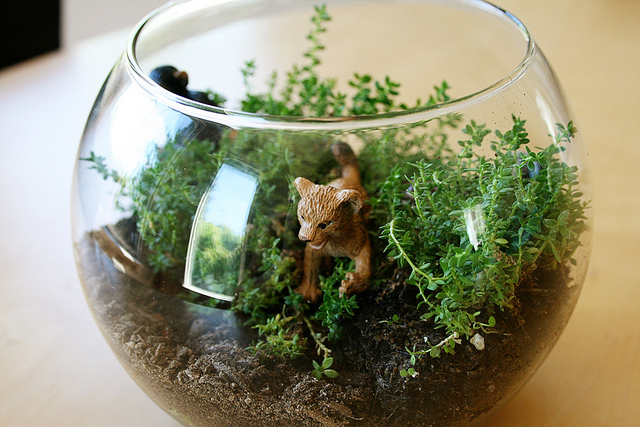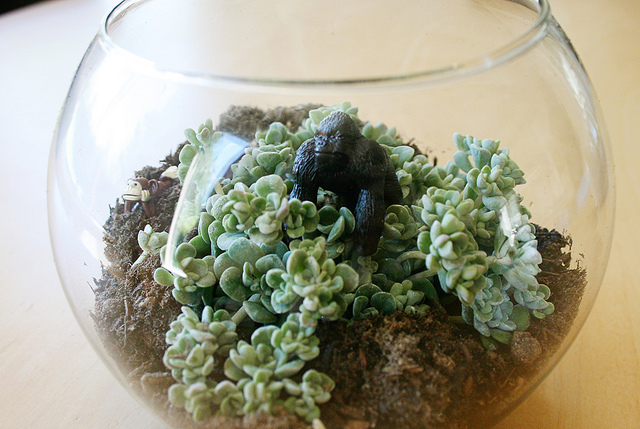 Let the soil dry a bit in between watering, but also let the condition of the plant inform you if they need water. Caring for a plant is a good skill to develop in children and the responsibility makes them feel important.
There you have it – an inexpensive activity that results in a lovely kid-friendly terrarium both you and your child will enjoy.
Guest post by Carrie of Little Big – I am a former librarian who now works from home while watching my two year old daughter. I write Little Big, run a vintage Etsy shop and have a small photography business. I focus on creative domesticity, incorporating thrift store finds in to the home, cooking and crafting, and having adventures with my family.