Hello, I am Shannon at Find Joy in the Journey! I have been blogging since 2005 and I love to write about my family, everyday life, dating my husband, projects and parties, Project Life, being a mom, faith, setting and working towards goals, and finding joy in the journey. I hope you will come visit me!  I'm so excited to be here for Make and Takes summer series Get Out and Play!
I believe that quite often it is the simplest things that can add a touch of magic to our days. For me, one of those simple things is . . . . color. I love and live for colors in bright happy shades!  We currently live in the desert where the backdrop to our days is an ever steady brown. But. When a cactus or sagebrush comes into bloom the appearance of color is like a wonderful gift that you can't help but be thankful for!
It's amazing how much that small splash of color can lift your spirits and help you see the world in a new light!
COLOR is the basis for the outdoor project that I want to share with you today. And as I promised, it is incredibly, almost comically simple. But it packs a punch!
Gather a few simple supplies to Make a Rainbow Ribbon Curtain:
Twine
Ribbon in a rainbow of colors (I used satin ribbon with polka dots and solid floral ribbon. You can find floral ribbon in the floral section of your craft store.  It is great because it is tough and does well around water and the elements)
Scissors
All you have to to is lay out a horizontal piece of twine as wide as you want your curtain to be.  Keep plenty of extra twine on either end to make it easy for hanging in a variety of locations.
Cut looooong sections of colored ribbon (like 6 feet long) and simply tie them to the twine.  Or you may cut doubly long pieces of ribbon (doubly is a real word!), fold it in half and loop over the twine to get two lengths of ribbon with one cut.  It's best to lay this out on the floor as you are cutting, arranging, and tying.  Arrange the ribbons in a progressive rainbow color order (red, orange, yellow, green, blue, purple).
Hang your rainbow ribbon curtain outside and prepare for your kids run and jump through it!
I made my ribbon curtain 3 years ago and it has received a lot of use.  Here are a few examples.
On the last day of school I hung it in the front doorway of our home. Upon arriving home the kids could run in and out of the ribbons in celebration of a school year well done! How fun is that?!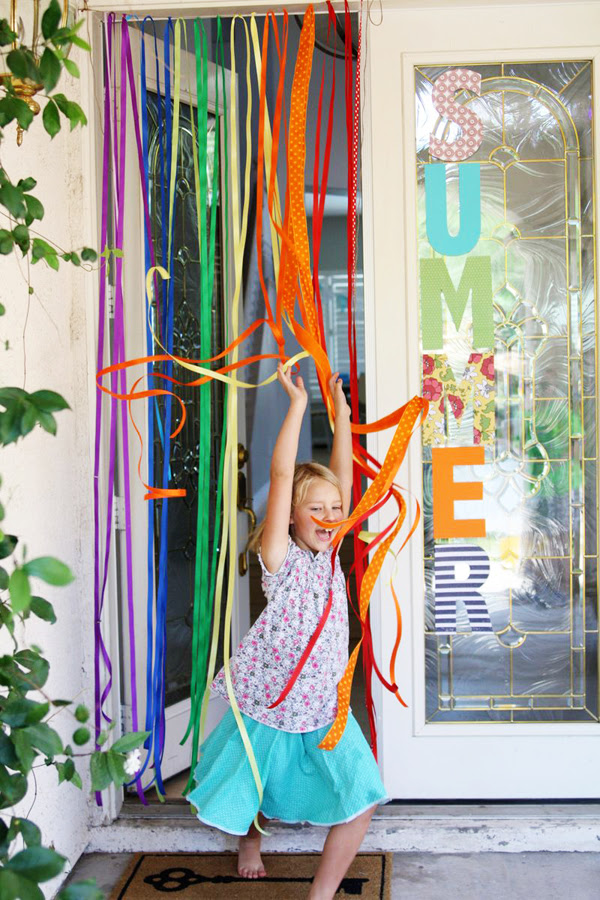 The next year we hung it near the pool and the kids had a blast running through the ribbons and into the pool! It's amazing how this simple thing brought out the most hilarious, unique, and sometimes bizarre themed jumps from the kids. The creativity was running wild!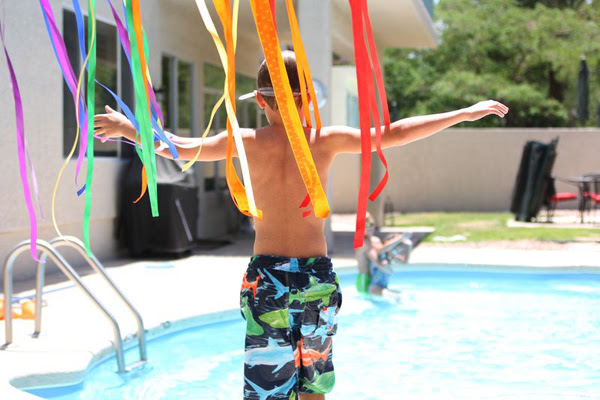 And this year I hung it up as a backdrop for last day of school photos. You can see how well that turned out.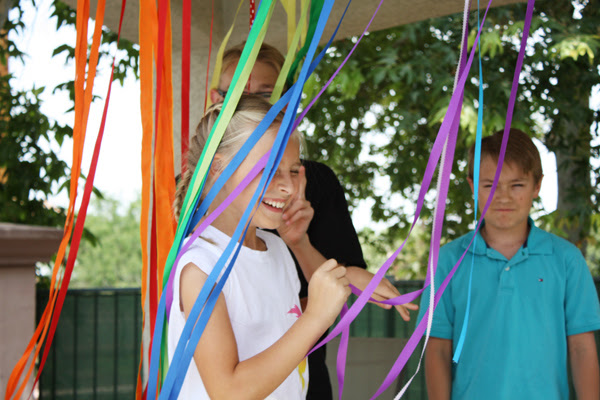 My 9 year old daughter just could not get control of herself! There's something about this gathering of rainbow ribbons that just brings out the FUN and silliness in everyone! (Well, maybe not 14 year old boys but I know that deep down inside he secretly wants to jump through the ribbons again).
Have fun making your rainbow ribbon curtain and then sit back and watch as the play & joy explodes! Be sure to have a camera ready.

See more of our Summer Series ideas for Get Out and Play!