Ever since my brother-in-law introduced us to this adorable video of Marcel The Shell with Shoes On, my kids want to watch it everyday. We decided we had to make a Marcel of our own, complete with pink shoes.
Supplies for Marcel the Shell craft:
small shell
1 googley eye
1 pink pipe cleaner
glue – glue dots are great, or I love Aleene's tacky glue
1. Decide where to put the eye. On the original Marcel, the eye is on the left side. Then glue it on.
2. Cut a 2 inch piece of pipe cleaner. Fold and bend it over to create 2 shoes and glue this to the bottom and back of the shell.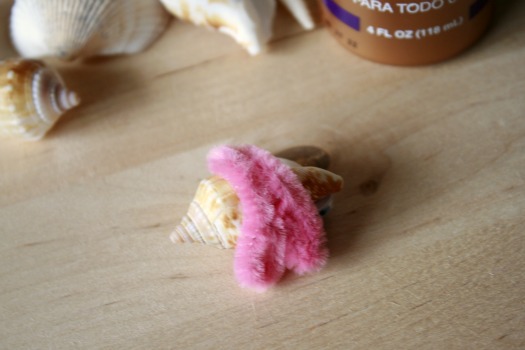 Now Marcel is ready to go. We've been putting Marcel the Shell if funny situations and talking about what she might say. Like: "Wanna know what I use for a surf board? A popsicle stick" My daughter has a pretty good impression of her!
Here's the original video for you to get hooked too: