Don't you just love these cute Mini Meatloaves? I love cooking things in muffin tins. It makes everything so tiny and cute to eat. Remember these Pop Up Pancakes? Yum! Well, these Mini Meatloaves in a Muffin Tin are perfect for dinner served with little mini carrots and baby asparagus!
Mini Meatloaves in a Muffin Tin
Ingredients:
Favorite Meatloaf recipe
bbq sauce
salt & pepper
cheese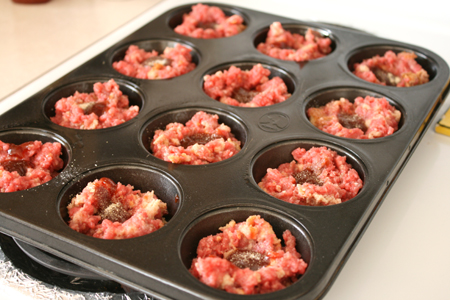 Method:
Pre-heat your oven to 375°. Spray your muffin tin with cooking spray.
Place in a handful of prepared meatloaf into each muffin tin. Press your thumb into each meatloaf ball, making a space for toppings.
Squirt a dollop of bbq sauce into the space and salt and pepper.
Bake meatloaves for 30 minutes or until cooked through (160F).
Sprinkle on your favorite cheese and bake for another 5 or so minutes until the cheese has melted.
Now they are ready for dinner. Maybe you could have a whole "mini" dinner! Serve these on a mini plate on a tiny table in your smallest room with your cutest kids and enjoy!
More muffin tin recipes:
Mini Brownies in a Muffin Tin – These are the perfect little bite-sized treat. I'm not a fan of cutting out brownies from a large pan, so I decided to put them in a muffin tin. With the liners, they pop out easy and are ready to peel and eat. You also get more of an edge, which I love.
Bake Up Muffin Tin Pumpkin Pies – They make for perfect individual portions. These would be a great way to prepare your pie for dessert this Thanksgiving.
Pop Up Pancakes in a Muffin Tin – These mini pop-up pancakes cook up as little puff balls and are easy for the kids to eat! They love adding yummy fruit and syrup to these little cups of goodness!