We're getting so excited for the new Minions movie coming out on July 10th! Those silly little minions have their very own movie, wahoo! We see how these minions came to life and served different masters throughout time. Kevin, Stuart, and Bob embark upon a thrilling journey that leads them to Scarlet Overkill (Academy Award® winner Sandra Bullock), the world's first-ever female super-villain. They travel from frigid Antarctica to 1960s New York City, ending in mod London, where they must face their biggest challenge to date: saving all of Minionkind…from annihilation!
I've partnered with Universal Pictures on today's post to help celebrate and get us ready for the Minions movie. We invited over our friends for a backyard bash and a Ba-Ba-Banana Ice Cream Sundae Bar!
We had all sorts of fun Minions decor to get the party started on our party table – balloons, paper pom poms, beach towels and beach balls, and streamers. Of course, yellow was the theme of the day with yellow chips and lemonade for snacks!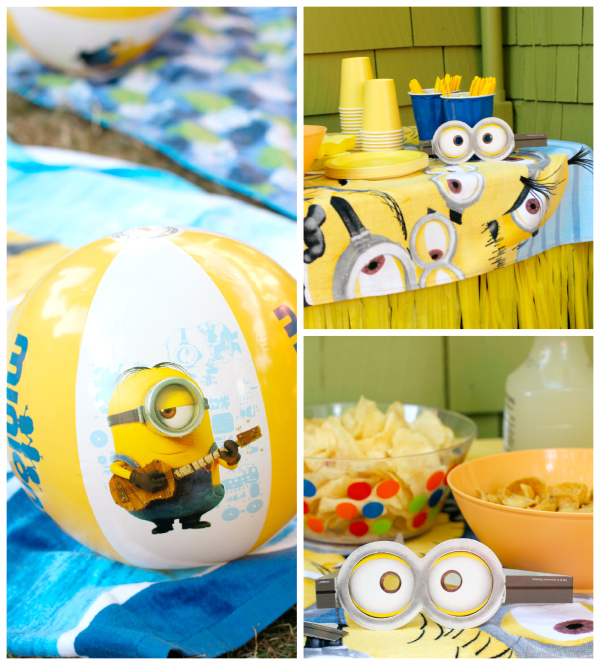 During the party we crafted all things Minions – Crayola Color Wonder Minion Puzzles and Minion Play-Doh sets.
The kids played for hours with the Minions Play-Doh Disguise Lab. It's just like the old barber-type hair shop we used to have as kids. The play-doh oozes out of the top for hair and it's hilarious!!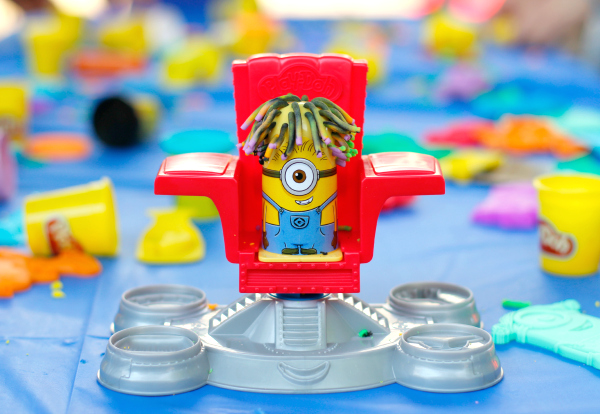 The main event was making Banana Ice Cream Sundaes, complete with a Minions graham cracker on top!
Ingredients for Banana Ice Cream Sundae Bar:
bananas
ice cream
hot fudge
sprinkles
whipped cream
mini chocolate chips
Minion Honey Maid Graham Crackers
Let each guest go through the line to make their Minion sundae any way they'd like. Then it's time to eat and go Ba-Ba-Bananas! These silly minions had so much fun at the #MinionsParty and can't wait for July 10th to watch the new movie!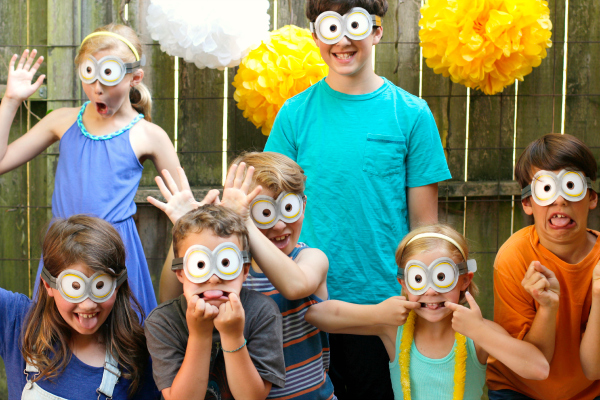 Want more Minions? Here are a few more posts we've shared for Minions fun!
Make a Minions Costume: yellow hat, goggles, and pipe cleaner hair
Minion Sucker Treat Printables: fun to give for a holiday treat or to a loved one
*Thanks to Universal Pictures for sponsoring this post. Be sure to visit the minions on facebook, instagram, twitter, and pinterest by following the hashtag #MinionsParty for more fun!

Have fun with a summer backyard party, celebrating our Get Out and Play summer series!