Summer has officially ended, but our garden is still producing. The tomatoes are ripening like crazy and I bring a big bowl in each afternoon, still warm from the sun. I can't think of a better way to use up the last few bits of summer's bounty than in a Classic Salad Nicoise.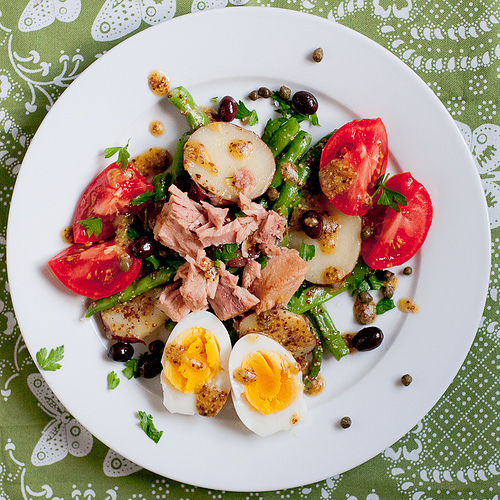 Good salads require the very best ingredients.  And Salad Nicoise highlights some of my family's favorite ingredients–the salty, sharp, pungent flavor of capers, olives and grainy mustard go so well with the freshness and brightness of the fresh herbs, beans, and tomatoes.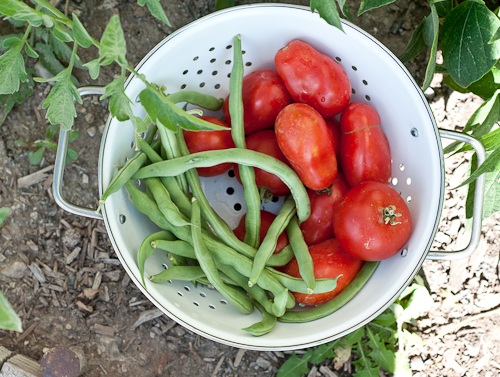 The potatoes are creamy and mild.  We left out the lettuce because we didn't have any in the garden, but it would also tone down the other ingredients just a bit for more balance.  The gorgeous eggs came from my friend Dalene's lovely hens.  A true farm/garden to table meal.
Of course the key ingredient are these gorgeous little Nicoise olives.  They can be hard to find.  We bought ours from a local Italian market that imports foods from Southern Europe.  If you can't find Nicoise olives, you can substitute Kalamata olives.  The anchovies are optional.  I'm not a huge fan of them, but my husband is.  We opened up the tin only to find they had expired 5 (!) years ago…so they didn't make it into the final salad, just the picture.
Classic Salad Nicoise
From The Joy of Cooking
Makes enough for 4 main dish servings

Ingredients
Salad:
6 small red potatoes
1 lb. fresh green beans
2 large ripe tomatoes, cut into 8 wedges each
5 hard-boiled eggs, halved lengthwise
One 6-ounce can tuna,m preferable oil packed, drained and flaked
1/2 cup Nicoise olives
1/4 cup minced fresh parsley
2 Tbsp. drained capers
2-4 anchovy fillets, rinsed and patted dry (optional)
Salt and ground black pepper, to taste
1 head Boston lettuce, separated into leaves, washed and dried (we didn't use this)
Vinaigrette:
3 Tbsp. red wine vinegar
2 teaspoons Dijon mustard (I used whole grain Dijon mustard)
salt and ground black pepper, to taste
6 Tablespoons extra-virgin olive oil
Method:
Place the new potatoes in a large pot and cover with water. Add a few teaspoons of salt and bring water to a boil. Cook until potatoes are tender. Remove potatoes from the pot with a slotted spoon, let cool and cut into 1/2″ thick slices. Place in a medium bowl.
Bring the salted water back to a boil and add the green beans. Cook beans for 2-3 minutes until they are bright green and still crisp. Drain the salted water from the beans, replacing it with fresh, cold water. Drain again and place beans into the bowl with the potato slices.
Prepare vinaigrette by whisking together red wine vinegar, mustard and salt and pepper. Add the olive oil a little at a time while whisking. Alternatively, place all ingredients in a small jar and shake well. Drizzle about 1/4 of the dressing over the beans and potatoes, toss gently, being careful not to break the potato slices.
If using the lettuce, arrange it on a large platter and begin layering: tomato wedges, an additional 1/4 of the vinaigrette, the green beans and potatoes. Place the egg halves around the edges. In the center of the salad, place the flaked tuna. Drizzle with remaining vinaigrette. Top with Nicoise olives, minced parsley, capers, and anchovy fillets, if using. Sprinkle with salt and pepper. Serve immediately.
If not using lettuce, place the potatoes and green beans onto a platter. Arrange tomato slices and hard-boiled egg halves around the edges. Drizzle with another 1/4 of the vinaigrette. Place the flaked tuna in the center of the salad and sprinkle the Nicoise olives, parsley and anchovy fillets, if using, over the top and sides. Serve immediately and pass the remaining vinaigrette alongside, or reserve for another use.