Let's lighten up the recipes for this post, shall we? I love a good summer recipe and these Summer Pasta Salads are the perfect meal for a warm summer day. The textures and flavors in a good pasta salad are what make them my favorite. So many different vegetables, types of pastas, creative dressings- all of it is so fun and yummy! I make a few of the same pasta salad recipes every year, but this year I want to branch out and try some new ones. I found 9 ideas for simple summer pasta salads and I can't wait to try them all. I hope they inspire you to try one or two for your next picnic with friends or family.
9 Simple Summer Pasta Salads
1. Easy Italian Pasta Salad: This pasta salad is filled with juicy tomatoes and little balls of mozzarella. Then tossed with a delicious Italian dressing. YUM!
2. BLT Pasta Salad: Creamy pasta salad with bacon, tomatoes and lettuce. Your favorite BLT sandwich in pasta salad form! (via Crunchy Creamy Sweet)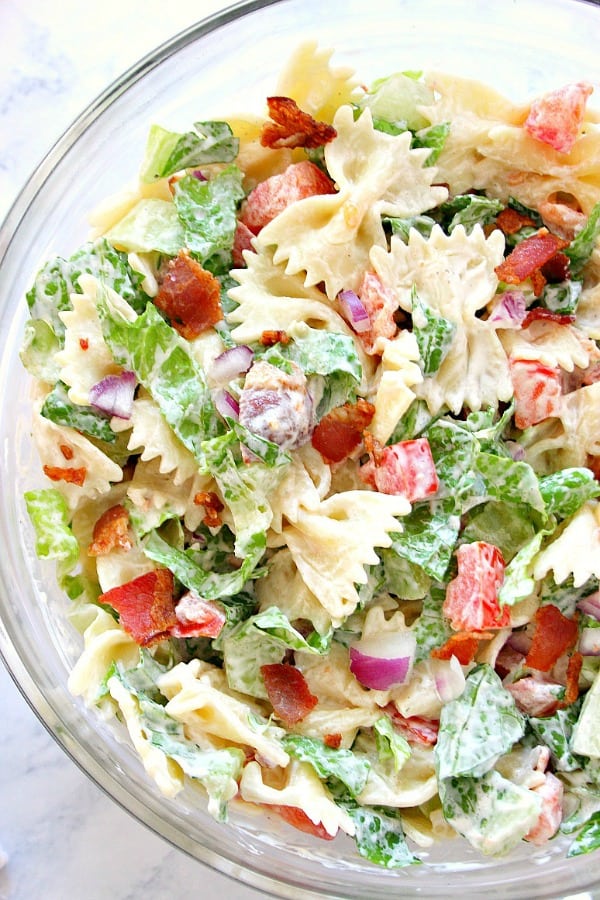 3. Summer Italian Spaghetti Salad: Light, fresh, and full of delicious ingredients. Perfect for a picnic or dinner party outside with friends or family. (via Reluctant Entertainer)
4. Basil Lemon Pasta Salad: Is there anything better than lemon and basil? This pasta salad has so many yummy flavors in it. Topped with parmesan shavings- I can't think of anything better! (via Julie Blanner)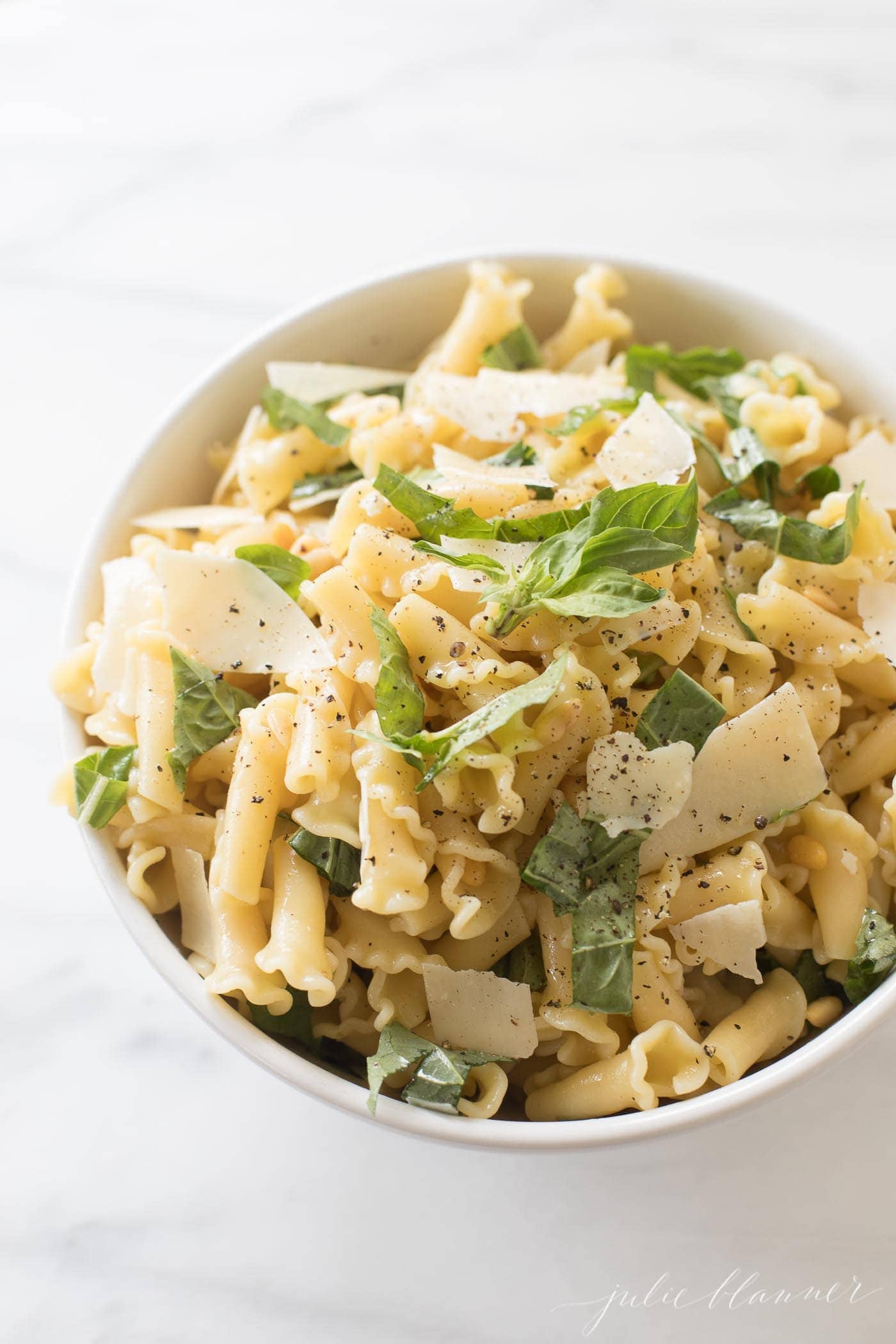 More Summer Pasta Salads
5. Asian Pasta Salad: So many fun textures and flavors in this Asian pasta salad. Chicken, carrots, cilantro, bell peppers and peanuts- all tossed in a irresistible sesame-soy dressing. (via Valerie's Kitchen)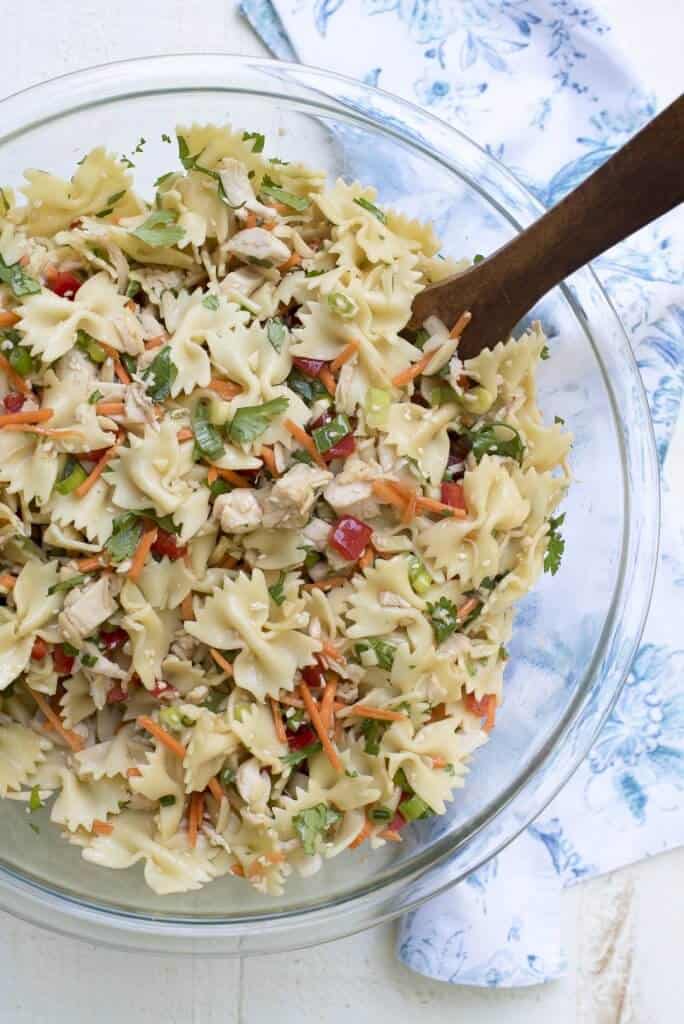 6. Teriyaki Spinach Pasta Salad: Sweet and savory Asian flavors in this tasty pasta salad. One of my favorites!! (via A Bountiful Kitchen)
7. Chicken Bacon Ranch Pasta Salad: I love a classic macaroni past salad. This one has chicken, bacon, and cheese in it! Then it's tossed in a creamy ranch dressing. It's a crowd pleaser for sure! (via Dinner, then Dessert)
8. Orzo Pasta Salad: Arugala, dried cranberries, pine nuts, feta cheese, and orzo pasta make up this cold summer salad. Doesn't it look amazing? (via Cleverly Simple)
9. Chicken Caesar Pasta Salad: This refreshing chicken caesar pasta salad can be made in less than 20 minutes. It's the perfect main dish or side dish for a hot summer day. (via Just a Taste)
Which pasta salad are you most excited to try??