Sometimes shopping for mom can be a bit tricky. What do they want? What do they need? Well, as a mom, I've come up with 20 things I'd LOVE to receive as a gift for Mother's Day. You really want to WOW MOM!! There's a little bit of everything in this guide: treats, wearables, and handmade goodies!
Here are 20 Mom Approved Gifts to Give:
1. Framed Vertical Garden – I would LOVE to have this hanging on my wall, probably my kitchen. There's something so beautiful about this display, especially with succulents.
2. Owl Always Love You Necklaces – I love everything from the ladies of Charmed Collections. You can't go wrong with their darling jewelry!
3. Fizzy Bath Bombs – these are a fun project to make for someone you love. Add in their favorite essential oil scent and she'll love to relax with these bath bombs!
4. Have Courage and Be Kind Tees – This is one of my new favorite quotes from the new Cinderella Movie. Grab a tee from Brassy Apple for Mom and for your little ones to match.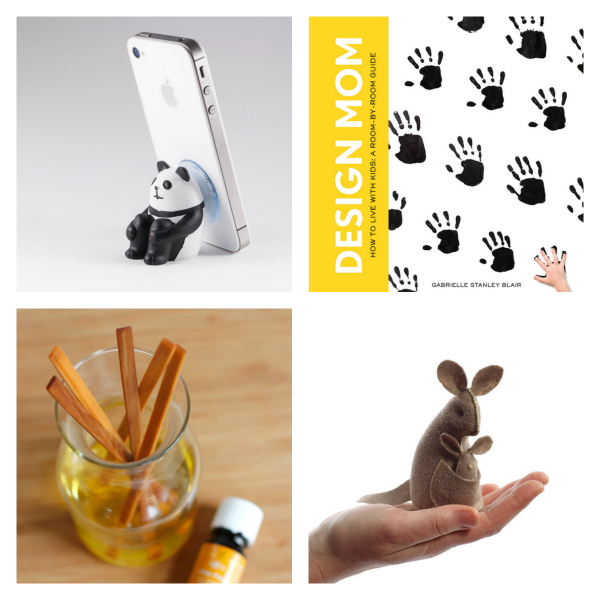 5. Panda Smart Phone Stand – this is the perfect item to have in your purse, helping you entertain the kids on a table with your phone!
6. Design Mom: How to Live with Kids – this is the debut book of Gabrielle Blair of Design Mom. You'll love to read all about how they make a fabulous home for their 6 kids.
7. DIY Reed Diffuser – make mom's house smell lovely with her favorite essential oil scent by making a few of these DIY Reed Diffusers for the home.
8. Mom and Baby Kangaroo – how sweet is this set of mom and baby kangaroos? This fun kit comes from Cynthia Treen Studio.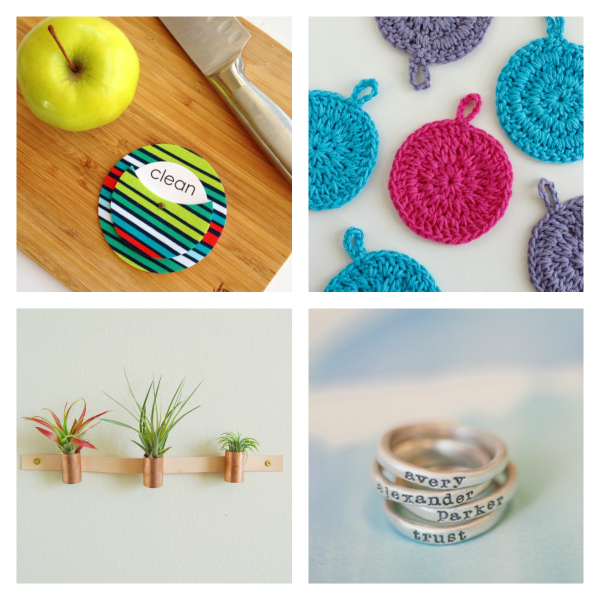 9. Dirty Dish Magnet – I love how simple this gift is, but it's going to help mom and dad remember if the dishes are clean or dirty.
10. Crochet Bath Scrubbies – mom would love a handmade crochet gift from you. These little bath scrubbies are easy to make and fun to give!
11. Copper Air Plant Holder – how fun are air plants? They are the best plant to have around, and this is a gorgeous display!
12. Stamped Name Stacking Rings – Lisa Leonard never disappoints with her amazing jewelry designs. I love these stacking rings.
13. Fit Bit – it's all the rage, but for good reason. I have one and LOVE it! Keep up with your steps and track your activity. Get your buns-a-movin!
14. One Good Life – Jill of One Good Thing By Jillie shares her story about her One Good Life, things she's learned over the years, a very inspiring story!
15. Photo Box DIY – make mom a fun family photo box she'll treasure for life. My mom loved the one we gave her last year and still has it displayed in her office!
16. Free Month of Netflix – you know you want this! Think of all the shows you can catch up on with a free month of Netflix, Arrested Development, Daredevil, and the whole series of Friends!!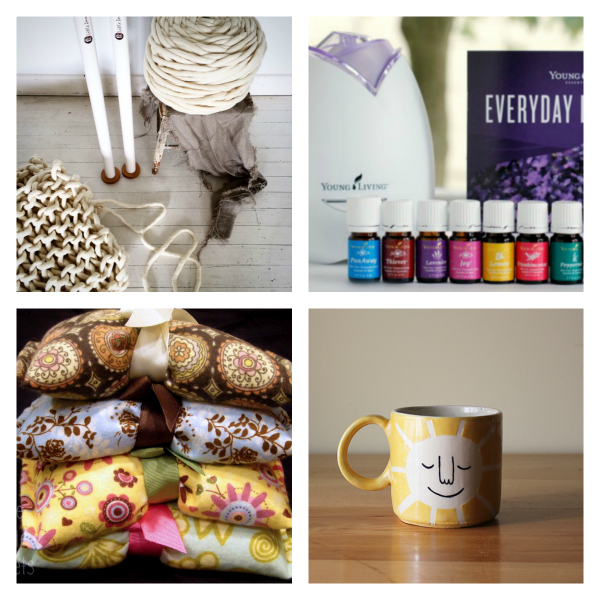 17. Giant Knitting Needles – because if you have a mom who loves to knit, they're going to LOVE these giant needles.
18. Essential Oil Starter Kit – has mom been talking about getting a set of essential oils, complete with a diffuser to keep her house smelling amazing? Get started here!
19. DIY Sewn Rice Bags – make a set of flannel rice bags for mom to warm up her tootsies with!
20. Cat Sunshine Mug – this is the perfect mug for a cup of coffee to enjoy your sunny morning for mom!
*This post contains affiliate links. Thanks for supporting Make and Takes!