"It's a graveyard smash"! We're partying it up with monsters all through the house. Here are some silly monster ideas to do for your next Monster Birthday Party.
Monster Mash Birthday Party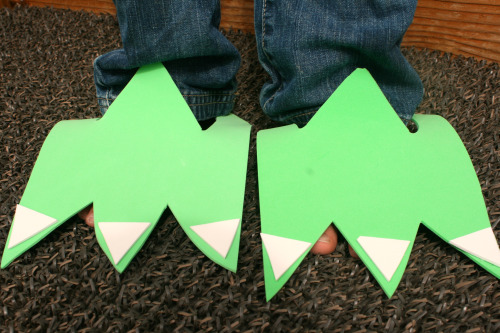 Monster Feet:
You can give each child a pair of these monster feet (these are the same as the dinosaur party). Download the pattern to make these feet and trace it onto craft foam sheets. You could add some tissue paper or crinkle paper for a more fuzzy feel! Monster Foot Pattern
Food:
Stir up some Slimy Sodas – You can use sprite and any flavored ice cream. Make sure it's nice and foamy!
Monsterish Treats – Whip up a batch of Rice Krispie monster treats and add a color or two of food coloring. Give each child a blob and let them shape it into whatever monster they want. Add all kinds of candies to help them look even creepier.
Cake:
I baked a regular round cake and frosted it with green colored frosting. To give it the hairy hair, add food coloring to coconut in a plastic zip baggie and shake it up. Then add it to the top of the frosting, giving it that fuzzy look. I added pretzel horns, large marshmallows cut in half for the eyes with chocolate chips, and red hots for the mouth. It just needs a birthday candle for a nose!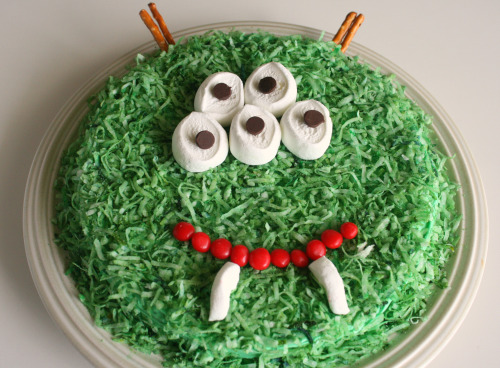 Games:
Monster Toss – Using this great tutorial for a Monster Hamper, have the kids toss in bean bags or small stuffed toy monsters to make a basket.
Grover Hand Puppet – For a not so scary monster, make a fun Grover Hand Puppet. These are really simple to make and the kids would love to take one of these home. You could tailor it to any style of party, even making it a scary looking monster.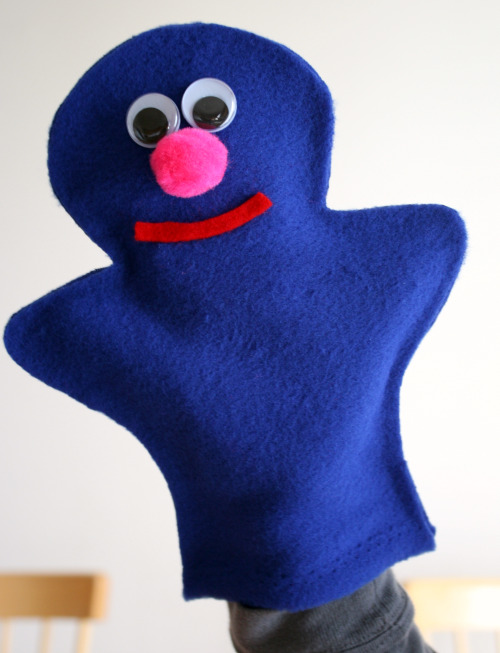 Make a Monster Candy House – Have the children decorate their own monster house made out of candy. You can make the graham cracker house part ahead of time and just have them add the candy, or let them make what ever shape of house they want.
Ghoulish Goblins – Using clear jars, add in corn syrup with a few drops of food coloring. Then pop in a few googley eyes for a ghoulish monster blob.