Last week I had the opportunity to attend the Mother's Day Movie red carpet Seattle premiere. I brought my friend Kelly with me to the event and movie showing, it was a total blast. The movie was darling, spot on for moms. It doesn't hurt that 3 of my favorite female actors are in the movie. It was so much fun to enjoy a night out!
The Mother's Day Movie event asked me to come up with crafty popcorn bags for all 500 movie goers. I worked with the theme using the raffia and flowers wrapped around the movie poster. That inspired the bags I created, adding just a little touch to the event. And if you've ever been to the Cinerama in Seattle, you know it's the best place to watch a movie. Not only do they have super comfy seats, they are famous for their chocolate covered popcorn, yum!
Big thanks to Darice for providing the craft supplies to make all these bags! Darice is a fabulous place to order online in a flash and get it shipped right to your door. They are a great one-stop shop for all your DIY crafting needs.
Thanks to POST Image Co. for the movie day images and step and repeat photos. They even caught me with my crafty popcorn bag in hand!
How-to: Mother's Day Treat Bags
Supplies for Mother's Day Treat Bags:
Instructions:
1. Using your crafting scissors with a zig-zag edge, cut the tops off the bags 1/4 inch from the top. This part is optional, but it does give the bags a little more flare!
2. For the raffia, we used it 2 different ways: Some of the bags we wrapped the raffia all the way around the bags, hot gluing the raffia in place at each side of the bag. Some of the bags we tied 2 6-inch pieces of raffia into a knot and hot glued it onto the center top of the bag. Either way looks great!
3. Hot glue a flower embellishment to the center top of the raffia.
4. Trim off any excess raffia so that it all is centered nicely.
5. Open up your bags and and fill them with treats. Or chocolate popcorn would be a perfect addition!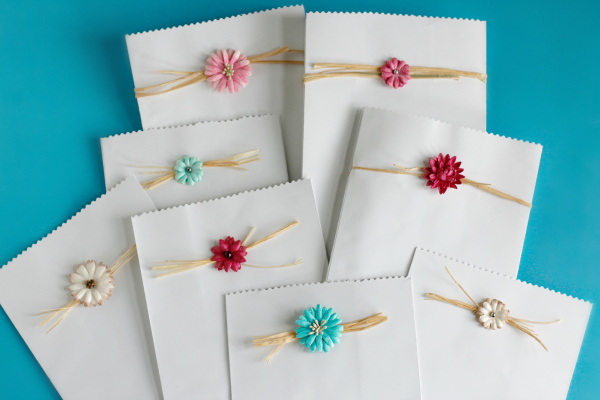 These bags are ready for all sorts of fun gifts, sweet and treats for mom. Be sure to gift your mom with something fun for Mother's Day – maybe even a couple of tickets to see the Mother's Day Movie!
*Thanks to IME Law for the invitation to the red carpet Seattle Mother's Day Movie!