Everywhere we go, my baby is saying: "baby" (or "huh huh" as she's not quite talking!) But she let's me know where all the babies in the grocery store are with a pointing motion and a smile. Since she's so happy looking at babies everywhere we go, I came up with a fun DIY Magazine Baby Book she can look at home or in the car.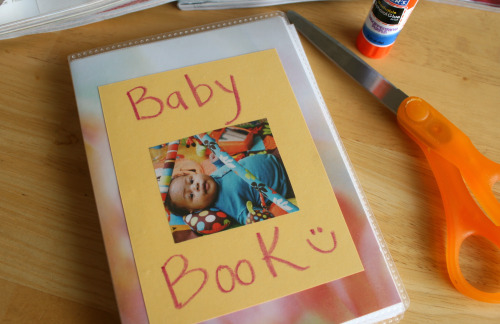 Supplies for DIY Magazine Baby Book:
old magazines, preferably parenting magazines
scissors
small photo album, available at most stores for a couple dollars near the frames
small paper and glue stick for the cover
With this photo album, it let me take out the cover. So I slid it out, glued on a piece of paper and wrote "Baby Book" on it, giving it a title.
Dig out your old-saved-for-crafting magazines from your craft room, you have a pile of these, right?! Flip through the pages and cut out pictures of babies and toddlers. I tried to find a few with actions, like laughing or bath time, etc.
There's a few ways you can add them to your photo album: 1. cut each picture to match the size of your photo album, 2. glue them to another paper to slide into the album, or 3. simply put them in the album as is!
Once you've got all your photos in place, hand the album over to your baby to go "ga-ga" over… literally!