With the new year just around the corner (ah, where has 2011 gone?!)… I've been thinking a lot about goals for me and my family. Each year we try to think of a new motto that my family can focus on that year. The theme we decided on for 2012 is: Together we can do great things. I absolutely love it!
I wanted to create a sign we could display in our home to remind us of our goal. These wooden signs are so fun to make and you could use them for your favorite quotes as well.
Here's what supplies you'll need to make your own:
Wooden board
Spray Paint
Vinyl/Transfer Tape or Stencil and brush

Directions:
1. Purchase a wooden board from Home Depot or Lowes. I bought a 2×1 ft board, but a 12×12 inch would look good too. They will cut down your wood for free! :)
2. Prime and spray paint your board. I did 3 coats of spray paint to make sure it covered nicely.
3. Design your quote and cut out your vinyl (you can use a stencil for this as well).

4. Apply transfer tape to the vinyl after it has been weeded.
5. Push down vinyl on the board and peel away transfer tape.
6. Enjoy your new 2012 motto!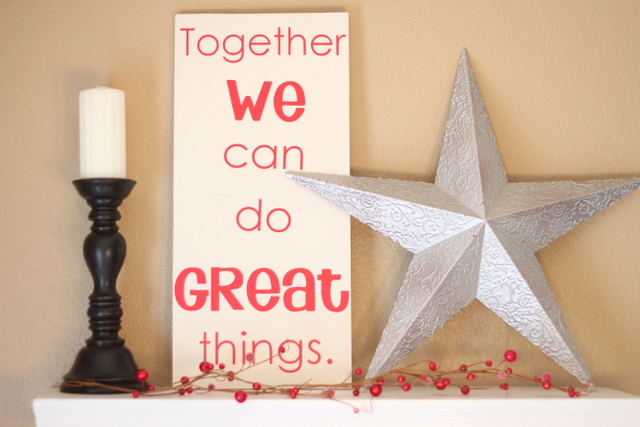 So what's your 2012 motto? 
Hope everyone has a Happy Holiday!