After the hustle-bustle of the holidays, I can't wait to hang up a new calendar and start dreaming about all the fresh possibilities the new year holds. When my girls were little, I always interviewed them on New Year's Day, recording their favorite things and special wishes.
As they have gotten older, we spend time talking about their goals and wishes for the year ahead. This year, we are recording our ideas on a fun fill-in printable, with spaces for dreaming about ways we can learn, try, read, go, give, and make in the new year.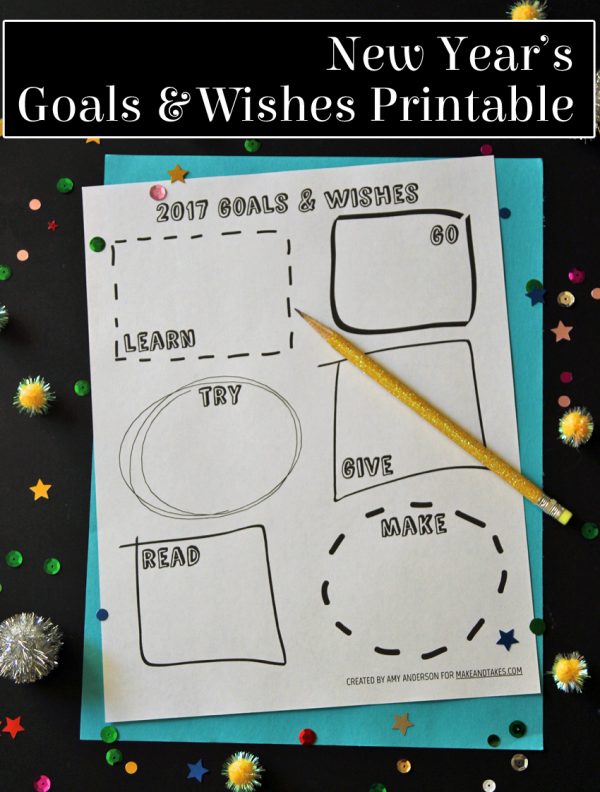 I'm happy to share our 2017 Goals & Wishes printable with you, so you and your kids can do some New Year's dreaming of your own!
We do a lot of talking and brainstorming together while we try to get our thoughts down on paper. I always learn new things about my kids during these chats! Choose one goal or wish for each box, or write and draw as many things as you can think of in each section. The young ones in your family can draw pictures or dictate ideas to a sibling or parent.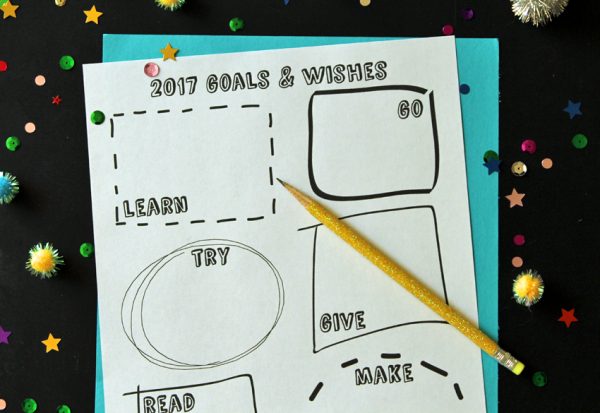 Here are some possible topics for each category, if you need help getting the ideas flowing:
Learn
sport or physical skill
new hobby
specific science or history topic of interest
how to play a new game
self-improvement skill (tying shoes, cooking, typing, driving)
Go
favorite places to visit in your own town
big vacation dreams
family/friends to visit
parent-child date plans
performances or sporting events to attend
Try
new class or after-school activity
new foods or restaurants
build a good habit
musical instrument
Give
random acts of kindness
saving money to donate
volunteering
helping around the house
Read
specific books on your to-read list
a reading goal or challenge
a new genre to try
daily reading habit
Make
crafts or art projects
recipes
outside projects (garden, tree house, bike ramp, etc.)
scrapbooks
make time for a certain activity
We often work on these over a few days, jotting down ideas as we think of them. It's so fun to see the ideas my girls come up with – some I expect, and some are total surprises! Apparently, my 14-year-old wants to read all of Jane Austen's novels and make peach cobbler from scratch. Count me in!
We'll display our New Year's Goals and Wishes on a bulletin board or the refrigerator, to serve as inspiration throughout the year. We may even add to them later in the year. Also, I always save my kids' yearly wishes in their keepsake boxes – they are a perfect memento of the things that are important to them at the time, and I get a record of their handwriting each year, too.
The goals and wishes download also includes a page without the year on it. Use it for a birthday interview, back to school activity, or family summer planning – any time of year you want to dream and plan!