Guest Post by Amanda of Impress Your Kids.
I have a vivid memory of getting off the bus in 4th grade and walking down the driveway while carefully holding a "make and take" in my hand. It was a tiny turkey made out of an Oreo and a few pieces of candy. A room-mother had come to our class that day and taught us to make them. I knew my mom (who is pretty crafty herself) would adore these little turkeys so I decided not to eat mine and bring it home instead. Can you believe the restraint my 4th grade self had?!
Well, my mom apparently loved it as much as I did because we have made these turkeys every Thanksgiving since then! I have loved sharing them with my in-laws, my church friends and other groups of kids I've met along the way. Now I'm happy to share them with you!
It's one of the easiest and yummiest crafts you and your kids will ever make. Ready?
Supplies for Oreo Cookie Turkeys:
Oreos
Candy Corn
M&M minis (separate out the red ones)
chocolate frosting
bell shaped chocolates
I love putting all my supplies in muffin tins. It makes for easy grabbing and you can minimize how many extras are popped into the mouth!
The Oreo is your turkey's body, so let's slather him with our frosting first. (My best frosting tip? Use a spoon for easy spreading but give each kid their own, just in case someone decides to lick the spoon!) Then place your bell shaped chocolate all the way to the edge of the cookie to leave plenty of room for your feathers. This will be Tom the Turkey's head.
Grab about 4 or 5 candy corn and place the small white ends closest to the head. Add a little more frosting to the front of your turkey's head, place M&M minis for eyes and a red M&M mini gobble! (You could use Red Hots, too for a different flavor. I just couldn't find any Red Hots at any store in my city!)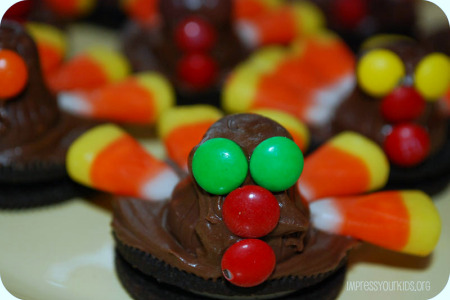 Isn't that adorable? And easy!
There are several versions of  turkey cookies (try searching flickr!) but of course, I like this one best. It's more than a cute snack or decoration to me–it's a fun memory! I love thinking about the mom who shared this with my 4th grade class. She didn't know she was starting a tradition in my family. Why don't you try something new this year? You never know what special memory or cherished tradition you  might create!
Amanda is a stay-at-home mom to two. She blogs her daily life at ohamanda.com and her crafty parenting endeavors at Impress Your Kids. You can also find her twittering waaay too much @oohamanda.