There's no carving required for this cute watercolor Jack O' Lantern craft. Instead, we're grabbing some rolled gauze from the medicine cabinet to create a cool design on paper. We'll use yellow and orange watercolors to paint gauze-covered paper, experimenting with how the gauze absorbs and spreads the paints. Then, let's turn that pretty paper into a goofy Jack O' Lantern!
Watercolor and Gauze Painted Jack O' Lantern
watercolor paper
watercolor paints
large paintbrushes
rolled gauze
colored construction paper
glue
scissors
Cut the rolled gauze into strips the size of the paper. Wet the paper completely with plain water, and lay the gauze strips on top.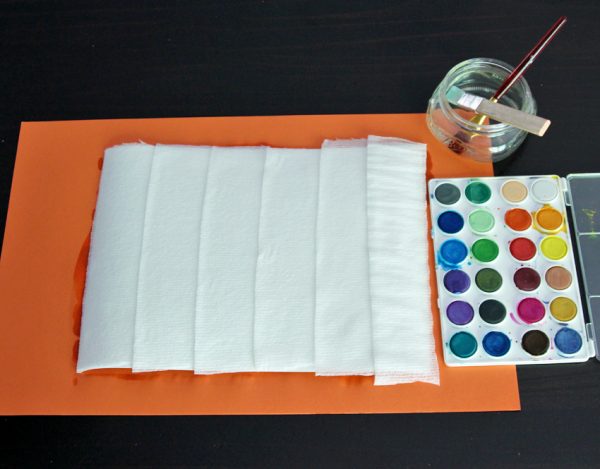 Now, experiment with painting on the gauze! You can wet the gauze with water, then add watercolors on top. Or, try painting the gauze while it's dry and using a wet brush to go over the paints and spread the colors around. The gauze is very absorbent, so you will need lots of paint and water! Large paintbrushes work well for this project.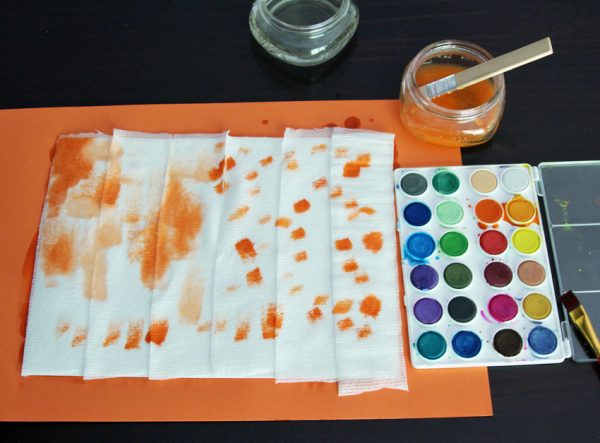 Continue layering water and paint until your gauze-covered paper is completely saturated and colorful. Set it aside to dry. I put mine in the sun to speed up the drying process.
When the gauze and paper are dry, peel off the gauze and check out the interesting texture and pattern left behind.
My finished paper was a bit powdery with dried paint on top, so I gently shook it off outside. If you wipe it too much, you will blur some of the gauzy texture – but that looks neat, too!
Cut out a pumpkin shape from your painted paper and glue it to a piece of black construction paper. Cut out eyes, nose, mouth, and other details from colored construction paper and glue onto the Jack O' Lantern.
Hang up your silly or scary pumpkin face for a fun Halloween decoration. We're making ours into a sign for our front door!