Get into the Fourth of July spirit with this patriotic painted banner. With big red and white stripes and a fun polka-dot star, this project is a fun way for young kiddos to create some American flag-inspired artwork. My three-year-old especially liked the Q-tip painting!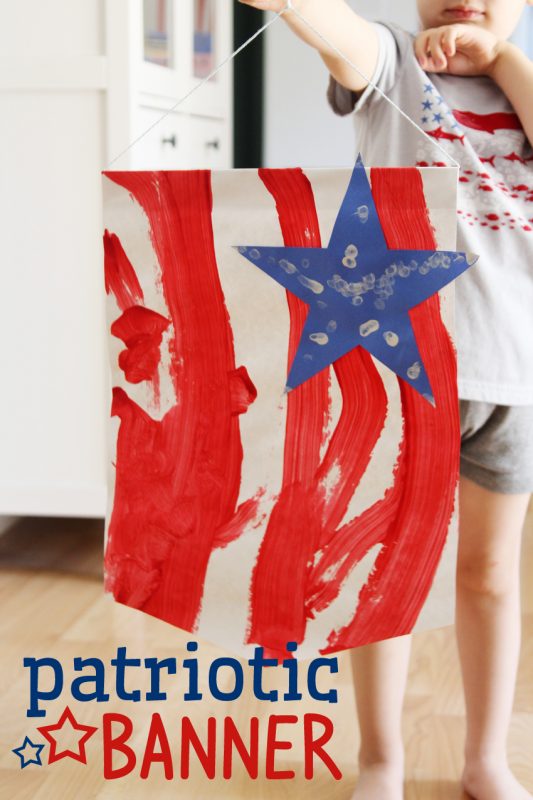 Patriotic Banner Painting for Preschoolers
Before you start painting, look at a real American flag or a photo of the flag. Talk about the colors and shapes that you see, then get ready to create your own flag!
Supplies:
1 sheet of large white paper (we used 12″x18″ construction paper)
1 sheet of blue construction paper
red and white washable tempera paint
large paintbrush
Q-tip
double-sided tape or glue
scissors
ribbon, yarn, or twine
Using a large paintbrush and red paint, paint stripes across the white paper. There's no need for the painted stripes to be perfectly straight, just encourage your child to leave some white space in between the red stripes.
While the painted stripes are drying, you can work on the big blue star. Cut a large star shape from the blue construction paper. Using a Q-tip and white paint, make polka-dots all over the star. Let dry.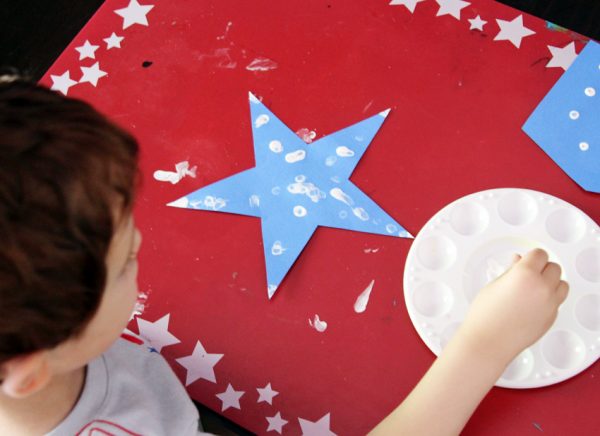 When the striped paper is dry, cut one end to a point. To make a pocket for the ribbon, fold back 1-2″ on the opposite end of the paper, but don't secure it quite yet.
Glue or tape the star in the upper corner of the banner, or wherever your little artist thinks it looks best! To make the hanger, turn the banner over and lay a piece of ribbon or yarn along the fold, then fold down and secure the pocket with double-sided tape. Tie a knot in the string, and your banner is ready for display!
I think I'll hang our patriotic painted banner on the front door for a festive decoration this July. Have fun celebrating and crafting with all things red, white, and blue this Fourth of July!