We've got a great project to share with you today! Not only are these paper bag art work portfolios fun to make, they are going to help you be organized this school year. With a paper grocery bag and some duct tape, your kids can make personalized project portfolios to store all their school goodies in throughout the year. We'll be stuffing ours full of home school projects. At the end of the school year, we'll look through all our hard work and choose our favorites to save.
Let's get crafting!
Supplies for Paper Bag Art Work Portfolios:
paper grocery bag
scissors
stapler
duct tape
drawing and/or painting materials
A big, sturdy grocery bag works best for this project. The first step is to cut apart the grocery bag. Following the fold on one of the sides, cut all the way to the bottom of the bag.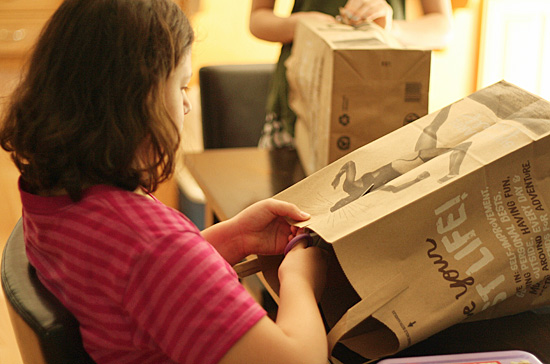 Then, cut all the way around the bottom of the bag to remove the bottom piece. Now you will have a big flat piece to work with.
Fold the cut paper bag in half, lining up the handles, cut sides, and bottom edges. Be sure the bag is inside out, so you have a nice blank slate for decorating! Use a few staples to secure the side and bottom.
Now it's time to add the duct tape border around the two sides and bottom of the bag. Have you seen all the adorable duct tape prints they make now? Not only does the tape make the portfolio look super cute, it adds some sturdiness to the bag, too.
Cut a piece of tape slightly longer than the bottom of the bag. Lay the tape down with half hanging over the edge. Flip the bag over and press the tape down on that side. Trim off any tape that hangs over the sides of the bag. Repeat for both sides.
Your paper bag portfolio is done and ready to be decorated! My girls chose to use oil pastels and watercolors. I love the way the bright pastels look on the paper bag.
You could write your name or initial, draw your favorite animal, make an abstract design, or any other creative idea you can think of.
A paper bag art work portfolio is the perfect place to collect all your child's masterpieces this school year, whether they bring home piles of finger paintings or stacks of book reports. I am pretty excited to have a designated spot for all our home school projects – maybe my kitchen counter will be a tiny bit less cluttered this school year!
Happy creating!