I remember going to the doctor's office when I was a kid and staring in wonderment at all the beautiful fish in their salt water fish tank. I would go home and draw fish and color them with bright, pretty colors, just like in the aquarium. Now, you and your kids can make your own salt water fish using miniature paper plates and brightly colored paints! These look great hanging on the wall!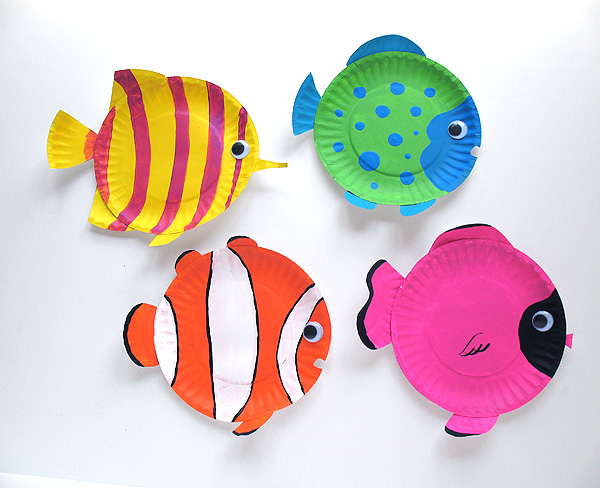 Supplies for paper plate fish:
8 miniature paper plates
brightly colored acrylic paints
paintbrush
4 large wiggle eyes
white craft glue
glue stick
scissors
You can use any craft paint that you have on hand. I used Americana in the following colors:
Bright Orange
Sour Apple (green)
Turquoise Blue
Ocean Blue
Bright Yellow
Vivid Violet
Carousel Pink
Black
White
1. For each fish you will need two paper plates. Paint one paper plate pink, one yellow, the third one green and the fourth one orange. While those are drying, trace the patterns onto the other paper plates. Paint the pattern pieces the appropriate colors and let dry.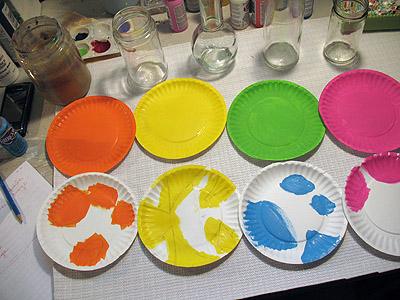 2. Cut the painted fish pieces out, you should be able to see your pencil lines through the paint.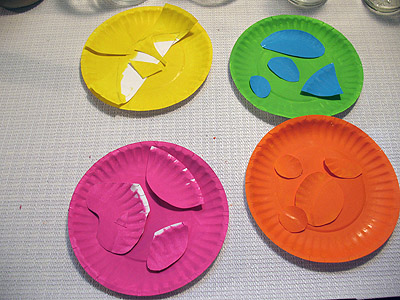 3. Use a glue stick to attach the fish pieces to the appropriate plates, gluing the pieces to the back.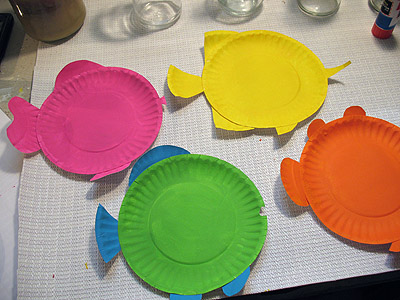 4. Use paint to add stripes or polka dots, decorate them however you like. Use white craft glue to attach wiggle eye.
Hang on your child's bedroom wall for an instant no maintenance aquarium!
VARIATION: Hang from the ceiling
If you prefer to hang these from the ceiling there are a few adjustments that need to be made. You could hang them as constructed above, but the back of your fish won't be pretty, it will be unpainted plate with glued on pieces. When hanging from the ceiling these fish will undoubtedly twirl, so to make them visually pleasing on both sides make the following adjustments:
For each fish body paint TWO plates instead of one and paint the backsides of the plates instead of the front
Paint both side of all the fins, tails and lips.
You will need TWO wiggle eyes for each fish instead of one.
Glue the fins and tails to one of the plates (the unpainted side), and add a long piece of string.
Sandwich the two painted plates together, painted sides facing outward.