School has started and it's time for a new pencil holder: a family tradition that we follow every year by making an easy DIY with the kids to celebrate and mark the begging of a new school year. There is something special about the new pencil holder sitting on child's table. This year we had a theme that both kids agreed on, a pencil holder rocket!
The best part about this rocket pencil holder is that it's totally up-cycled. We made it using some plastic milk jars and some red, blue colored paper that we took from old magazines.
Supplies for Pencil Holder Rocket:
hot glue gun
scissors/knife
3 plastic jars. Could use soda bottles as well.
some red and blue paper
First, we asked dad to cut 1/2 off of two bottles. These will be the fins and the main pencil holders.
Then, Sofia helped making a nose cone (the top for the rocket), by cutting a triangle out of the circle and then rolling and taping the ends together to form a cone.
She couldn't resist trying it out herself.
Both kids thought that it would a great idea to have some blue stars on the rocket. They cut them out of the blue paper and glued them on the rocket. We also glued on some red "skirts" that resembles fire coming out of rocket.
The last, but most important job was to "assemble" and put the rocket together. We did this by gluing (with hot glue gun) all three bottles together: the fins on the side and on the bottom and the rocket body slightly higher in the middle. Make sure to generously apply glue to keep it sturdy.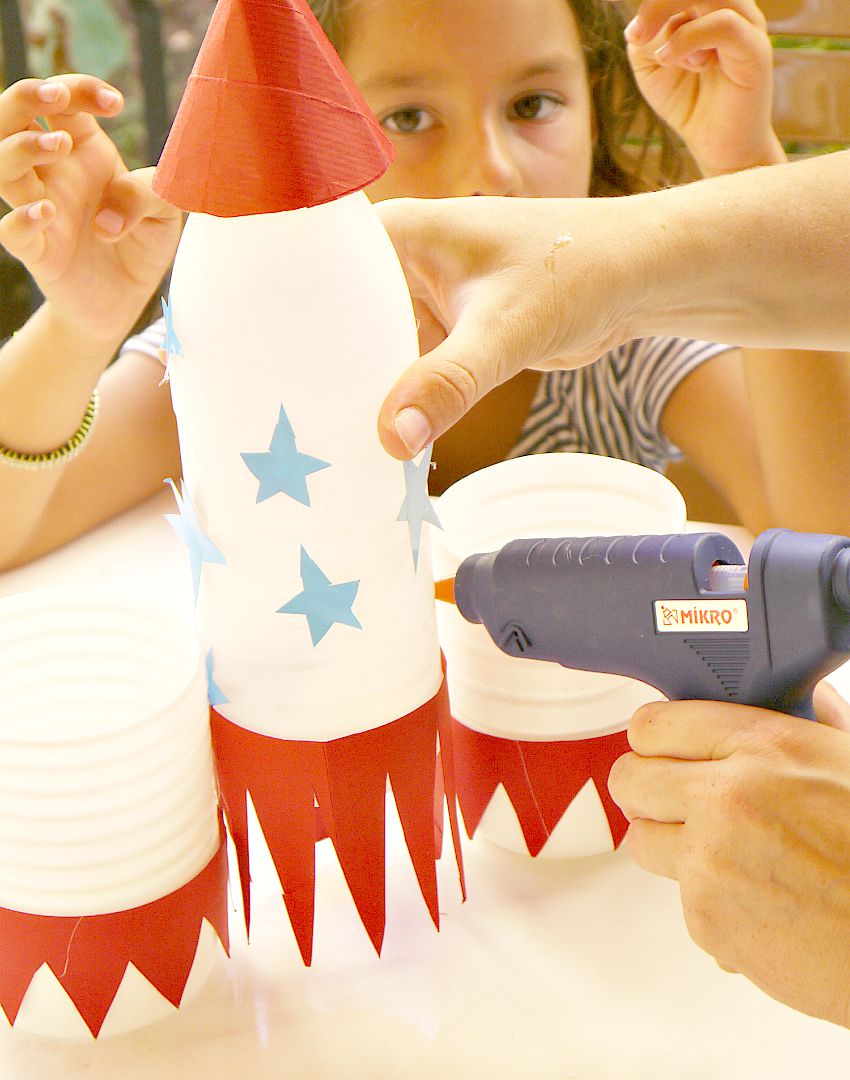 Fill up the rocket pencil holder with your favorite pencils and supplies and get ready to get on this school year at a rocket speed!