Lisa from Well Grounded Life is here sharing a fun craft for showcasing your kids. These centerpieces would make a great gift for upcoming Mother's Day!
I love family celebrations and parties.  One of my favorite parts is to think of creative ways to decorate that are personal, inexpensive and fun.  These are two centerpieces I've done for my children's christenings.  I loved seeing how these simple ideas had people talking, laughing, rotating chairs and visiting other tables to see the different pictures.
Project Prep:
Count the number of photos you will need.  Multiply the number of centerpieces you want by 6 or 8.  That is how many photos you will need.  As much as possible I try not to duplicate them, just so folks have a lot to look at during the course of the event.
You will need the photos, cardstock in various colors (coordinating with your party theme), a gluestick, and plastic card holders from a florist (for Project II: Picture-full Bouquets)
1.  Print the photos in wallet size.  I have a color printer at home, so I print the photos out on thick white paper.  Most drugstores that have printing stations have the option to print out in wallet size as well.
2.  Line the photos with cardstock by gluing the photo onto the cardstock and trimming around the edges leaving a small amount for a colored border.
For Project I:  The Centerpiece Placemat
3.  Use the bordered photos and glue them onto a large square piece of cardstock or scrapbook paper.
4.  Then, you can set candles or flowers in the middle to complete the centerpiece.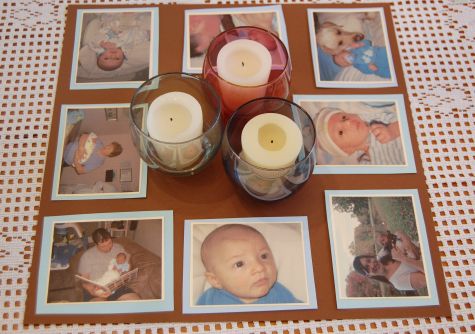 For Project II:  The Picture-full Bouquet
3.  Acquire the number of plastic card holders you will need from a local florist.  Many will give them to you for free or at a minimal cost.
4.  Stick the bordered pictures in the card holders and arrange them in the flower bouquets.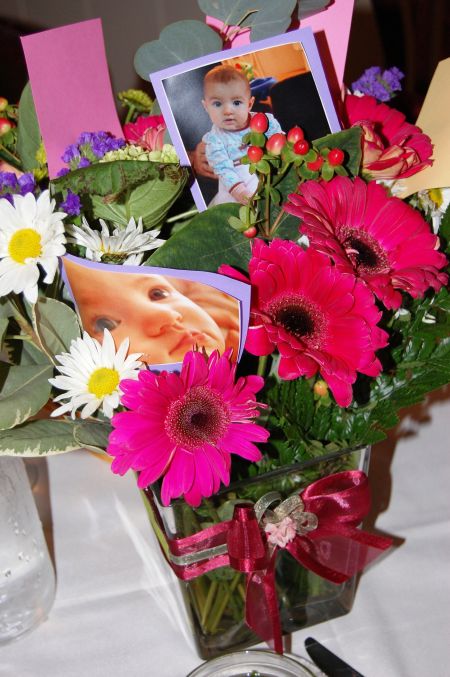 An added bonus is that after the party you have many photos already bordered and scrapbook ready!
Thanks, Lisa. For more great household projects, visit Well Grounded Life. Or you can even read more of Lisa on Simple Mom, as she's a regular contributor over there!