Yay, National Pi Day is coming up on March 14, time to eat pie! But wait, there's even more to celebrate this year! To get even more silly, celebrate with pie on Pi Day 2 times if you choose to eat at 3:14am and pm, haha. So much fun!
We must celebrate with pie! So I'm sharing 31 ways to celebrate National Pi Day with all these delicious pie treats! There are recipes for dessert pies, fruit pies, breakfast pies, dinner pies, and yummy pie treats!
31 Ways to Celebrate Pi Day!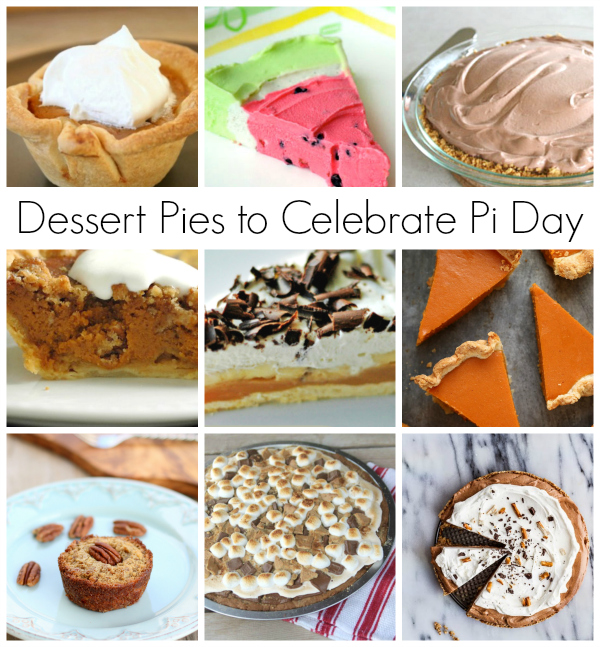 1. Muffin Tin Pumpkin Pies: It's all about the mini with these pumpkin pies. Just the right amount for a treat!
2. Watermelon Pie: This watermelon shaped pie is such a fun summer ice cream dessert.
3. Chocolate Pudding Pie: This chocolate pudding pie couldn't be easier. You'll have a dessert in no time.
4. Caramel Pumpkin Pie with Pecan Streusel: I could almost eat the topping alone, sooooo good!
5. Banoffee Pie: Bananas are the main event with this classic pie.
6. Sweet Potato Pie: This recipe comes from Joy the Baker, who I love to pieces, and this is her Dad's famous recipe!
7. Pecan Pie Muffins: These look light and delicious with just the right amount of pecan. via The Girl Who Ate Everything.
8. Smore's Pizza Pie: You could make this for a summer dessert, but it could work all year long. via It's Always Autumn.
9. No-Bake French Silk Pie: You had me at no-bake with this recipe for a delicious silk pie. via A Cup of Jo.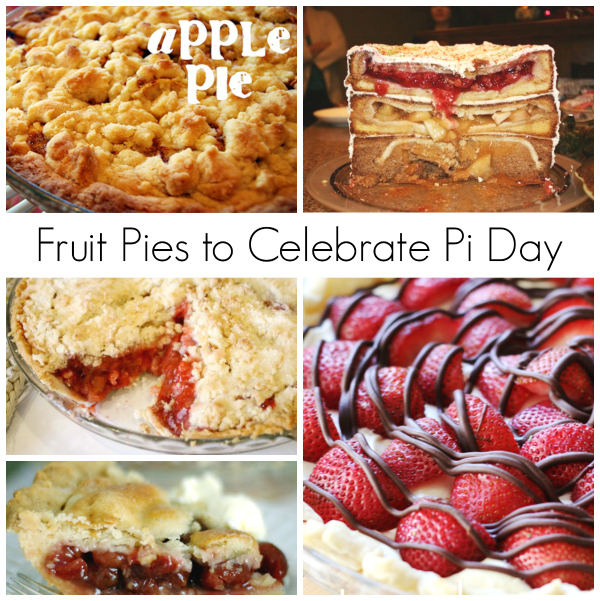 Fruit Pies for Pi Day
10. Easy Apple Pie: The topping on this apple pie is the main event, all the yummy buttery crumbles.
11. Strawberry Rhubarb Pie: Spring time brings on the fresh rhubarb and it pairs so well with strawberry for a pie.
12. Fresh Cherry Pie: When the cherries are in season, this is the recipe to make for pie.
13. Cherpumple Pie: This pie is a play on the "turduckin" dinner with pie – cherry, pumpkin, and apple.
14. Strawberry Cream Pie: Oh boy, these strawberries drizzled with chocolate are just begging to be eaten. via Chef in Training.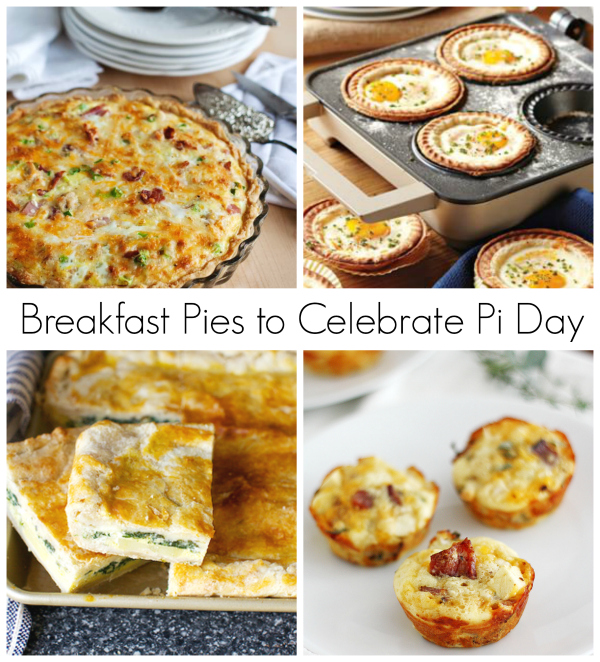 Breakfast Pies for National Pi Day
15. Meat Lovers Breakfast Pie: This pie has all the delicious meat a savory pie could ask for! via Barbara Bakes.
16. Sunny-Side Up Mini Breakfast Pies: Just the perfect size for a delicious breakfast pie. via William-Sonoma.
17. Breakfast Slab Pie: A breakfast pie with all the veggies, yum! via Smitten Kitchen.
18. Apple-Bacon Mini Cheddar Pies: You had me at apple-bacon. Sound perfect for a pie. via Girl Versus Dough.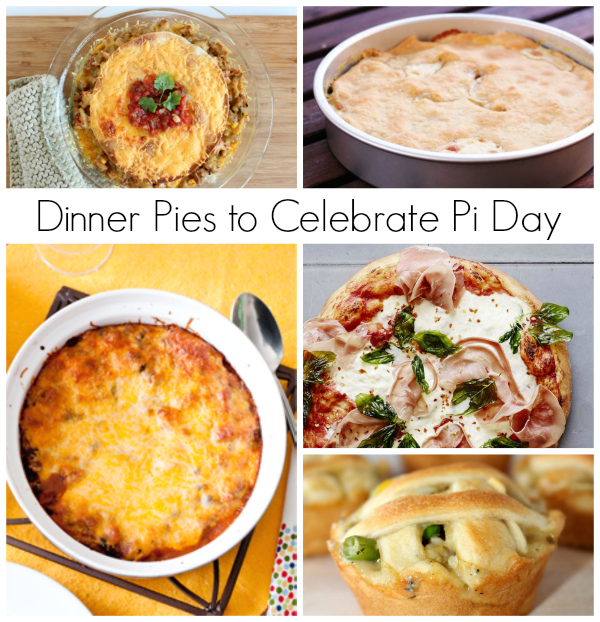 Dinner Pies for Pi Day
19. Turkey Taco Pie: Cook up some turkey and pile it on with tortillas in a pie tin for a delicious dinner.
20. Chicken Enchilada Pie: Layer your beans, chicken, and enchilada sauce for a yummy pie.
21. Chicken Pot Pie: This recipe claims to be the best, and I trust Jane from This Week for Dinner, so eat up!
22. Burrata Pizza Pie: I love a good pizza and this one look perfect to call a pie! via What's Gaby Cooking.
23. Mini Chicken Pot Pies: When you just need the perfect little portion, make these mini chicken pot pies. via Princess Pinky Girl.
National Pi Day Pie Treats
24. Pie Crust Jam-Filled Cookies: When you have those leftover pie crusts, make them into fun cookies.
25. Apple Pie Tortillas: Apple pie filling in a tortilla baked to perfection.
26. Pie Scrap Chocolate Cookies: More ideas to use up those leftover pie scraps – with drizzled chocolate.
27. Homemade Graham Cracker Crust: This is the easiest pie crust you could make with graham crackers. Great with any filling.
28. Pumpkin Pie Muddy Buddies: All the ingredients of pumpkin pie in snack-size form! via Food Fanatic.
29. Whoopie Pies: Yes, always need a good recipe for whoopie pies. via This Week for Dinner.
30. Sweet Heart Jam Pies: These are sweet little pies made from the heart. via The Farm Chicks.
31. Cinnamon Apple Pie Bread Pudding: This has all the yumminess in the bread pudding to call it pie! via Flavor Mosaic.