We have been doing an activity Advent calendar for many years, and even though my girls are now 11 and 13, they still love this annual tradition. To keep this mama sane, most of the activities are super-easy, no-prep things, like drinking hot cocoa with toppings, movie night, going out for dessert, and making paper snowflakes.
One of our favorite activities from last year was planning and preparing a festive red and green meal. We have to eat dinner anyway, so this is not too much extra work! We set the table with red and green dishes, and dined on pasta with marinara, tortellini with pesto, roasted broccoli, red and green apple slices, and cranberry juice. They loved creating this fun meal from start to finish, and we're definitely doing it again this year!
I think my kids' favorite part of the red and green meal is the brainstorming! They got a big piece of paper and listed every red and green food they could think of. We shy away from artificial colors most of the time, so we focused on naturally colored foods. There are plenty!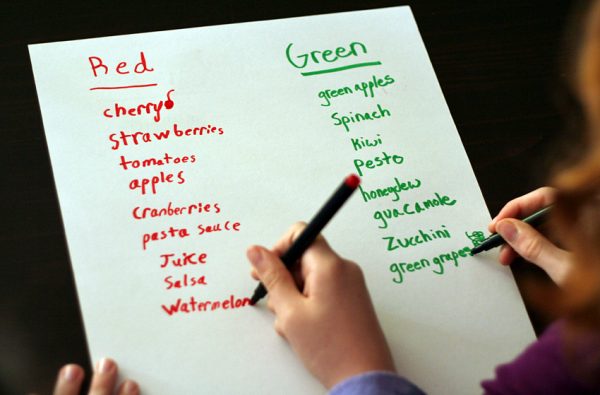 I highly recommend letting your kids think of their own list of foods for this meal. But, for inspiration and gentle suggesting, if needed, here are some of the food ideas we came up with:
Main Dishes:
pasta with marinara and/or pesto
pizza with red and green toppings (tomatoes, spinach, peppers, pepperoni, etc.)
enchiladas with red and green sauces
soup – tomato, cream of broccoli, minestrone
Fruits & Veggies:
strawberries
apples
kiwi
cranberries
tomatoes
broccoli
zucchini
green beans
avocado/guacamole
salsa
a big salad!
Drinks:
cranberry juice
green smoothies
Work together with your kids to prepare the meal. Or, if you have more experienced young chefs, sit back and wait to be served!
It's fun to set a festive table, too! Gather any red and green dishes you have, or pick up some holiday paper plates at the store. I love that this meal is both festive and healthy. A win-win!