My kids have been making holiday meal place cards since they were tiny. It's such a fun and creative way for them to contribute to a special meal. We've been brainstorming place card ideas for Thanksgiving, and these pop-up autumn leaf place cards were the definite favorite. I love how each leaf is unique!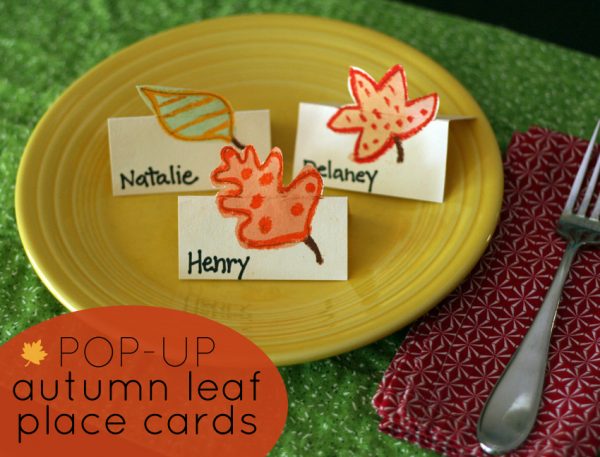 Pop-up Autumn Leaf Place Cards
Supplies:
3-inch squares of heavy paper (card stock, watercolor paper, file folder)
crayons or oil pastels
watercolors
marker (for writing names)
craft knife
From sturdy paper, cut 3-inch squares and fold each one in half. (We recycled some file folders for our place cards.) Unfold and draw a leaf shape, making sure part of the leaf goes above the fold. Draw freehand leaves, make a template, or even trace around a real leaf.
If you don't want a crease in your leaf, you can skip the folding step here. Just make sure your leaf goes above and below the center of the card.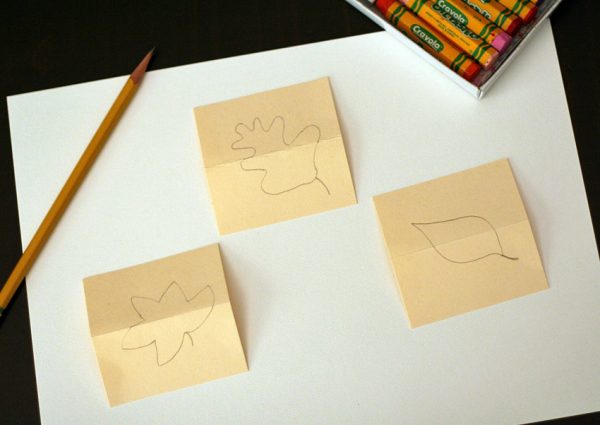 Trace each leaf drawing with crayons or pastels, and add any details you like. You could add realistic leaf veins, or go a more modern direction like we did, adding stripes and polka dots.
Paint the leaves with watercolors. We didn't worry about going outside the lines a bit – it adds homemade charm! Set aside to dry completely. If you try to cut the paper while still damp, it's more likely to tear.
Write your guests' names on the place cards. Then, the last step is an adult's job. Using a craft knife, carefully cut around the leaf shape, only above the fold.
Aren't those pop-up leaves fun? These place cards will add a colorful, whimsical touch to our Thanksgiving table. We might even try making a few pop-up turkey place cards, too!